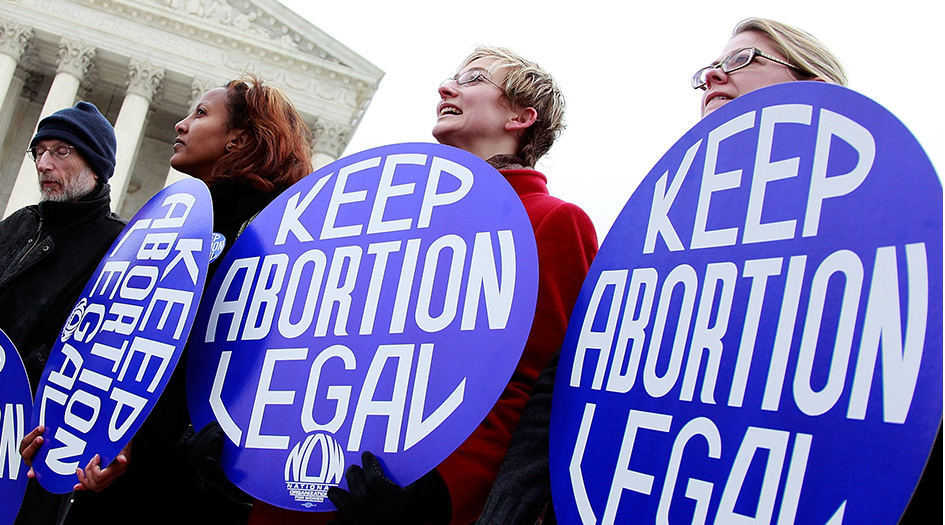 The American feminist establishment does a disservice to women through its divisive, relentless focus on abortion rights.
International Women's Day celebrates women's achievements and calls for greater equality. Its purple theme, symbolizing justice and dignity, is inspired by the purple, green, and white color scheme of the British suffragettes. There is an enormous amount women agree upon, and the world has thankfully come to understand that human rights are women's rights. Unfortunately, the persistent desire of various women's groups to advance a pro-abortion agenda divides woman and against woman, and often short circuits genuinely necessary efforts for women's advancement.
Last week, the United Nations released a statement in commendation of the day, acknowledging the strides made by women in education, employment, and politics, but calling for an end to violence against women and recognizing the work still left to be done in advancing women's rights around the world:
Speaking at the High-Level Thematic Debate on Advancing Gender Equality and Empowerment of Women and Girls for a Transformative Post-2015 Development Agenda this morning, UN Secretary-General Ban Ki-moon admitted that the world had seen "important advances" for gender equity over the past two decades as women's participation in political life has increased, maternal mortality has dropped, and the gender gap in primary education has closed.
Phumzile Mlambo-Ngcuka of the U.N. called upon governments to, inter alia, engage in lawmaking that enables women to "take responsibility for their own bodies and health."
It is a simple fact that worldwide, women cannot take charge of their own bodies and health. Women in China face threats to their reproductive rights from the one-child policy, which institutionalizes forced abortion and sterilization. Predictably, this policy has harmed women's psyches: China is one of only two countries where women commit suicide at greater rates than men do. The ratio of female-to-male suicide in China is three-to-one.
In other countries, women and girls are subjected to female genital mutilation (FGM), which destroys their ability to experience sexual pleasure and causes infections, sterility, and sometimes death. Millions of women lack access to a physician to help them deliver a child. Many others are forced into sex trafficking, sold at auctions, or compelled to seek out prostitution as their only means of support. Often, women lack the social capital to refuse sex, or are encouraged to have sex in a way that promotes the spread of disease.
Happily, the world has not been indifferent to these problems. Efforts to end attacks on women's rights have come from across the political and religious spectra. Feminists and evangelical Christians have worked side-by-side to combat sex trafficking. All Girls Allowed, which combats gendercide in China, was founded by pro-life Christian Chai Ling. One of the most prominent critics of FGM, Ayaan Hirsi Ali, is at once an atheist, a feminist, and a scholar at the conservative-leaning American Enterprise Institute.
As we celebrate the advancement of women both in America and around the world, the schism between the unifying, almost universally accepted goals of International Women's Day and the most notable component of American feminism's version of "reproductive and sexual health" comes into stark relief. The American media and the more prominent women's groups perpetuate the myth that support for women's rights is inextricably intertwined with support for abortion rights.
Women are not a monolithic group, and do not hold the same ideas on abortion. A 2013 Gallup poll found that 51 percent of U.S. adults think that the public is mostly pro-choice, compared with only 35 percent who think that the public is mostly pro-life. Yet the same poll found that women are evenly split in their personal opinions on abortion, with 47 percent pro-choice and 46 percent pro-life.
The abortion divide applies to women in office, as well. A majority of America's women governors are pro-life, and Wendy Davis, who became the standard-bearer for the pro-choice movement after filibustering a Texas ban on late-term abortions, not only lost her election but lost the women's vote by five points. The reality is that women who want to see other women advance in the public sphere often also support the right to life.
Yet prominent women's political groups like NARAL Pro-Choice America and Emily's List focus almost exclusively on the pro-choice message; in fact, the one enumerated criterion for support by Emily's List is that a candidate be pro-choice. Their celebrations of International Women's Day reflect this singular focus.
By equating controversial ideas about abortion with human-rights abuses, the American feminist establishment does a disservice to the women's movement: It alienates some of its strongest allies and silences the dissenting voices of pro-life women.
If we as women focus our energies on advancing the human rights that we all agree on, we will have much more to celebrate come next year's International Women's Day.
– Bridget L. Fay is an attorney, a former chemical engineer, and a member of Women Speak for Themselves, a grassroots group whose mission is to to offer a more thoughtful and complete version of women's freedom.