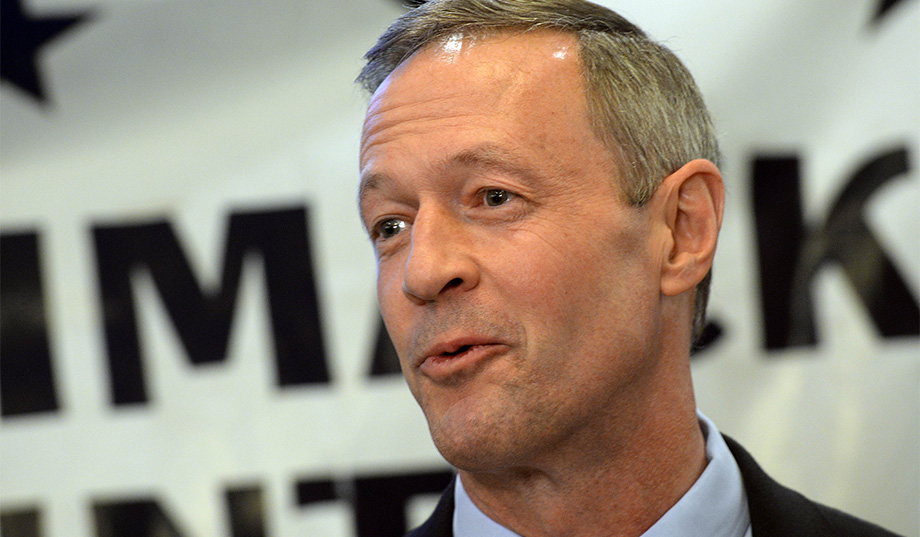 He'll do the same to the country if he makes it to the White House.
Taxpayers abandoned his state in droves during his tenure as governor, but that's not dampening the presidential aspirations of Martin O'Malley. In 2014, his final year in office as governor, Maryland had the second-highest foreclosure rate in the nation. Now he wants to ride this embarrassing record to the White House.
At the Brookings Institution in March, O'Malley test-drove some campaign rhetoric: "Behind all of our data, there are people, living their lives, shouldering their struggles. They deserve a government that works."
Unfortunately, in the state O'Malley governed for eight years, he gave deserving Marylanders anything but a state government that worked. Today, Marylanders endure the real O'Malley legacy: higher taxes, pink slips, process servers, tax liens, and foreclosures.
Maryland is blessed with a relatively stable and well-paid federal presence thanks to its key military installations and its proximity to Washington, D.C. We have one of the nation's best seaports and logistical networks of railways and highways. But even with this foundation, the governor drove jobs and businesses away.
The result? In one of the biggest upsets in the country, Maryland voted in a Republican governor last November. Marylanders bounced O'Malley's heir apparent, Lieutenant Governor Anthony Brown, out of Annapolis and voted in Republican Larry Hogan to clean up the mess.
Jim Pettit, Hogan's policy analyst, helped chronicle the damage done during the O'Malley-Brown years: A pile of 40 tax, fee, and toll increases created an additional yearly tax burden of $3.1 billion on top of what Marylanders were paying the day O'Malley was elected.
Did this drive taxpayers out of Maryland? Not according to progressive orthodoxy, but the IRS measures changes in the tax base for every state and county in the nation. Candidate-for-governor Brown was caught flat-footed trying to address this issue. During the first O'Malley term, when the majority of new levies kicked in, Maryland accounted for the largest taxpayer exodus in the Mid-Atlantic region — more than 31,000 between 2007 and 2010. The tax base in Baltimore City, Maryland's most populous city, declined the most: Its 1.4 percent decrease topped all other Maryland jurisdictions.
Thanks to O'Malley's tax policy, Virginia is now home to 11,455 former Marylanders, who took 390 million taxable dollars across the Potomac with them between 2007 and 2010. Nationwide, O'Malley's Maryland also stacks up poorly, joining New York, California, Michigan, Illinois, Ohio, and New Jersey in taxpayer abandonment. In only three of O'Malley's eight years in office, Maryland lost more taxpayers than 43 other states. This exodus cost Maryland a whopping $1.7 billion in taxable revenues.
Another telling measurement of the previous governor's "accomplishments" is Maryland's foreclosure rate. At the end of 2014, Maryland ranked second-highest in the nation in foreclosures. The Washington suburb of Prince George's County had the largest share. This heavily African-American county supported O'Malley in both of his statewide races. He repaid the county with foreclosures and economic distress.
Environmental extremism is another O'Malley signature issue. The governor's "rain tax" (collected on quarterly water bills) made Maryland a national laughingstock. Small businesses weren't laughing, though, when their water bills skyrocketed in 2013. Baltimore's elderly, struggling on fixed incomes and already pressed by crime and collapsing neighborhoods, now face liens thanks to the rain tax.
O'Malley also botched an opportunity to validate big government with the implementation of Obamacare in Maryland. Managed by none other than Lieutenant Governor Brown, the administration squandered millions on Maryland's health exchange and then burned millions more to start over. Brown blamed appointed officials lower down the totem pole.
Finally, who can forget the debacle of the state-run prison in Baltimore? Gangs took over the facility, ran criminal enterprises, and impregnated female guards. O'Malley's much-vaunted government-performance metric, "state stat," failed to quantify the contraband reaching inmates. We didn't hear very much about data being used for effective governance then.
In 2007, Martin O'Malley came to office on a promise of better, cleaner government — the same promise he made at Brookings this month. Instead, under eight years of O'Malley, quality of life in Maryland deteriorated, jobs and businesses fled to Virginia, workers were crushed by new taxation, and we saw chronic budget deficits. 
As governor, O'Malley displayed none of the qualities of an effective national leader: devotion to the people, courage, and independence. O'Malley had an opportunity in Annapolis to convince Marylanders that he was such a leader. He failed. Today Maryland is poorer for the experience.  
If O'Malley is elected president, count on more government, more taxation, more regulation, and a government even more detached from the Constitution than the current one is. O'Malley was bad for Maryland. He'll be bad for the country.
— Richard J. Douglas is an Iraq veteran and lawyer from Prince George's County, Md.