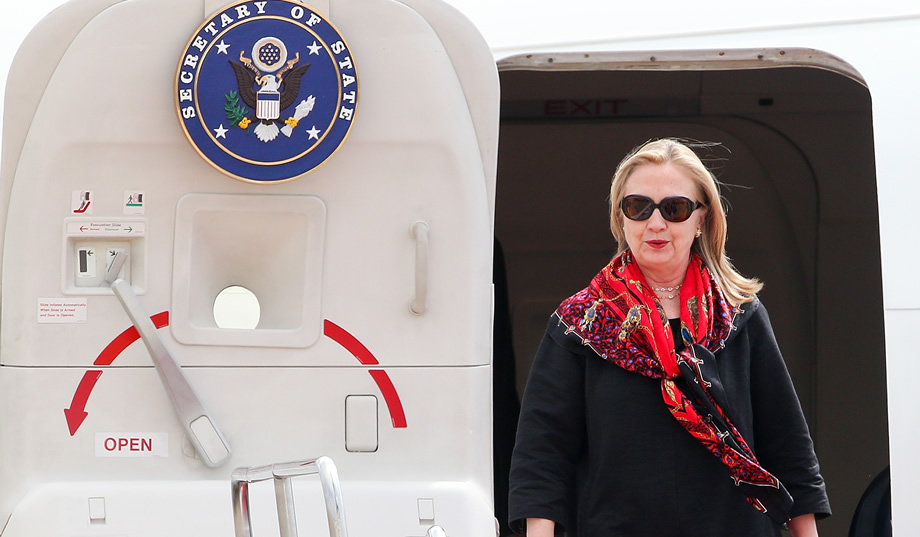 The Clinton Foundation took money from governments receiving massive foreign aid.
Two of the governments counted among the Clinton Foundation's foreign donors aren't exactly generous global givers.
In fact, Algeria and the Dominican Republic, which both contributed to the Clinton Foundation, receive hundreds of millions of dollars yearly in foreign aid — including from the U.S. government.
The Foundation is already under fire for accepting Algeria's $500,000 donation for Haitian earthquake relief in 2010, during Hillary Clinton's tenure as Secretary of State. That grant was not cleared with the State Department's ethics office, a requirement under a conflict-of-interest agreement for new government donors.
But the contribution was unusual for another reason: the Algerian government has been a net recipient of foreign aid for decades. It took $8.6 million in assistance from the U.S. government the same year that it made the donation. And in 2011 — a typical year for the North African country — it received $190 million in aid from foreign governments worldwide.
Hillary Clinton visited Algeria and met with its president while she was Secretary of State in 2012.
The Dominican Republic gave a much larger donation to the Clinton Foundation, somewhere between $10 and $25 million in a grant to the organization's HIV/AIDS program (the Foundation's website does not provide exact grant numbers). The Caribbean nation received $35.5 million from the U.S. government in 2010, and the next year raked in $225 million from foreign governments around the world.
One of eight Clinton Foundation HIV/AIDS Initiative offices is located in the Dominican Republic.
"It is unusual," said Daniel Drezner, a professor at Tufts University who has written about the conflicts of interest that could arise from foreign governments donating to American think-tanks. "If you look at the controversy involving think-tank funding," he told NR, "I think all of the donors are essentially countries with a significant amount of surplus revenue. They're countries that aren't, by and large, accepting foreign aid — they're usually donors of foreign aid."
But unlike a think-tank, Drezner added, the Clinton Foundation "actually has the capacity to do something on the development side. That, at least, has the veneer of making more sense."
Historically, though, in the very rare instances when the Dominican and Algerian governments have diverted their foreign aid to charity, political motives — as opposed to humanitarian concerns – were the driving force behind the donations.
#related#Algeria gave $100 million to Tunisia in 2011, seeking to quell its neighbor's political upheaval in the wake of the Arab Spring. And in 2014 it sent millions in medical and construction aid past an Israeli blockade and into Hamas-controlled territory in Gaza — one of many times the Algerian government has supported the terrorist-run Palestinian region.
The Dominican Republic, like Algeria, diverted substantial aid to Haiti following the earthquake. But it shares a border with Haiti, and the move was made to help lower tensions between the two countries, who have often clashed in the past.
Given that history, Drezner found the government's donations even more unusual. "No, I don't have any explanation for it," he said. "Even if there isn't clearly a political motive, I'm not entirely sure why they would've chosen those causes."
But some experts feel the question is not worth exploring. James McGann, a professor at the University of Pennsylvania and an expert on foreign-government assistance to think-tanks and non-governmental organizations like the Clinton Foundation, became agitated when asked by NR about the Algerian and Dominican contributions.
"There is a potential negative implication about trying to make a mountain out of a molehill," he said, stressing that the Clinton Foundation should have "policies and procedures" to deal with conflicts of interest.
He dismissed a question on whether the unusual donations could represent a kind of political quid-pro-quo, claiming there's "no evidence" and again warning of "blowback" to institutions, both at home and abroad, that receive government assistance.
Drezner said that while he can "understand why that question would be raised," he believes that "the very fact that the donations are now public vitiates the chance [of a quid-pro-quo] actually happening."
"Assume you have a President Hillary Clinton in 2017," he said. "If anything, she's going to bend over backwards to not be seen as being generous to the Dominican Republic."
— Brendan Bordelon is a media reporter for National Review Online.