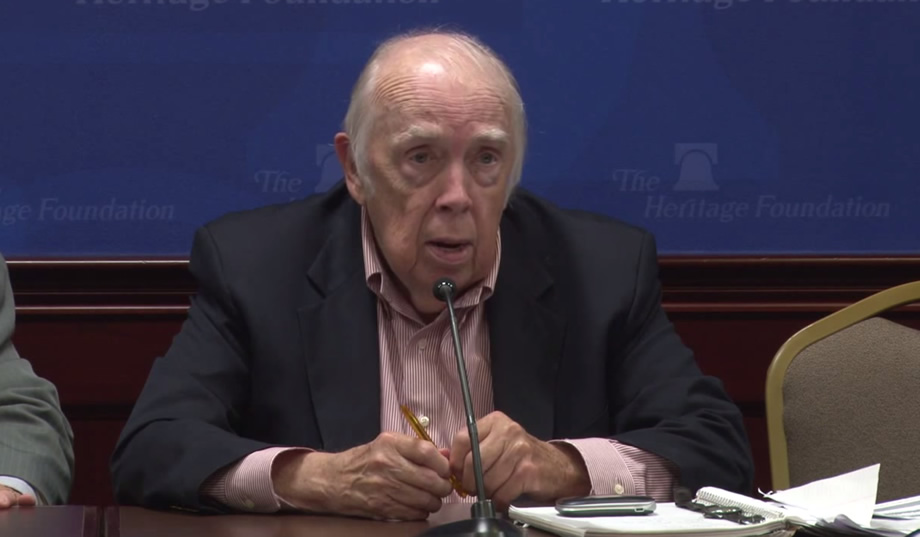 Farewell to M. Stanton Evans, a remarkably talented journalist and a man of deep Christian humility.
M. Stanton Evans, the great conservative scholar, journalist, and raconteur who founded the National Journalism Center, died earlier this month in Leesburg, Virginia at age 81.
Neal Freeman, who has been associated with National Review for 50 years, said of Stan at a 2011 tribute dinner that after William F. Buckley's passing, Stan had "become the indispensable man of our common (conservative) enterprise, the wisest among us." Neal noted that before NR's first publisher, William Rusher, passed away earlier in 2011, he had told him: "If anybody ever wants to know what ol' Rusher would have thought about something, and Rusher's not around, ask Evans."
Such a remarkable man merited a truly remarkable memorial service at the Heritage Foundation in Washington, D.C. last Friday. Over a dozen of his friends gave remarks, but the most memorable came from Ralph Kinney Bennett, a retired editor at the Reader's Digest who was one of Stan's closest friends. His eloquent recollections truly captured "Stan the Man" and made everyone present miss him all the more. 
An edited version of Ralph's remarks appears below. For those who want the full version — replete with many more jokes and examples of Stan's rapier wit — they can watch the video of the complete Heritage memorial service.
M. Stanton Evans . . . was a truly great man. Not just one of the great men of the conservative movement, but a great man. And a great American.

I always like to tell friends he was one of the greatest men you never heard of.

He had a superb mind, absolute intellectual honesty, and an unmatched ability to communicate with the written and spoken word. And yet, not a shred of pretension. Forget the magna cum laude Yale degree, the Phi Beta Kappa key (Did anyone ever see it?), the honorary degrees, the national awards for his journalism. He was just Stan. Stan the Man.

He had an enviably sonorous voice with a finely civilized gravel to it. There was a whisper of Texas, Tennessee, and tobacco. It had the flat timbre of the Midwest and a hint of Mississippi in the accent when he was relaxed and talking about basketball or rock n' roll or the need to "dance the New Deal away." . . .

In a debate he had this marvelous look, a subtle sort of shadow, which would pass over his face when some phrase or fact or pseudo-fact had issued from his opponent's lips. It was a look that told you his protean brain was reloading — instantly selecting the right shell, the proper fuse. The counter-battery fire was always devastating.

John O'Sullivan, in his tribute last week, correctly noted Stan's "subversive personality." A personality that sought to quietly overturn disorganized thinking, wrongheadedness, or misinformed assumptions by simply showing — through marshaled facts and critical thinking put into the plainest words (often with piercing humor) — that there just might be a better way, a correct way of seeing the issue of the moment.

But, for someone so facile with words, so adroit in argumentation, so possessed with a mordant wit, Stan Evans possessed a peculiar grace — one so rare I cannot think of anyone else I know who has it in quite the same fashion. It was a gift from both his parents; it tempered his intellect and instinct. Stan had a deep, humble Christian sense of the worth of every human being in the eyes of God. The man who could be withering in his general regard of human folly, who could be a terror to ideas inimicable to freedom, was naturally gracious and disposed to secret acts of kindness. In fact he was one of the kindest men I have ever known. Generous, gracious, and sweet-natured.

That penetrating wit, that sense of irony, that formidable and at times classically sarcastic sense of humor, could have been wielded publicly and privately so many times in a destructive fashion. Stan could crisply dismantle ill-thought ideas and flabby cant with a deadly efficiency. But I never saw him talk down to anyone, look down on anyone, or treat anyone without respect. From my own witness, whether it was a clerk in a store in Purcellville, a University of Chicago professor, an Indianapolis taxi driver, a U.S. Senator, a church worker in Hamilton, a White House aide, or even the President of the United States, Stan always found a comfortable footing with that person.

He could diplomatically dismiss fools without being dismissive and he could go toe-to-toe with the cleverest of knaves. Many a would-be debater who fancied he would leave a rapier mark on Stan's not-so-hollow chest soon discovered that it was Stan who brandished the rapier (or was it a cutlass?) while his opponent seemed to be wielding a string of link sausages . . .

I always loved his gift for leaving you half-laughing, half-puzzled at odd moments. Once, we were taking a lobby break during some panel discussion. He looked at me and cocked his head as if deeply bewildered. Drawing his cigarette barely out of his mouth he asked, "What do you think, Bennett? Do I have too much false modesty, or not enough?"

When not in his beloved house and refuge in Hamilton, Va., Stan lived in a book-choked apartment in Washington. Life in D.C. was a source of recurring heartburn for Stan, who, busy with the world of politics, policy, and ideas, remained semi-blissfully unaware of parking regulations, building and zoning codes, and all the bureaucratic impediments of the District. Car impoundments, parking tickets, futile arguments with sundry bureaucrats and stolid code-enforcement officers, all prompted Stan to regard the District of Columbia as "The Soviet Union, but without the amenities." . . .

Stan's idea of health food was somewhat at variance with what is now the accepted meaning of the words. Tobacco, he always averred, was his "favorite leafy vegetable." (No one could miss the Thank You for Smoking sign on his desk). His other favorite vegetable was ketchup, preferably atop French fries. He liked, beer, the occasional bourbon (never before a speech or debate) and preferred, as he said, "the cheaper wines, the box wines."

He doted on the Atlanta elixir, the dark ambrosia, Coca-Cola. Stan made the drinking of a Coke and the smoking of a cigarette a delectable ritual that could almost make one sigh. He would often come to breakfast meetings or conferences, sit down amid all the eggs and bacon and coffee and Danishes, and place a pack of cigarettes and a can of Coke on the table in front of him. "My mother always told me," he would announce, "that breakfast is the most important meal of the day." . . .

In his books and articles, his painstaking research, keen analysis, and lucid writing is peppered with the same trademark deadpan drollery — often the final flourish to a telling point. In his McCarthy book's devastating chapter on "writer and scholar" Owen Lattimore, Stan quotes extensively from a National Geographic article, in which the Soviet apologist portrayed the odious Soviet slave-labor death camp at the Magadan-Kolyma gold mines as a sort of Siberian arts colony with a "first class orchestra" and ballet company; a place where "instead of the sin, gin and brawling of an old-fashioned gold rush" there were "extensive greenhouses growing tomatoes, cucumbers and melons to make sure the hardy miners get enough vitamins." Stan follows this exuberant Lattimore quote by simply recalling Robert Conquest's reporting on Magadan-Kolyma as one of the deadliest of labor camps, killing off almost a third of its inmates each year. "Of course," Stan then notes, "without all the cucumbers and tomatoes, the death toll might have been even higher."

Anticipating Jonah Goldberg's marvelous book by almost half a century, Stan ended his book The Liberal Establishment, with the conclusion that liberalism, taken in its documentable (and lamentable) reality, is little more than "a genteel American version" of fascism and a creed "profoundly hostile to freedom." . . .

That was Stan the Man. We shall not see his like again. The locals around Hamilton may have known him only as that old guy with faintly jowly simian features, wearing a Coors Beer hat as he drove around in his beat-up Chevy pick-up truck. What they would have made of the books, journals, papers, and research notes stuffed around him in that truck, Lord knows. It pleases me to know that when they lowered him into the ground next to his dad and mom yesterday, that Coors hat was in the coffin with him rather than his Phi Beta Kappa key . . .

His whole life was dedicated to freedom and speaking truth in its defense. He understood perfectly how daunting it is to have God's gift of freedom — to be placed at risk in the universe, subject to its laws, physical and moral, and to the consequences of contravention or obedience.

He was, I believe, the most humble man I have ever known. It was a true Christian humility — not some felicitous gift of genetic happenstance, but learned, practiced, and made habit. Stan knew how smart he was. He relished the accolades. And he deserved more. But within his great wisdom he understood who he was in the eyes of God.

He was a great man and a good man.
— John Fund is national-affairs correspondent for National Review Online.