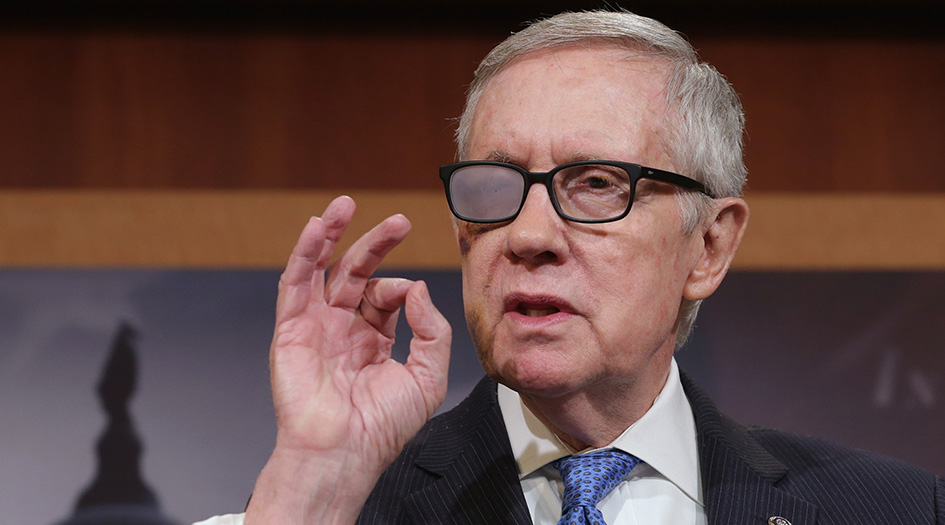 Making public funds available for abortion apparently trumps helping victims of sex crimes.
The "Justice for Victims of Trafficking Act of 2015" is the sort of bipartisan bill Senate Minority Leader Harry Reid should like. Introduced in mid January by Republican whip John Cornyn, of Texas, the bill strengthens enforcement procedures against human trafficking, and increases restitution to victims.
But Harry Reid is preparing to kill the bill. Why?
Democrats, and their supporters in the media, are claiming that Republicans "snuck" language into the bill that would prohibit money collected from increased fines against human traffickers from being used to pay for abortions. "Sneakiness" does not seem the word, given that the bill was released on January 13, marked up by the Judiciary Committee on February 26, then passed out of said committee unanimously. And the bill — unlike, say, the 900-page Patient Protection and Affordable Care Act — is a brisk 68 pages.
But, more to the point, the language constitutes a straightforward extension of current appropriations law. The bill merely seeks to treat money in the to-be-established "Domestic Trafficking Victims' Fund" like money in the Crime Victims Fund, established under the Victims of Crime Act of 1984, which legally cannot be used to fund abortion, per the Hyde Amendment, a rider attached annually to appropriations bills since 1976 that prohibits certain taxpayer money's being used to fund abortions (except in cases of rape, incest, and danger to the life of the mother). Democrats, among them Harry Reid, have affirmed the Hyde Amendment for years.
Yet Harry Reid says that, unless Republicans strip the funding language, he will kill the bill. Again, why? After all, Reid says he is "strongly pro-life" — that is what a spokesperson told The Weekly Standard in 2009, adding, "I strongly resent any suggestion to the contrary, and his voting record speaks for himself."
And Reid has, occasionally, voted along that line. In 2000 he voted to uphold a ban on privately funded abortions on overseas U.S. military facilities. In 2003 he voted to ban partial-birth abortions except in cases in which the life of the mother was threatened; notably, that ban had no exception for rape. Three years later he supported a law to require notifying parents of minors who got out-of-state abortions, and followed up that vote in 2008 with one supporting a prohibition on minors' crossing state lines to obtain an abortion. He also voted, in 2004, for a bill that made it a criminal offense to harm an unborn child in the commission of a violent crime.
Then again, just moments before his 2004 vote in favor of the "Unborn Victims of Violence Act," he voted to support an amendment offered by California senator Dianne Feinstein that would have made the mother the only legal victim of a violent crime. (Feinstein's amendment established a separate federal crime for "interrupting the normal course of a pregnancy.") Reid has voted against prohibiting Department of Health and Human Services grants to abortion providers, and, of course, the initial Senate version of what would become Obamacare had no prohibition on federal funding for abortions — an explicit rejection of the bipartisan Stupak-Pitts Amendment that accompanied the House's version.
And yet, in a speech in late 2009, Reid could proclaim: "My belief in the sanctity of life is why I have repeatedly voted against using taxpayer money for abortions. It's why I have repeatedly voted against covering abortions in federal employees' health insurance plans, and repeatedly voted against allowing federal facilities to be used for abortions."
Is this cognitive dissonance? Or trying to "have it all" on perhaps the most touchy political topic? Reid did not respond to National Review's request for a comment. In either case, the "Justice for Victims of Trafficking Act" would seem tailor-made for Reid's situation: He can pass a positive crime-fighting measure, support a pro-life measure, and defend his decision as one of principle: preserving the status quo.
In fact, the only credible reason Harry Reid could have for killing this bill is that he is not the pro-life advocate he says he is. Your move, Senator.
— Ian Tuttle is a William F. Buckley Jr. Fellow at the National Review Institute.