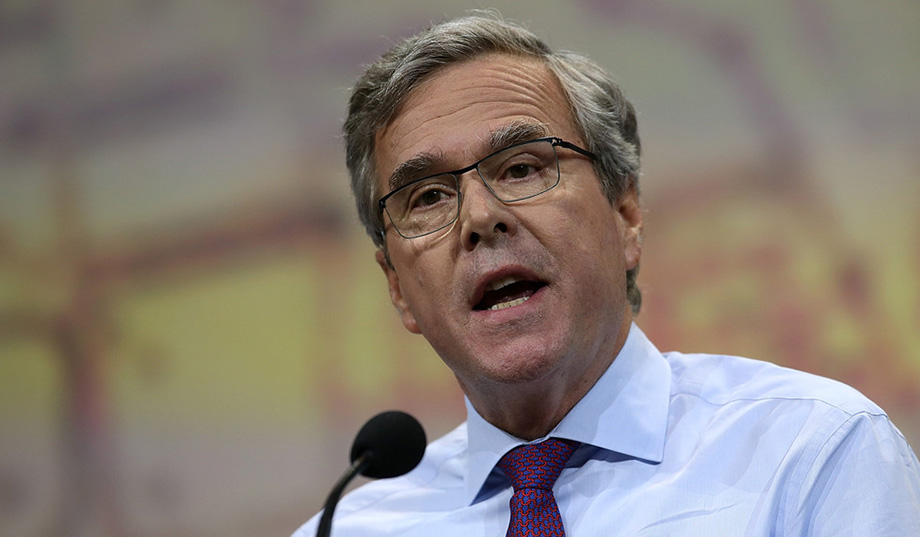 At first glance, former Florida governor Jeb Bush might not seem like the political figure who best fits in with the National Rifle Association. His even-toned speaking style is a far cry from NRA executive vice president Wayne LaPierre's fiery warnings against ongoing trampling of Americans' fundamental Constitutional rights.
Wearing no jacket, just like his probable rival Scott Walker, and with reading glasses across his nose, Jeb Bush came to Nashville today with a clear message to the assembled NRA conference attendees: You may not remember it, but I was a seriously pro-gun governor.
RELATED: More NRA Convention Coverage
The term "Six Pack of Freedom" sounds a bit like an awful Budweiser marketing campaign, or a workout plan from Captain America. But Bush said that was what the NRA had called the six pro-gun and pro-hunting laws he signed into law in 2006, the most any Florida governor had ever signed in one year.
The laws that made up the "Six Pack of Freedom":
One: A law to make it easier for hunters and fishermen to register to vote.
Two: A law establishing a baseline number of acres of public hunting lands.
Three: A law prohibiting the confiscation of firearms following hurricanes, inspired by the behavior of New Orleans authorities in the aftermath of Hurricane Katrina.
Four: A law to restrict non-law-enforcement access to records on concealed-carry licenses, to ensure gun owners' personally identifying information isn't released to the media or the public.
Five: A law ensuring Florida citizens had the right to carry firearms for self-defense and other lawful purposes while in National Forests and State Parks in Florida.
Six: A law to assist men and women serving on active duty in military service to our nation with renewal of their concealed weapons and firearms licenses.
Bush also boasted that he had signed Florida's "Stand Your Ground" law. Some on the Left attacked the law in the wake of the Trayvon Martin shooting, even though most legal experts asserted the law didn't apply to George Zimmerman's circumstances, and his lawyers never cited the law in their successful legal defense of him.
#related#One of the problems of being one of the middle speakers at the NRA Convention's Leadership Forum is that the jokes and applause lines start to sound like those of the preceding speakers. Bush offered, "The Second Amendment is the original homeland security," and then, in criticism of President Obama, declared "the Bill of Rights is not a breakfast buffet" — a good line, except that about 15 minutes earlier, Governor Rick Perry of Texas had just joked, "We do not believe the Constitution is a cafeteria plan."
But Bush may have had the last laugh when he pointed out that, in part because of laws he signed while governor, 1.3 million Floridians now have valid concealed-carry permits.
"That's more than Texas," Bush said with a smile. "Sorry, Governor Perry. Not that I'm competitive or anything."
RELATED: More NRA Convention Coverage