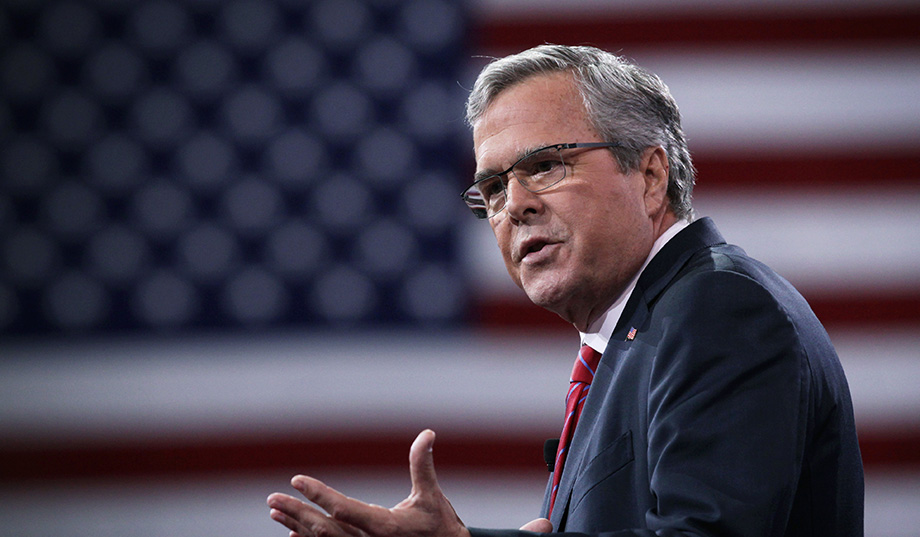 They may have been mocked at the time, but the views Mitt Romney articulated on the campaign trail in 2012 about foreign affairs are now considered not just clear-sighted but clairvoyant. He said that the U.S. withdrawal from Iraq was a mistake; that Vladimir Putin was a major threat; and that radical Islam was on the ascent. Romney detailed many of these ideas in a wide-ranging address on foreign policy at the Virginia Military Institute. That speech was crafted in part by John Noonan, who was recently tapped to be Jeb Bush's national-security adviser.
The speculation about where Bush will land on foreign policy given the distinctive legacies of his father, former president George H. W. Bush, and his brother, former president George W. Bush, has been rampant. Until now, Bush has offered little clue, assembling a team of external advisers from both Bush administrations whose views run the conservative foreign-policy gamut: It includes realists such as James Baker and neoconservatives like Paul Wolfowitz. (Along with Noonan, who will handle national-security policy, Bush has tapped Robert S. Karem, most recently a top adviser to House majority leader Kevin McCarthy, to advise him on foreign policy.) Noonan been airing his views on military matters since 2005, first on his own blog and then as a contributor to The Weekly Standard. So his hire is a strong signal of where the candidate himself, who is known to keep his own counsel on policy issues, might stand.
Noonan's hire is earning praise from the hawkish wing of the GOP and assuaging some early concerns among that crowd that Bush's own views might resemble his father's more than his brother's. The Noonan hire, says a former State Department official who has advised several Republican presidential hopefuls, shows that Bush is "squarely in the robust-national-security camp, the Reagan peace-through-strength camp."
#related#Bush is just starting to step out on his own in the realm of military affairs and foreign policy, articulating views beyond the general principles he gave voice to at the Chicago Council on Global Affairs in February. It is a process that will continue if, as is widely expected, he formally launches his presidential campaign in the coming months. In recent weeks, he has knocked what he has described as President Obama's belief that "American power in the world was not a force for good" and said that the president is learning that when the U.S. retrenches, "the voids are filled" not necessarily by other countries but by "barbarians" or by "by evildoers that now have technologies at their fingertips to be able to undermine not just the neighborhood in which they are, but undermine the world." He has also criticized the president's decision to normalize relations with Cuba and to withdraw American troops from Iraq.
These are all relatively predictable views for a potential Republican presidential contender. If the more instructive clues to Bush's deeper thinking on foreign affairs come from his hires — and that is an open question — then the choice of Noonan is an interesting one. Noonan is an ardent critic of the defense cuts imposed by sequestration. "What he emphasizes, like a lot of folks who look at national security through a lens of defense, is that the paradigm will change, but America's ability to stabilize a lot of the global security challenges will generally emerge from a stronger military posture and a strengthened military capability," says Roger Zakheim, a former colleague of Noonan's at the House Armed Services Committee.
Noonan tends to argue less for particular military actions and more for a flexible, modern force that can respond to unforeseen threats. "There will always be an Iran building a new missile or a North Korea fielding some sort of new anti-access capability," he wrote in The Weekly Standard in 2010. "The best way to prevent those threats from turning serious is crafting a serious, credible, and balanced military that can respond in a prompt, agile, devastating manner. That means military modernization now, and it also means that the Defense department closely examine combat doctrines for loopholes."
A Navy brat who grew up in Rota, Spain, Noonan is a graduate of the Virginia Military Institute who has called himself a "pro-victory conservative." As an active-duty Air Force officer, he started a war blog known as OPFOR, a military term for "opposing force." He wrote his blog from a missile silo in Cheyenne, Wyo., where he was working as a Minuteman III missile-launch officer, as he put it, "ready to unleash nuclear hell."
It was through his blog that he came to the attention of Michael Goldfarb, a Republican operative who was at the time a reporter for The Weekly Standard, who was working tirelessly to undermine the war reporting of The New Republic's war correspondent, Army private Scott Thomas Beauchamp. Beauchamp, whose reports were eventually retracted, had alleged that American soldiers serving in Iraq were guilty of all sorts of atrocities, from mocking a disfigured woman to running over stray dogs in their military vehicles. Noonan pushed back against Beauchamp on his own blog and eventually became a regular contributor to The Weekly Standard, often taking shots at the Pentagon bureaucracy while he was still an enlisted officer.
Noonan went on to serve as a policy adviser for the Foreign Policy Initiative — a nonprofit organization whose board includes prominent thinkers associated with the neoconservative movement, including Robert Kagan, a senior fellow at the Brookings Institution, and Bill Kristol, the founder and editor of The Weekly Standard — before moving over to Capitol Hill in 2011.
Zakheim, Noonan's former House colleague, credits him with giving voice to the idea of a "new greatest generation" comprising the veterans of the wars in Iraq and Afghanistan. That's a project that began with his own blog and culminated in his work as a speechwriter for former House Armed Services Committee chairman Buck McKeon. On the Romney campaign, says Romney 2012 foreign-policy director Alex Wong, Noonan would remind colleagues to keep in mind "the soldier with the rifle."
Wong says he and Noonan put together Romney's VMI address over  "a couple of late-night bourbons in a Boston bar."
"If John hadn't been a VMI graduate, I don't think that entire speech would have happened that way," Wong says.
If Noonan exerts a similar influence on Jeb Bush's campaign, he will surely be an asset to his candidate.