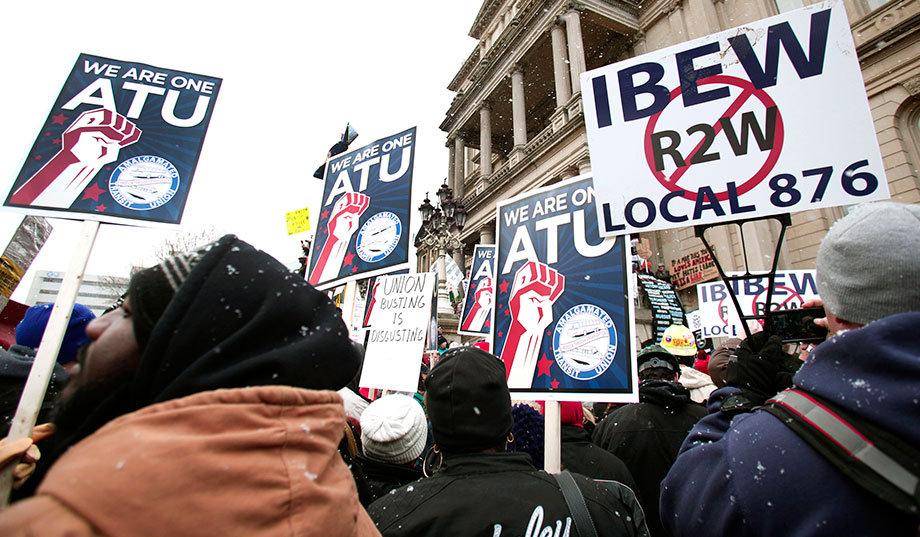 Even many industrial states are learning the benefits of right-to-work laws.
Labor unions have traditionally been the 800-pound gorilla of special-interest groups. They have secured handouts and subsidies that other organizations' lobbyists could only dream about. But that may be changing.
This year a raft of Midwestern states have scaled back some of organized labor's special privileges. States are starting to treat unions no differently from other private membership organizations.
Many politicians — of both parties — fear that crossing organized labor could cost them reelection. Unions use this clout to engage in massive "rent seeking" — pursuing legislation that transfers others' wealth to them.
Most prominently, unions in half the country can force workers to pay dues, even if they do not want to join the union. The ACLU, the National Rifle Association, and other private organizations must persuade Americans to voluntarily join and donate. Not unions.
Once they organize a workplace, unions can (but need not) force workers to accept their representation. In 25 states they can also force workers to pay union dues. The other 25 states have "right-to-work" laws that make payment of union dues voluntary.
Unsurprisingly, unions prefer compulsion. They fight right-to-work tooth and nail, and their opposition usually blocks it. Between 1980 and 2010, only two states passed right-to-work laws.
Compulsory dues are just one union handout. Thirty-two states enforce "prevailing wage" laws that effectively require contractors to pay union wage scales on state- or local-government construction projects. This makes public construction projects a lot more expensive by insulating construction unions against competition from non-union workers.
Many state and local governments go even further by virtually mandating that their construction contractors use union labor. Government bodies often require construction companies to agree to "Project Labor Agreements" (PLAs) in order to bid on public-works projects. PLAs require contactors to use union wage scales and union work rules, and to hire all their workers through union hiring halls. This raises the cost of public construction projects by 12 to 18 percent. Few other organizations' lobbyists can even dream of getting such special treatment.
Fortunately, all this is changing. Michigan and Indiana both passed right-to-work laws in 2012. At the time, unions promised electoral retribution, but a funny thing happened on the way to the voting booth: nothing.
Conservatives expanded their legislative majorities in both states after the laws passed. Union bosses opposed voluntary dues, but the voters did not. In Michigan, just one legislator who voted for right-to-work lost reelection: a moderate state representative defeated in the primary by a tea-party challenger. Unions turned out to have more bark than bite.
This victory has given more policymakers the courage to tackle labor reform. Now many Midwestern states have begun reining in unions' coercive powers. Governor Scott Walker just signed legislation making Wisconsin the 25th state with workplace-freedom laws. Unions can no longer compel Badger State workers to pay their dues.
Missouri may soon follow suit. This year the state house passed right-to-work legislation for the first time in its history. The state senate will probably do the same. Democratic governor Jay Nixon has promised to veto it, but term limits will force him out of office in 2016. If the voters elect a conservative replacement, Missouri may soon become right-to-work.
In Kentucky, right-to-work stalled in the legislature, so local governments have taken matters into their own hands. A dozen Kentucky counties have used the "Home Rule" power the legislature delegated to them to pass local right-to-work laws.
Even Bruce Rauner, the newly elected moderate-Republican governor of Illinois, has embraced right-to-work. He has proposed local workplace-freedom zones and filed a lawsuit to block forced union dues for state employees.
The rent-seeking rollback has gone far beyond union dues, however. The Indiana legislature just repealed the state's prevailing-wage law, which means Indiana no longer requires taxpayers to pay union rates for construction work. Similar bills have been introduced by high-profile legislators in Wisconsin and Michigan.
Now the Ohio house has also taken a small step toward reform. After the voters repealed SB 5, which placed limits on government unions, in 2011, the state legislature avoided labor issues — until now. With bold new leadership in the Ohio house, the new budget would prohibit state agencies from requiring PLAs on construction contracts. If it becomes law, unions will compete for those projects on an equal footing with everyone else.
Americans have every right to associate with unions, or not, as they choose, but the law should not give them special treatment. Many Midwestern states are finally taking steps to help return unions to membership in voluntary civil society.
— James Sherk is a senior policy analyst in labor economics at the Heritage Foundation.