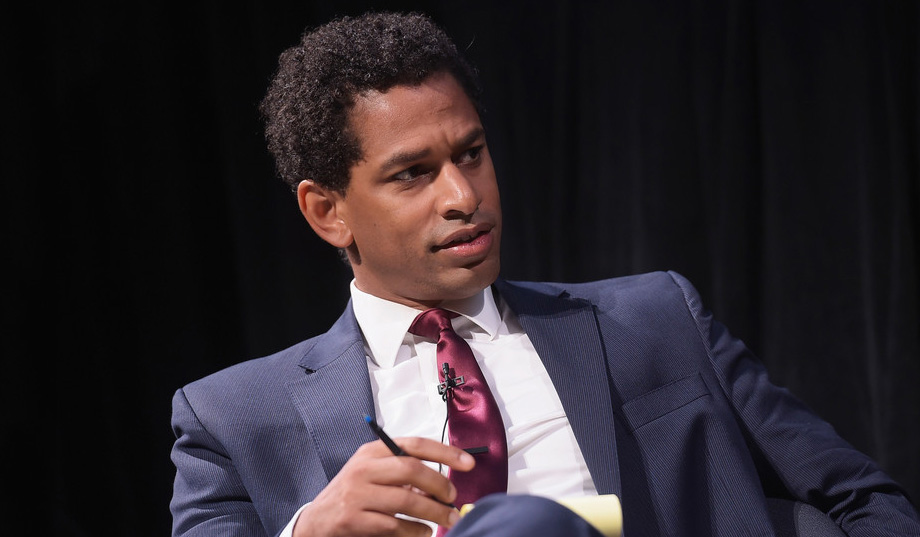 And he's just one of the network's four tax scofflaws
Touré Neblett, co-host of MSNBC's The Cycle, owes more than $59,000 in taxes, according to public records reviewed by National Review.
In September 2013, New York issued a state tax warrant to Neblett and his wife, Rita Nakouzi, for $46,862.68. Six months later, the state issued an additional warrant to the couple for $12,849.87.
In January 2014, Neblett tweeted, "Regressive taxation & tax-avoidance & union crushing & the financial corruption of legislation has fueled inequality more than hard work." In 2012, he also criticized Republican politicians, saying they were "all afraid to vote for a modest tax increase of people who can totally afford it."
MSNBC's hosts and guests regularly call for higher taxes on the rich, condemning wealthy individuals and corporations who don't pay their taxes or make use of loopholes. But recent reports, as well as records reviewed by National Review, show that at least four high-profile MSNBC on-air personalities have tax liens or warrants filed against them.
TODAY ON NATIONAL REVIEW
Victor Davis Hanson: Do Hillary's Fair-Pay Talking Points Apply ro Her Own Family?
Andrew McCarthy: Loretta Lynch vs. the Constitution
Charles C.W. Cooke: What Critics of Cruz's Debate-Club Rhetoric Don't Get
Kevin D. Williamson: Return of the Yellow Peril
David French: Cultural Conservatives Have Barely Begun to Fight
Last month, New York filed a $4,948.15 tax warrant against Joy-Ann Reid, who serves as managing editor of theGrio.com and until earlier this year hosted MSNBC's The Reid Report, and her husband, Jason. Reid has called taxes on the wealthy "a basic fairness argument," also arguing for "smart spending and smart tax increases" to create economic growth.
NR could not reach Neblett or Reid directly, despite sending e-mails to them directly and asking for comment through an MSNBC spokesperson. Representatives for Neblett and Reid said their tax debts were in the process of being resolved.
RELATED: Al Sharpton's Tax Woes Continue
Last week, the Winston-Salem Journal reported that Melissa Harris-Perry, who hosts an MSNBC show named after herself, and her husband, James Perry, owed around $70,000 in delinquent taxes, according to a federal lien filed in April 2015. Harris-Perry told the newspaper that she and her husband had made a $21,721 payment toward that debt on Tax Day.
"We actually do better as a country when we spread the wealth around," Harris-Perry has said. She has also quoted Obama, calling income inequality "the fundamental threat to the American dream." She called for Republican lawmakers to acknowledge that "the growing income disparity in America is, in fact, you know, a real thing," adding that "they would have to decide if, ideologically, it's an issue worth addressing, and if so, if it is the government's problem to fix."
In April 2010, Harris-Perry had tweeted: "Sorry tweeps, I am a total progressive, liberal, Donkey loving Dem, but man I have a big tax burden this year. #willgetcoffeeinstead."
RELATED: Corporations That Sponsor Al Sharpton's National Action Network Convention
Meanwhile, Al Sharpton's tax problems have been the subject of extensive coverage by National Review and other publications. In November, the New York Times estimated that Sharpton and his entities owed as much as $4.5 million in taxes, penalties, and interest, a sum the MSNBC host disputes.
This isn't Neblett's first brush with controversy. In 2012, the host eventually apologized after using the n-word on-air, claiming that Mitt Romney's word choices in campaign speeches amounted to "racial coding" against President Obama.
In 2014, Neblett again issued an apology after a Twitter exchange in which he suggested that the success of concentration-camp survivors who emigrated to the U.S. was attributable to "the power of whiteness."
As to the current tax controversies of its hosts, MSNBC declined NR's request for comment. We wanted to know whether the network thought that pushing for bigger taxes for the wealthy was hypocritical, given failure of MSNBC's own high-paid hosts to meet their fundamental tax obligations. Silence from the network on that, and little else.