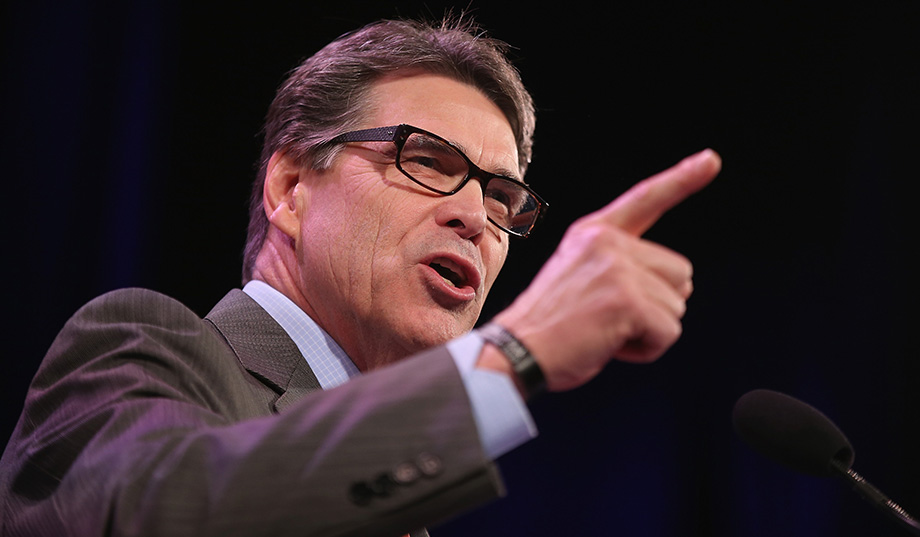 Former Texas governor Rick Perry accused the Obama administration of "delusional thinking" and keeping the American military in the dark about the threats facing the country in a speech at the Citadel, South Carolina's military college, earlier today.
"If you choose to wear the uniform of our nation, you deserve the truth about the realities you will face, however unpleasant," Perry said. "At no time in the last 25 years has the world been more dangerous. And because of it, some of you will be called upon to put your lives at risk."
Perry effectively accused President Obama of lying in his statements on U.S. efforts against ISIS and other terror groups:
"The president's State of the Union address has become the State of Delusion address," Perry said. "When Yemen is held up as a model for containing terrorism, when ISIS is declared contained and its religious roots are denied, our president has fallen victim to delusional thinking."
Perry is arguably the only viable GOP presidential candidate in the field with military experience, depending upon whether South Carolina senator Lindsey Graham or former U.N. ambassador John Bolton are considered serious contenders. He served in the Air Force from 1972 to 1977, a unique qualification he's likely to emphasize in his White House bid. In fact, his political-action committee, RickPAC, is already touting him as "Former Texas Governor and U.S. Air Force veteran Rick Perry."
"I never served in Vietnam, after receiving my commission in 1972, but I remember cadets who did, and I still remember the faces of those who would never come home," Perry said. "When it comes to our foreign policy, we can never forget the toll war takes on our warriors."
In his speech, Perry went on to outline a foreign-policy vision patterned after Ronald Reagan's policies of the 1980s. Building a large, muscular U.S. military force, Perry said, is the best way to avoid costly, violent conflicts.
"The best policy to preempt war is to establish the capacity and display the resolve to wage it with overwhelming, decisive and crushing force," Perry said. "For most of the last seventy years, we have kept a strong peacetime force, developed intelligence assets, utilized the tools of soft power, and built alliances that made the world more secure. We did not avoid war – as Korea and Vietnam demonstrate – but we avoided world war, and we utilized our superior military capabilities, our free market system and a policy of strategic engagement to rid the world of Soviet Communism."
Perry also mentioned Russia's aggression in Ukraine, China's increasing saber-rattling in the Pacific, and growing threats in cyberspace, but the meat of his speech was his scathing critique of the administration's proposed deal with the Iranian regime.
#related#"The president's negotiations with Iran have served to legitimize – not limit – their nuclear ambitions," Perry said. "They are an aggressive power seeking dominance in the Middle East. They fund the terror groups Hamas and Hezbollah. They control four proxy states. And nuclear weapons in their hands will destabilize the Middle East, setting off a nuclear arms race that will lead to a Sunni bomb, and create a grave escalation of the threat posed to the one vibrant democracy in the Middle East: Israel."
Perry pledged that "one of my first actions in office would be to invalidate the president's Iran agreement, which jeopardizes the safety and security of the free world."
In his remarks about the defense budget, Perry said "we need a military with the capacity to fight one major war and respond to several other serious contingencies of various sizes in overlapping geographic regions. . . . Military planners will tell you that a one-war strategy is really a no-war strategy because of the risk of opportunistic aggression when America is fighting on another front."
But after calling for additional defense spending – including modernizing the nuclear infrastructure and hardening cyber-defenses — Perry didn't give a clear sense of how he envisions paying for it, other than to say "in order to fund our defense needs, it is imperative that we launch a new era of economic growth."
He did offer the contention that "we could save over $100 billion through reforms to the military procurement process."
— Jim Geraghty writes the Campaign Spot for National Review Online.