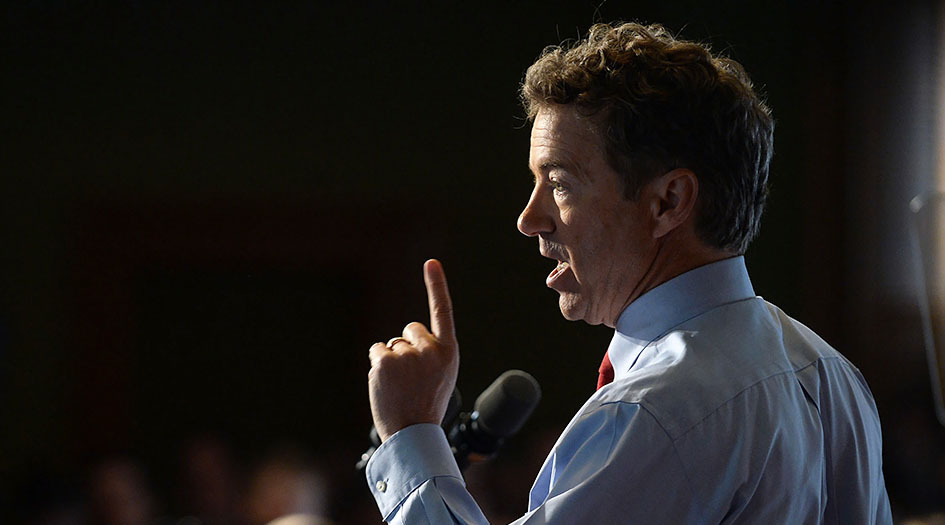 Senator Rand Paul is the second Republican to announce his official run for the 2016 presidential nomination. He brings some strengths to the race, and some glaring weaknesses.
On the positive side of the ledger, he has emphasized outreach to members of minority groups, especially black Americans. Paul can be an appealing politician with a knack for political theater, so he has had some success in front of unfavorable audiences. Such efforts are necessary to broaden the party's appeal, and other candidates would do well to emulate Paul's work (if not his chummy pow-wow with racial provocateur Al Sharpton).
The Kentucky senator has also shown some appetite for policy entrepreneurship. His efforts on criminal-justice issues — reforming mandatory-minimum sentencing, for instance, and reconsidering capricious civil-asset-forfeiture policies — have been mostly admirable. Republicans, including a likely 2016 contender, Rick Perry, have been working on these issues on the state level for some time, but Paul deserves credit for leading on federal policy.
RELATED: Rand Paul Is Running. Now the Establishment Takes the Gloves Off
That said, it is unlikely, to say the least, that black and Latino voters aren't Republican because the party is insufficiently libertarian. The same could be said of the electorate as a whole. Paul's attempt to win new Republican voters by appealing to libertarians is inherently limited. There simply are not many libertarian voters, and that is not about to change any time soon.
What should concern voters most about a Paul candidacy are his foreign-policy views. Even as he has scrambled to assure Americans that he cares about a muscular defense, his history of conspiratorial statements, his associations with his father's extremism, and his own unwise votes betray more-irresponsible views. He repeatedly distorts the nature of the NSA surveillance program, and is to President Obama's left on it. Some of his attempts to combine his noninterventionist instincts with meaningful policies for a chaotic world have been completely incoherent. During the Ukraine crisis, for instance, he proposed to help our ally by cutting off all U.S. aid to them, likely forcing the country to default during a time of war. At the same time he was claiming the mantle of Reagan, he chided other Republicans for "tweaking" Russia (they were speaking the truth about Putin's ambitions).
RELATED: Rand Paul Looks to Tea Party as He Prepares for War with Jeb and Hillary
#related#A sympathetic understanding of Paul's foreign-policy views is that he would like America, believed by conservatives to be the indispensable nation, to conduct its foreign policy as if it were any other country. A year or more ago, it seemed these views might get traction within a Republican party weary of conflict. But events and President Obama's weakness have snapped the GOP back to its natural posture of strength. Most Republican voters, for instance, are rightly concerned about the deal President Obama just struck with Iran. Are they going to vote for a candidate who has been all over the map about the sanctions that got us even this unappealing bargain?
But conservatives shouldn't demonize Paul unnecessarily. We should have the confidence in our arguments and the weakness of his to allow him to make his case without unnecessary animadversion. Paul's candidacy could be healthy for the party, if Republicans share his impulse to find new supporters and to think anew in some areas of domestic policy — and firmly reject his otherworldly national-security policies.