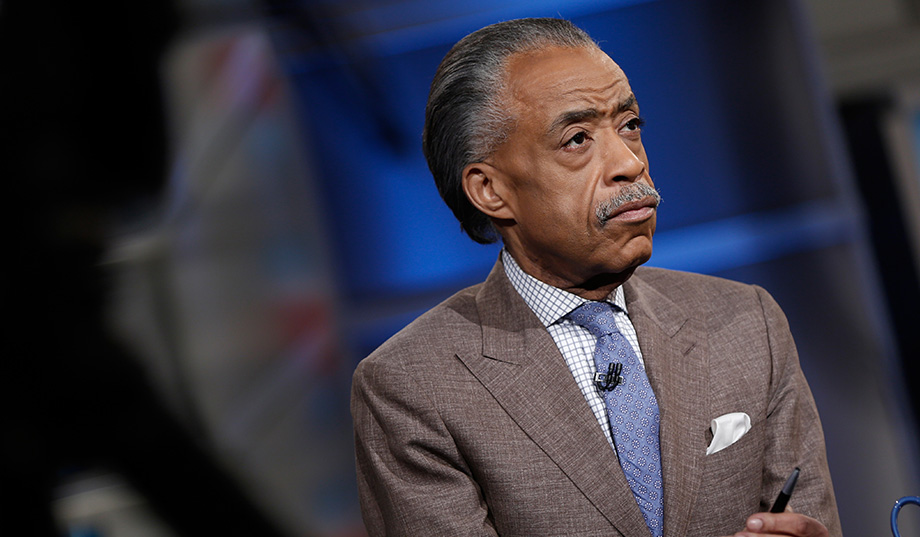 And, surprise, the nonprofit is on Charity Navigator's "watch list."
Since Politics Nation debuted on MSNBC on August 29, 2011, Al Sharpton's nonprofit National Action Network has collected more than $2.38 million in contributions from unions, according to Department of Labor records. Meanwhile, Sharpton has often used his show to promote pro-labor viewpoints, also inviting union leadership on as guests.
"The civil-rights movement, the labor movement, the human-rights movement is all one thing," Sharpton said in May 2014, echoing the Amalgamated Transit Union's cries against cuts in transportation spending. Just two months prior, the Amalgamated Transit Union had given National Action Network a $15,000 contribution.
Sharpton has swapped donations to National Action Network for air time before, though it's unclear whether such arrangements apply to his MSNBC show.
RELATED: Corporations That Sponsor Al Sharpton's National Action Network Convention
In 2010, before Sharpton's show debuted, National Action Network had offered "the opportunity to appear bi-monthly on Reverend Sharpton's nationally syndicated radio show" in exchange for a donation of $100,000 or more, according to records from the nonprofit reviewed by National Review.
"I think Sharpton's providing a vehicle for pro-labor organizations gives him access to dollars, that's for sure."
A source close to Sharpton notes that "MSNBC's rules are more stringent than syndicated radio shows" but also adds: "I think Sharpton's providing a vehicle for pro-labor organizations gives him access to dollars, that's for sure."
Sharpton and organized labor have long enjoyed a mutually supportive relationship, even before the days of Politics Nation. Since the show's launch, unions increased their support of National Action Network by more than $115,000, compared with the same duration of time prior to the show.
RELATED: Suspicious Fires Twice Destroyed Key Sharpton Records
Lee Saunders sits on the board of National Action Network, and he's also president of the American Federation of State, County and Municipal Workers, which has given Sharpton's nonprofit $541,500 in donations since Politics Nation launched, according to Department of Labor records. Saunders has appeared twice on Politics Nation in the last 16 months.
"The problem is, there are all these conflicts," the source close to Sharpton says. "How do you have Lee, who is on your board, and who is [leading] AFSCME, on your show — it becomes very confusing."
#related#Randi Weingarten, president of the American Federation of Teachers, has also appeared twice in the past 16 months. AFT's headquarters and New York Local 2 have given Sharpton's nonprofit $445,000 since August 29, 2011, records show.
Service Employees International Union's president, George Gresham, has also made appearances on Sharpton's show. The union has given National Action Network $436,133 over the past four years, the Department of Labor reports.
In 2012, Sharpton extensively covered the fight against Michigan's 2012 right-to-work legislation on Politics Nation. Republicans are conducting "an extreme attack on core democratic policies," Sharpton said, claiming that "billionaire conservatives" had funded the effort, and "their goal now is the same it was then: cripple unions in order to pad their corporate profits and take down a key source of support for the Democratic party."
RELATED: New Report: Al Sharpton's Tax Woes Continue
The next night, he devoted another Politics Nation segment to the topic. "Threats, intimidation, undemocratic moves: Right now, Michigan is the center of the right-wing attack on workers' rights, and we must fight it," Sharpton said.
In addition to income from his MSNBC contract, Sharpton also earned $241,545 in salary from the nonprofit in 2013.
MSNBC declined to answer National Review's questions regarding the network's policies on union contributions to nonprofits run by its hosts. It would not comment on potential conflicts of interest or the appearance of bias that might arise from the donations to National Action Network.
"[The] Rev. Al Sharpton is both President of the National Action Network and a host on MSNBC," said a network spokesperson. "We've always been transparent about the dual roles and his work outside of MSNBC."
Sharpton and National Action Network have not returned National Review's multiple phone calls, e-mails, and text messages requesting comment. A man who answered Sharpton's mobile phone said Sharpton was unavailable to talk at the time because he of meetings in Baltimore.
This isn't the first time union contributions have resulted in scrutiny of MSNBC.
In December 2013, news broke that since 2012, a company owned by Ed Schultz had received $252,000 from unions. Since then, Ed Schultz Broadcasting LLC has received an additional $60,000 from the postal workers and autoworkers unions, according to Department of Labor records. MSNBC referred National Review to a 2013 Politico article that notes the network has required Schultz to donate the money to charity, "in keeping with company policy."
In November 2010, the network also suspended host Keith Olbermann after learning he had made campaign contributions to three Democratic candidates.
Although National Action Network has received more than $2.38 million from organized labor in recent years, the nonprofit has apparently remained in financial trouble. A 2013 filing with the Internal Revenue Service showed the nonprofit had ended the year with negative assets of $1.33 million.
Nonprofit experts have told National Review that the Sharpton's six-figure salary from National Action Network, as well as the $328,881 in loans from Sharpton to the organization, raises red flags.
Earlier this year, nonprofit watchdog Charity Navigator put National Action Network on its watch list.
— Jillian Kay Melchior writes for National Review as a Thomas L. Rhodes Fellow for the Franklin Center.