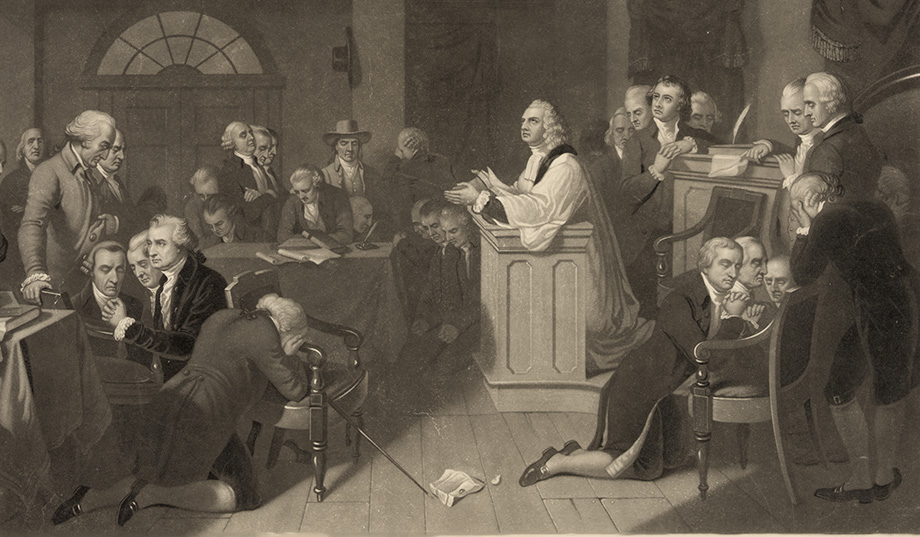 Today is the 64th National Day of Prayer.
The following is a letter signed by 56 members of the House of Representatives.
Dear America,
Each year for the past 64 years, the president has called the American people to a day united in prayer. We call it the National Day of Prayer, and this week, we will celebrate it once again. As a nation, we have faced many daunting challenges throughout our history, and have overcome them. We are optimistic about America's future because throughout her history, the prayers of our people have united and sustained us across impossible odds.
The first presidential call to prayer was issued by George Washington on October 3, 1789. He wrote, "It is the duty of all nations to acknowledge the providence of Almighty God, to obey his will, to be grateful for his benefits, and humbly to implore his protection and favor." Since then, there have been over 130 presidential calls to prayer, and in 1952 President Harry Truman signed a law making the National Day of Prayer an annual event.
After the American Revolution, our nation's leaders were deeply divided over the way in which this new experiment in democracy should be governed. A first attempt at forming a civil structure under the Articles of Confederation was failing and a convention was called to address the problem.
Though they all had fought for the shared ideal of freedom in the Revolution, the delegates at the Constitutional Convention agreed very little about what structure of government would best preserve their hard-won freedom. Disagreements and bickering threatened to undermine the new nation almost as soon as it had begun. Amidst the controversy, Benjamin Franklin urged that the delegates appoint religious leaders to open each session with prayer. Franklin noted in his appeal that, during the war with Britain, they had prayed daily for protection, and yet in a time of peace they had forgotten the need to seek such protection and wisdom.
As our nation was on the verge of splitting in half in 1863, President Lincoln proclaimed a national day of prayer, that "the united cry of the nation will be heard on high and answered with blessings no less than the pardon of our national sins and the restoration of our now divided and suffering country to its former happy condition of unity and peace."
Despite our disagreements, we can be one voice, united in prayer as we strive to overcome the challenges that lie before us.
On the eve of D-Day in 1944 as General Eisenhower and his troops carried out the perilous invasion of Normandy, President Franklin D. Roosevelt led the nation in prayer. He prayed, "As we rise to each new day, and again when each day is spent, let words of prayer be on our lips, invoking Thy help to our efforts."
Corporate prayer unifies by reminding us that, while we may disagree about what paths or policies will best continue to support and secure our freedoms, we must recognize where we have shared motivations to preserve that freedom. Despite our disagreements, we can be one voice, united in prayer as we strive to overcome the challenges that lie before us.
Opening legislative sessions with prayer is a tradition with a rich history in America dating back to a prayer given before the First Continental Congress on September 7, 1774. In keeping with a long-embraced and protected tradition, both chambers of the United States Congress — the House and Senate — begin their legislative sessions each day with a prayer. This prayer is offered either by the House or Senate Chaplain, or by a guest chaplain that has been nominated by a Member of Congress.
This rich tradition was recently reinforced by the Supreme Court of the United States in the case of Town of Greece v. Galloway, and we encourage you to read for yourself the strong words of support that the Court had for this tradition.
For years, the town of Greece, N.Y., had opened its meetings in prayer. But in 2008, two local residents filed suit challenging the town's practice as unconstitutional. Even though people of all faiths or no faith were welcome to volunteer to give a prayer, the U.S. Court of Appeals for the Second Circuit held that the policy was unconstitutional because the prayers being offered were predominantly Christian. In response, 85 members of the House of Representatives, 34 senators, and the Department of Justice filed friend-of-the-court briefs defending the town and our nation's long tradition of legislative prayer.
In its decision, the Supreme Court reversed the Second Circuit's opinion and concluded that what mattered was the inclusivity of the volunteer policy, and not the resulting theological variety of the prayers. Looking to the example of legislative prayer in Congress, the Court noted that Congress acknowledges our religious diversity by welcoming ministers of many creeds, not by regulating the content of the prayer. Once the government has invited public prayer, it must leave the prayer giver free to pray by his or her conscience.
This landmark decision from the Court affirmed two crucial truths. First, the Establishment Clause does not require the scrubbing of sectarian references or religious traditions from public view. The Court noted that "our tradition assumes that adult citizens, firm in their own beliefs, can tolerate and perhaps appreciate a ceremonial prayer delivered by a person of a different faith."
Second, after decades of confusing and unworkable legal tests, the Court clearly acknowledged that the crucial question pertaining to the separation of church and state is whether or not an individual has been compelled by the government to hold a particular religious belief. The Court further wrote that "offense . . . does not equate to coercion. . . . An Establishment Clause violation is not made out any time a person experiences a sense of affront from the expression of contrary religious views in a legislative forum."
We have faced challenges in the past. We are facing challenges now, and we will face them in the future. Yet we believe there is hope for America — that we have a bright future — if we remember the greatness of our foundation. If we remember to pray. America has been made great through the prayers of her people, and she can remain so.
We hope that you will take the time to read the Court's decision in full, and that you are encouraged by the Court's strong affirmation of the rich tradition of legislative prayer. As members of the United States Congress, we will continue to uphold this tradition on the floor of both the Senate and the House of Representatives.
Sincerely,
Your Representatives in Congress
Signers: Speaker John A. Boehner, Representative J. Randy Forbes (VA-04), Senator James Lankford (OK), Representative Robert Aderholt (AL-04), Representative Virginia Foxx (NC-05), Representative Tim Walberg (MI-07), Representative Vicky Hartzler (MO-04), Representative Joe Wilson (SC-02), Representative Rick Allen (GA-12), Representative David Rouzer (NC-07), Representative Mike Pompeo (KS-04), Representative Randy Neugebauer (TX-19), Representative Jeff Miller (FL-01), Representative Brad Wenstrup (OH-02), Representative Rob Wittman (VA-01), Representative Robert Pittenger (NC-09), Representative John Fleming (LA-04), Representative Kristi Noem (SD-AL), Representative Kevin Cramer (ND-AL), Representative Rick Crawford (AR-01), Representative Stephen Fincher (TN-08), Representative Glenn Thompson (PA-05), Representative Steve King (IA-04), Representative Robert Latta (OH-05), Representative Ralph Abraham (LA-05), Representative Doug LaMalfa (CA-01), Representative Tim Huelskamp (KS-01), Representative Walter Jones (NC-03), Representative Andy Harris, M.D. (MD-01), Representative Daniel Webster (FL-01), Representative Richard Nugent (IL-11), Representative David Reichert (WA-08), Representative Bill Posey (FL-08), Representative Scott Rigell (VA-02), Representative Doug Lamborn (CO-05), Representative Peter Roskam (IL-06), Representative Steve Stivers (OH-15), Representative Joe Pitts (PA-16), Representative Chuck Fleischmann (TN-03), Representative Mark Walker (NC-06), Representative Gregg Harper (MS-03), Representative Blaine Luetkemeyer (MO-03), Representative Dennis Ross (FL-15), Representative Renee Ellmers (NC-02), Representative Steve Pearce (NM-02), Representative Jody Hice (GA-10), Representative Blake Farenthold (TX-27), Representative John Carter (TX-31), Representative John Moolenaar (MI-04), Representative John Ratcliffe (TX-04), Representative Louie Gohmert (TX-01), Representative Diane Black (TN-06), Representative French Hill (AR-02), Representative Brian Babin (TX-36), Representative Randy Hultgren (IL-04), Representative Mike Kelly (PA-03)
— Representative J. Randy Forbes (R., Va.) chairs the House Armed Services Seapower and Projection Forces Subcommittee.