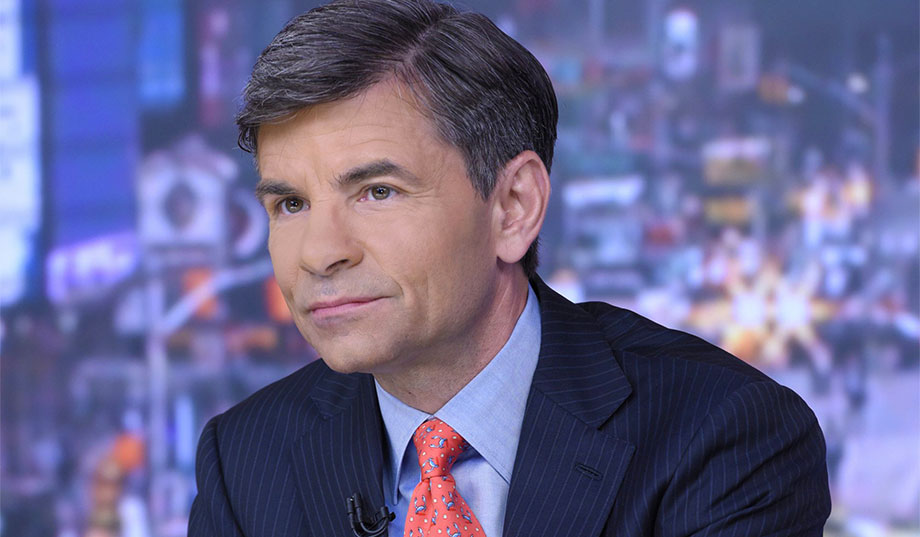 If George Stephanopoulos had simply donated $75,000 to the Clinton Foundation while also serving as one of its favorite media panelists, the controversy over his conflicts of interest would be much less. Stephanopoulos would be guilty of a clear error, but he also would have had a lot of media company.
What makes his scandal different is that he himself chose to interrogate Peter Schweizer, the author of Clinton Cash, the new exposé on the Clinton Foundation. If you watch the interview, it's pretty obvious that Stephanopoulos is playing prosecuting attorney against Schweizer while also declining to ask key questions, for instance, about Hugh Rodham, Hillary Clinton's brother and his highly questionable dealings involving the foundation. In an op-ed today in USA Today, Schweizer says he views himself as a victim of "hidden hand journalism" in which his work was undermined without the audience's knowing the interviewer's biases.
RELATED: George Stephanopoulos's Clinton Foundation Hypocrisy Is Staggering
That is no doubt one reason that Carole Simpson, a former colleague of Stephanopoulos's at ABC News, decided to drop a bomb on him today on Reliable Sources, CNN's media-criticism show. "There is a coziness that George cannot escape," Simpson explained. "While he did try to separate himself from his political background to become a journalist, he really isn't a journalist. . . . And I am sorry that again the public trust in the media is being challenged and frayed because of the actions of some of the top people in the business."
Simpson also stated the obvious: "While ABC News says it was 'an honest mistake,' they don't feel that way. Secretly, they are hopping mad, I am sure."
They should be looking in the mirror. As Byron York has laid out in the Washington Examiner, the danger signals about Stephanopoulos were evident nearly 20 years ago when he was hired by ABC News almost immediately after he left the Clinton White House. We know from his 1999 memoir that upon his departure in late 1996, he told Hillary Clinton that he loved her. York noted that for a few years ABC News put up a pretense of calling Stephanopoulos an analyst and assuring people he wouldn't be reporting on politics: "He will not report the news," an ABC spokesman assured York in 1999. But in 2002, Stephanopoulos was named the host of ABC's Sunday-morning interview show This Week, and in short order he became ABC's "chief Washington correspondent."
RELATED: Stephanopoulos Has Got to Go
But the real danger signal flared up in February 1998, just as President Clinton, Stephanopoulos's old employer, was in deep peril of being forced from office for his role in the Monica Lewinsky sex-and-federal-perjury scandal. The Clinton White House was desperate to discredit and intimidate its adversaries, and apparently Stephanopoulos was all too willing to serve as a conduit for that.
During an interview on February 8, 1998, Stephanopoulos appeared as an analyst on This Week, the show he would become host of only four years later, to announce there was an "Ellen Rometsch" strategy by "White House allies" against anyone who was trying to topple Clinton.
Here is the fascinating exchange:
Sam Donaldson: We know what the White House tactics are. I mean, they've been almost open about it. Attack the press, and perhaps with good reason. Attack the independent counsel, perhaps for some good reason, and stonewall on the central issue, which is the president of the United States. And if he has nothing to hide, why is he hiding?

George Stephanopoulos: I agree with that. And there's a different, long-term strategy, which I think would be far more explosive. White House allies are already starting to whisper about what I'll call the Ellen Rometsch strategy. . . . She was a girlfriend of John F. Kennedy, who also happened to be an East German spy. And Robert Kennedy was charged with getting her out of the country and also getting John Edgar Hoover to go to the Congress and say, don't you investigate this, because if you do, we're going to open up everybody's closets. And I think that in the long run, they have a deterrent strategy on getting a lot of . . . [FBI files].

Sam Donaldson: Are you suggesting for a moment that what they're beginning to say is that if you investigate this too much, we'll put all your dirty linen right on the table? Every member of the Senate? Every member of the press corps?

George Stephanopoulos: Absolutely. The president said he would never resign, and I think some around him are willing to take everybody down with him.
Judicial Watch, the conservative public-interest law firm, had an active lawsuit alleging that Clinton-administration aides had improperly gone through FBI files to discredit opponents. After it was revealed that the Clinton administration apparently released confidential information from Linda Tripp's Pentagon employment file in order to discredit the Lewinsky confidante, Judicial Watch subpoenaed Stephanopoulos to learn the identities of the "White House allies" he had claimed were behind the "Ellen Rometsch strategy."
RELATED: Clinton Campaign Relied on Stephanopoulos for Its Clinton Cash Fact Check
But, as Judicial Watch noted: "Stephanopoulos asserted his privilege as a 'journalist' not to reveal confidential sources. . . . He appears to be a conduit of information from the White House to the public, using his mantle at ABC and Newsweek in part to broadcast White House threats."
Tripp, it should be noted, ultimately got the Clinton administration to admit they had leaked her personnel file, and she collected a big payout in damages.
Tom Fitton, a Judicial Watch attorney in 1998 and now the group's president, once noted that Stephanopoulos had admitted in his 1999 memoir that he was under pressure while he was a White House aide because Hillary Clinton "blamed" him for not being "as tough as Kennedy's men" in going after political adversaries.
RELATED: Will the Clinton-Cash Scandal Doom Hillary's White House Bid?
"I think you could read the Stephanopoulos reference on ABC News to the scorched-earth 'Ellen Rometsch strategy' as an endorsement of it and an attempt to ingratiate himself with the Clinton circle as a 'tough guy,'" Fitton told me.
The Clinton White House was desperate to discredit and intimidate its adversaries, and apparently Stephanopoulos was all too willing to serve as a conduit for that.
The Judicial Watch lawsuit was eventually dismissed after a series of stonewalled subpoenas failed to uncover any abuse of FBI files, but not before, as the watchdog group explained in a report, U.S. District Judge Royce Lamberth "rebuked Stephanopoulos after he obviously failed to search for documents responsive to the subpoena duces tecum Judicial Watch served on him, but falsely testified at deposition that he had." In a 1998 ruling, Lamberth wrote: "This leads the court to conclude that Stephanopoulos failed to conduct any search for responsive documents and did so without explanation, and that some of his deposition testimony on this point is not truthful." Indeed, Stephanopoulos was also ordered to be deposed again and to pay Judicial Watch's attorneys' fees and costs.
RELATED: The Dirty Business of the Billary Machine, Again
So, to recap: Stephanopoulos first came to public attention as the relentlessly slash-and-burn Clinton communications director in the 1993 film The War Room, a chronicle of the Clinton presidential campaign.
During his White House years, Stephanopoulos was always known to be among those who were most eager to discredit any Clinton critic at the first get-go. Even Rahm Emanuel, another famously aggressive Clinton aide, sometimes thought Stephanopoulos wanted to go too far.
After being hired by ABC News, Stephanopoulos used his position soon after the Lewinsky scandal broke to outline the White House's scorched-earth strategy to discredit and expose potential opponents. He then sought to avoid legal questions about his role by claiming to be a journalist. He was rebuked by a federal judge for providing "not truthful" testimony in a lawsuit.
Now, Stephanopoulos shows up again, aggressively trying to discredit Peter Schweizer's new book Clinton Cash when it becomes clear that it's a threat to Hillary Clinton's presidential campaign. He chooses not to reveal his extensive ties with the Clinton Foundation, which go way beyond the mere donation of $75,000 to include the following items compiled by NewsBusters:
Asserted that "there is hope" donations to foundation will "lead to something"

Appeared on conference calls with Democratic strategists

Used his ABC News platform to run unofficial infomercials for Clinton Foundation

In his 1999 memoir, recounted his "love" for Hillary Clinton

Hillary's campaign manager Robby Mook interned for Stephanopoulos; thanked in memoir
In addition, NewsBusters' Geoff Dickens has compiled a list of ten times George Stephanopoulos sucked up to the Clintons on ABC's airwaves.
Is it any wonder that confidence and trust in major media figures have plummeted to such low levels? It's no surprise that ABC News is in cover-up mode when it comes to L'Affaire Stephanopoulos. Disciplining him would reveal just how bad a mistake they made when they so quickly transported him from the Clinton White House attack machine to the commanding heights of ABC News.
— John Fund is national-affairs correspondent for National Review Online.