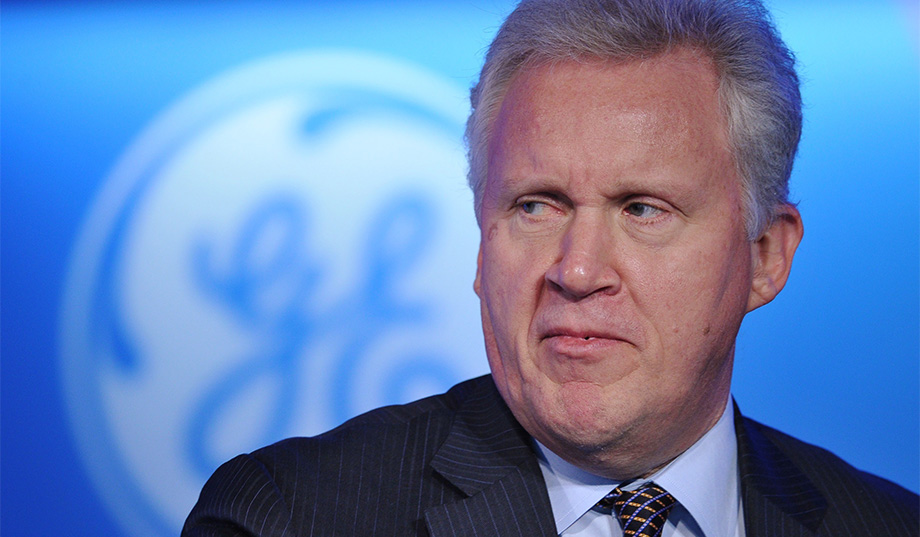 Well, that didn't take long. The same week Connecticut governor Dan Malloy pushed through a $1.1 billion in tax increases in the already heavily taxed state, the iconic firm General Electric appears to be considering fleeing the Constitution State, and moving its headquarters to more business-friendly climes.
In an e-mail to company employees obtained by National Review, GE chairman and CEO Jeff Immelt wrote that the "passing of this law, despite the concerns we raised, has serious implications for GE, other businesses and for the business climate in Connecticut."
"As a result of this law passing, I have assembled an exploratory team to look into the company's options to relocate corporate HQ to another state with a more pro-business environment," Immelt continued. (The text of the full e-mail is here.)
The e-mail included an attached fact sheet that detailed how low the state ranks in various business-friendliness rankings, the changes to the tax policy Malloy just pushed through (which include $700 million in new levies on businesses), and a detailing of GE's contributions to the local community. (The PDF is here.)
New England, once a formidable manufacturing region, has seen businesses and jobs flee for more business-friendly climes elsewhere in the U.S. and even overseas for decades now, cutting into employment opportunities for less-skilled laborers. GE's departure would be just another blow to a region now dotted with former industrial towns searching for a revival.
Connecticut has repeatedly increased taxes on businesses, the fact sheet noted, including a 2013 extension of the corporate tax surcharge. Meanwhile, the state has a 6.3 percent unemployment rate, almost a full percentage point above the national average and the highest in New England, and has seen a steady net outflow in population. The GE fact sheet also offered a merciless list of the the state's rankings in various economic indexes: 50th in Job Climate (Gallup), 46th in Economic Profile (CNBC), and 44th in Economic Climate (Forbes).
While GE's presence in Connecticut has shrunk over the years, it employs 5,700 people in the state, pays almost $1.8 million in property taxes in Fairfield County, in the southwest corner of the state, and buys nearly $14 billion in goods and services from other Connecticut companies. The company has "had a tough past decade in Connecticut," Immelt's e-mail says, "Our taxes have been raised five times since 2011."
Relocation may sound drastic, but according to Carol Platt Liebau, president of the Yankee Institute, a Connecticut free-market think tank, GE's move would be an essentially "rational" decision, given of the dramatically worsening business environment in the state.
"I think it does make sense, because what you've seen is not only a willingness to raise taxes, but a seeming lack of comprehension on the part of state leaders as to why that's a problem," Liebau tells National Review. "What's mind-boggling is to hear some of the Democrats in the state house and the state senate essentially making light of the burdens that their choices are putting on the people of Connecticut."
GE declined to comment on the possibility that it might move, but Immelt's e-mail makes a very similar point:
The new taxes will raise more than $1.9 billion. This will be the second highest tax increase in the state's history behind only the more than $2 billion tax hike passed in 2011. Throughout the week we conveyed our concerns that these would not improve the competitiveness of small and large businesses in the state. We further reiterated those points in a public statement as the legislature began its budget deliberations.
Connecticut's Democratic leadership apparently did not take GE's concerns under consideration, but there may be some blowback. The state's paper of record reports that Malloy and legislative leaders "are open to tweaking the tax side of a budget that has alarmed several large Connecticut employers."
That's a newfound attitude, though, after the state senate's top Democrat accused GE in a press conference of opposing the tax increases as cover for upcoming layoffs.
GE flatly denied the accusation, according to the Hartford Courant, saying, "This is completely untrue. The reason we have spoken out about this budget is that we need to operate in a state that allows business to be competitive."
Connecticut's tax hikes also aren't the only bad news for GE these days: New financial regulations have the firm considering spinning off parts of its large financing arm, GE Capital, which may decrease the need to suffer Connecticut's climate.
Republican state senator Scott Frantz tells National Review that a GE move would be "absolutely devastating for the state in terms of the job losses."
"The state is in such rough shape these days from a business-climate point of view, from a tax-climate point of view," he says, "that the jobs wouldn't be replaced anytime soon — if ever, at all."
Frantz, who represents parts of the prosperous Fairfield County, places the blame for the Constitution State's malaise on the legislature's zeal for spending. "For the last 40 years, we've been growing the [state] budget about 7 percent per year. It's impossible to keep up with no matter what state you are," he says.
As GE decides how to handle the new tax increase, the debate has been getting some national attention, thanks to MSNBC morning host and Connecticut resident Joe Scarborough, who has continued to cover the issue.
After heavily criticizing Malloy's budget plans, when they passed, Scarborough blasted the governor "for passing yet another massive tax increase after promising not to pass another massive tax increase."
Immelt promised to keep GE employees updated as the company considers relocation and said many factors will be considered, including the costs it would impose on employees. But it sure sounds like one of the state's most iconic companies could be headed for the exits.
Would that finally be enough to spark some policy changes in the Nutmeg State? Some new legislators would probably be needed, first. 
The Yankee Institute's Liebau does not mince words on the subject: "I think Connecticut's people can do better than a bunch of legislators who have no understanding and no respect for the free market." Time will tell.
— Mark Antonio Wright is an intern at National Review.