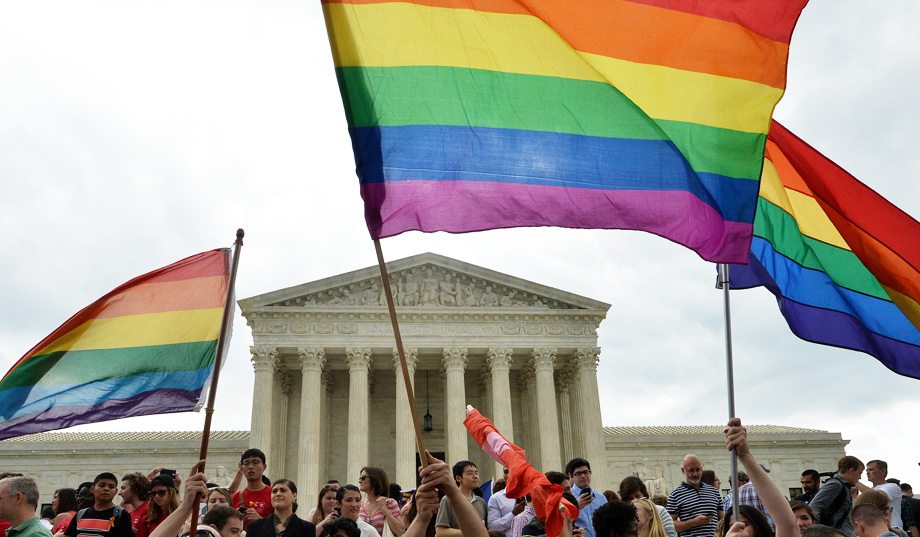 The most striking aspect of Justice Kennedy's majority opinion in Obergefell v. Hodges, which created a constitutional right to same-sex marriage, was its deep emotion. This was no mere legal opinion. Indeed, the law and Constitution had little to do with it. (To Justice Kennedy, the most persuasive legal precedents were his own prior opinions protecting gay rights.) This was a statement of belief, written with the passion of a preacher, meant to inspire.
Consider the already much-quoted closing:
As some of the petitioners in these cases demonstrate, marriage embodies a love that may endure even past death. It would misunderstand these men and women to say they disrespect the idea of marriage. Their plea is that they do respect it, respect it so deeply that they seek to find its fulfillment for themselves. Their hope is not to be condemned to live in loneliness, excluded from one of civilization's oldest institutions. They ask for equal dignity in the eyes of the law. The Constitution grants them that right.
Or this: "Marriage responds to the universal fear that a lonely person might call out only to find no one there."
This isn't constitutional law, it's theology — a secular theology of self-actualization — crafted in such a way that its adherents will no doubt ask, "What decent person can disagree?" This is about love, and the law can't fight love. Justice Kennedy's opinion was nine parts romantic poetry and one part legal analysis (if that).
And that's what makes it so dangerous for religious liberty and free speech. Practitioners of constitutional law know that there is no such thing as an "absolute" right to free speech or religious freedom in any context — virtually all cases involve balancing the asserted right against the asserted state interest, with "compelling" state interests typically trumping even the strongest assertions of First Amendment rights. And what is more compelling than this ode to love?
RELATED: Supreme Court Forces States to Perform Gay Marriage, 5-4
The challenge for orthodox religious believers is now abundantly clear: For years, they've been standing against "history," "equality," and — yes — love itself. Now, all of that rhetoric has been constitutionalized, embedded in the secular scripture of our land.
To be sure, Justice Kennedy did at least nod in the direction of the orthodox, declaring:
Finally, it must be emphasized that religions, and those who adhere to religious doctrines, may continue to advocate with utmost, sincere conviction that, by divine precepts, same-sex marriage should not be condoned. The First Amendment ensures that religious organizations and persons are given proper protection as they seek to teach the principles that are so fulfilling and so central to their lives and faiths, and to their own deep aspirations to continue the family structure they have long revered.
But this rhetoric, as he knows, is legally meaningless in the face of the potent combination of emotion and legal doctrines that have long deemphasized religious freedom. Justice Kennedy's rhetoric will slide neatly into existing balancing tests, leaving defenders of religious liberty grasping for persuasive rhetoric to counter the irresistible tide of the new, civic religion.
#related#For many believers, this new era will present a unique challenge. Christians often strive to be seen as the "nicest" or "most loving" people in their communities. Especially among Evangelicals, there is a naïve belief that if only we were winsome enough, kind enough, and compassionate enough, the culture would welcome us with open arms. But now our love — expressed in the fullness of a Gospel that identifies homosexual conduct as sin but then provides eternal hope through justification and sanctification — is hate.
Christians who've not suffered for their faith often romanticize persecution. They imagine themselves willing to lose their jobs, their liberty, or even their lives for standing up for the Gospel. Yet when the moment comes, at least here in the United States, they often find that they simply can't abide being called "hateful." It creates a desperate, panicked response. "No, you don't understand. I'm not like those people — the religious right." Thus, at the end of the day, a church that descends from apostles who withstood beatings finds itself unable to withstand tweetings. Social scorn is worse than the lash.
This is the era of sexual liberty — the marriage of hedonism to meaning — and the establishment of a new civic religion. The black-robed priesthood has spoken. Will the church bow before their new masters?