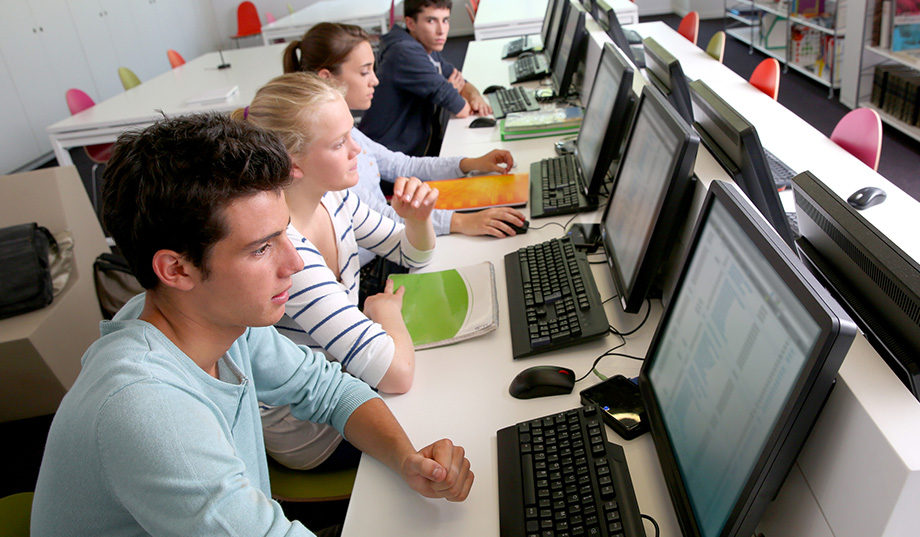 Across the political spectrum, people are debating whether it's a good idea to collect any personal data at all about students. We should at least agree that private companies must not use such data for their own profit. Last month, Senators Orrin Hatch (R., Utah) and Ed Markey (D., Mass.) took a step in this direction, reintroducing legislation that would prohibit companies from data-mining students' personal information for marketing purposes. The increasing use of technology in the classroom has shown the ability to produce significant gains in student achievement, but the advent of high-tech classrooms and online learning has created some troubling issues for parents and students. In the 21st century, school children have to worry about large corporations stealing their personal data as much as they worry about schoolyard bullies stealing their lunch money.
In the digital age, 95 percent of school districts are sending student records to Google, Microsoft, and hundreds of other companies that manage school services. Only 7 percent of these districts sign contracts that directly prevent companies from selling students' data. The Protecting Student Privacy Act would prohibit companies from data-mining students personal information for marketing purposes and would require stricter safeguards on student data. The reintroduction of this legislation (first introduced in 2014) comes in response to high-profile cases in which private corporations gained access to students' data.
Google admitted that it scans the contents of e-mails sent and received through its Apps for Education platform and that it directed targeted ads to students.
Last year, nine plaintiffs (two of them university students) filed a lawsuit against Google, accusing the tech giant of violating federal and state wiretap laws by intercepting e-mail messages and data-mining the messages for advertising-related purposes. The lawsuit alleges that Google surreptitiously built profiles of students who used the company's educational platform Apps for Education. In court filings, Google admitted that it scans the contents of e-mails sent and received through its Apps for Education platform and that it directed targeted ads to those students who did not use the ad-disabling feature offered by Apps for Education. Since the lawsuit was filed, Google has stopped the practice of scanning Apps for Education e-mails and targeting ads to students.
Google's Apps for Education technology is used by millions of teachers and students at the university and K-12 level, and it's deeply concerning that the company admitted it was collecting student data.
The U.S. Department of Education is also facing a lawsuit for promoting regulations that allow private third parties to access private student information. The Electronic Privacy Information Center sued the department over regulations involving the Family Educational Rights and Privacy Act (FERPA), which is supposed to protect the privacy of student records at all schools that receive federal funds. The department's regulations allow schools to release student records to non-governmental organizations without parent or student consent.
Student data should not be collected and used for commercial purposes. It's one thing for a company to data-mine the typical adult user of an e-mail service such as Gmail; an adult voluntarily makes a choice of his e-mail service provider and consents to the terms and conditions of the arrangement, but students don't have a say in the companies with whom school districts or universities make a contract.
School technology systems have a massive amount of data on both students and parents. With the increase in high-tech classrooms and online education, schools not only have records of test scores, absences, and parent income, they also have data on the specific kinds of questions students struggle with and how long it takes students to complete assignments. Such data are greatly improving the quality of education students receive, but we need to ensure the information is safeguarded.
Perhaps surprisingly, private corporations are getting onboard with the push to protect student data. Several large tech companies have signed the Student Privacy Pledge, introduced last year by the Future of Privacy Forum and the Software & Information Industry Association. The pledge insists that companies not collect, maintain, use, or share students' personal information beyond that needed for authorized school purposes, or as authorized by the parent or the student. The pledge also asks that companies not sell personal student information or build personal profiles of students other than for authorized purposes. In January 2015, Google signed the pledge after initially being absent from the list of signatories.
In the House of Representatives, Congressmen Luke Messer (R., Ind.) and Jared Polis (D., Colo.) have introduced a bill similar to the Hatch-Markey legislation and with many of the same provisions that are in the Student Privacy Pledge. The Student Digital Privacy and Parental Rights Act of 2015 prohibits targeting advertising to a student, selling student information to a third party, creating personal profiles of students for non-school-related purposes, and it gives parents the ability to access and correct their children's information or delete information that isn't required by the school to be maintained. Like the Student Privacy Pledge, the Messer-Pollis legislation has won substantial support from school districts, parent and teacher associations, and even tech companies such as Microsoft.
In the digital age, it's difficult to expect privacy in every facet of our lives. Data-mining can be a very useful tool for getting the right information and products into the hands of people that really want that. It's often overlooked that the money companies generate from selling targeted advertising keeps products such as Gmail, Facebook, and YouTube free. But the classroom should be a safe space for students to learn, not for corporations to learn about them.
— Victor Nava is a staff writer at the Franklin Center for Government and Public Integrity.