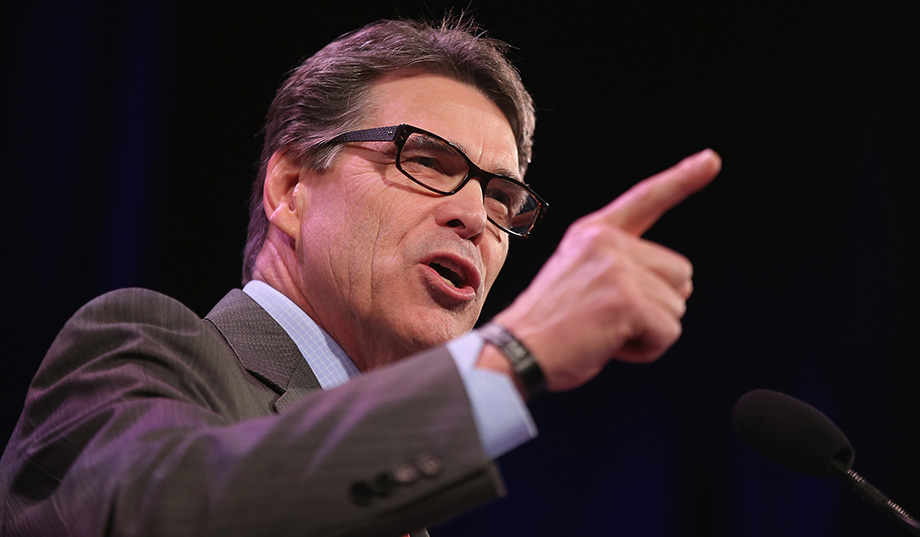 It was perhaps the most surprising hire of the 2016 season.
In April, Avik Roy — the widely respected Manhattan Institute scholar, former Mitt Romney adviser, and opinion editor at Forbes who is one of the leading conservative minds on health-care policy — joined Rick Perry's budding presidential campaign.
Roy could likely have gone with almost any presidential candidate he wished; by his own admission he had been speaking to several of the other Republicans considering running. Originally, he told the Austin American-Statesman in April, he was planning "to not really get involved in the primaries, just talk to anyone who cared what I thought and try to be as helpful to the field as possible."
Instead, he joined up with the former Texas governor, who torpedoed his last campaign with gaffes and missteps, and who is now seen as a long shot in his second attempt to win the White House. But the addition of Roy to the Perry campaign, which will likely officially launch on Thursday, points to something about Perry that is often overlooked: As governor, he was a creative and innovative policymaker, at times tackling issues outside the traditional Republican field of vision. That's an approach that Roy says will make him an unexpected threat in the crowded 2016 field.
'You can't run a state like Texas for 14 years and run it well without being knowledgeable and without having a view on policy.'
"You can't run a state like Texas for 14 years and run it well without being knowledgeable and without having a view on policy. . . . That's a side of Rick Perry that people haven't seen," Roy tells National Review.
Under Perry, Texas became one of the first states to tackle criminal-sentencing reform. As early as 2003, the state legislature softened drug laws, mandating probation rather than jail for anyone convicted of possessing less than one gram of drugs. In 2007, when projections showed the state would need to find room for more than 17,000 new prison inmates over the next five years, the legislature instead allocated $241 million for treatment programs as an alternative to jail for people convicted of non-violent crimes. As a result, the state closed three prisons.
"We shifted our focus to diversionary programs like community supervision. We passed legislation allowing nonviolent offenders access to treatment and vocational programs, proven to reduce recidivism," Perry said earlier this year in a video for the Texas Public Policy Foundation's Right on Crime campaign, a conservative criminal-justice reform initiative. "The results have been extraordinary. Texas's crime rate has dropped to its lowest point since 1968. And during my leadership, Texas's crime rate shrank by almost 24 percent."
RELATED: Rick Perry Rides Again — And It Looks Like He's Ready
On education, Perry took a novel approach to dealing with the rising costs of college attendance. In his 2011 State of the State address, he called on universities to figure out a way to provide a four-year education for $10,000. Critics were, and remain, skeptical, but several four-year institutions nonetheless took up the challenge, devising ways to reduce the educational costs that increasingly leave students burdened with debt for years after graduation.
That plan, and the type of thinking it illustrates, was a big part of what drew Roy to the former Texas governor.
"You want to work for a guy who believes in the ability of policy to make a real difference for average Americans on a whole range of issues, and who isn't simply relying on the ideas that have been out there for 30 or 40 years to achieve those goals," he says.
RELATED: How Five Years in the Air Force Shaped Rick Perry
Critics have questioned just how much Perry can take credit for these initiatives. Texas's government is set up to limit the governor's power, and the legislature ultimately passed the reforms into law. Still, Perry had a reputation for fostering a constructive relationship with his colleagues in the statehouse.
Whatever the case, the results speak for themselves. In 2012 and 2013, Texas ranked second in the country in on-time high-school graduation rates, tied with a handful of other states.
When Perry became governor in 2000, 9.3 million Texans were employed. When he left office in December of last year, 11.8 million Texans were employed. The state's job-growth rate handily outperformed the country's as a whole on Perry's watch.
Perry had that record when he ran in 2012, of course. It was a large part of the fanfare that accompanied his entrance into that race and immediately propelled him to the top of the polls. But his campaign still sputtered, proving ill-equipped to communicate his accomplishments and the ways they would inform his agenda for running the country.
RELATED: Rick Perry: 'Mr. President, If You Don't Secure the Border, Texas Will'
This time around, Perry's nascent campaign will have to establish the full context of his executive career, and do so in a compelling enough way to overcome voters' preconceptions that he is a dunce. Perry adviser Jeff Miller says that will be an easier task than it was in 2012, because "the governor is well versed in everything from monetary policy to foreign policy to the entitlement programs. And not only is he well versed, but he's aware of what he'll do to fix it."
#related#It's unclear whether voters will give Perry a second chance at a first impression. On the one hand, operatives say, the bar is low. Whereas last cycle he had to shoulder the expectations of a frontrunner, even one merely solid debate performance will be an automatic improvement this time.
But some question whether he will have the resources he needs to make that new impression. When he entered the race in 2011, Perry raised $17 million in less than two months. A number of his past donors, disenchanted by Perry's first bid, are supporting other GOP contenders in 2016.
Still, Perry's supporters are hoping that on second glance, voters will see someone who has taken novel approaches to problems and who can actually get things done. It's "very easy to give a speech that has a lot of applause lines," Roy says. "It's a lot harder to actually develop an agenda that will turn the battleship around."
— Alexis Levinson is the senior political reporter for National Review.