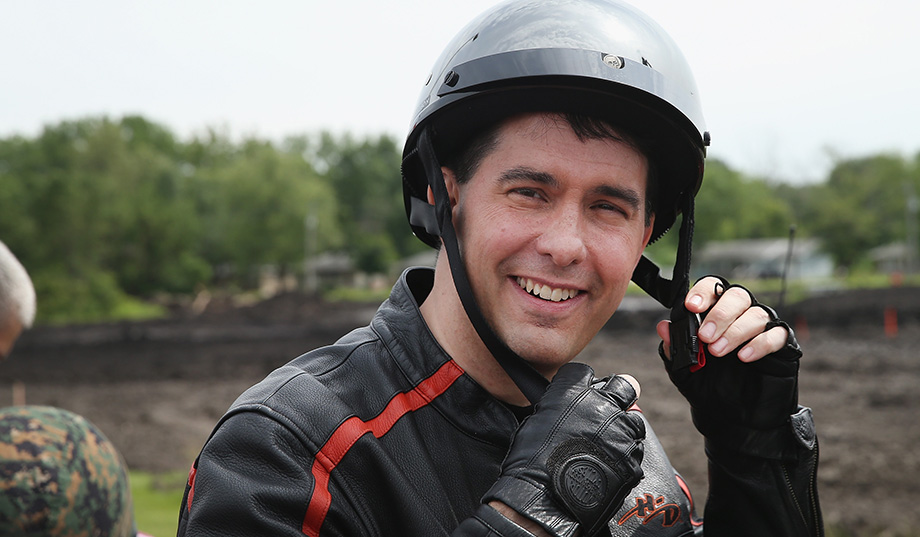 Mason City, Iowa — Scott Walker is battling the expectations game.
The Wisconsin governor has been atop the GOP presidential polls in neighboring Iowa since January, though he has yet to officially announce his campaign.
With the Iowa caucuses still eight months away, Walker's task now is to not screw it up.
"I used to run track, and sometimes I'd come from behind, and my coach would tell me, 'Scott, it's much better off if you just stay ahead the whole time.' So I guess I'll follow his adage in that regard," Walker said Saturday at a press conference here ahead of a fundraiser for Iowa senator Chuck Grassley.
Being a frontrunner can sometimes be a curse, especially this early in the cycle. It sets expectations that are not always realistic eight months later, when the caucuses arrive. Last cycle, one-time frontrunners did not survive poor finishes in the caucuses. They were unable to salvage their campaigns after failing to reach the bar set by their early popularity. Both Rick Perry and Michele Bachmann led the polls for a time in 2011, and both dropped out shortly after the caucuses in 2012, having finished fifth and sixth, respectively, out of seven major candidates.
"When you're that person in Iowa, the expectations are really, really high. Part of his team's job is gonna be to downplay that right now," says Iowa GOP consultant Cory Crowley.
RELATED: Scott Walker Targets Jeb Bush in South Carolina Speech
Walker appears to be aware of the perils such a vaunted position can pose. He deflects a question about his perch atop the polls with humor — "I was second today; I was behind Joni Ernst in the bike ride" — and describes his likely competition as "probably the best emerging field on the Republican side since 1980."
Being a frontrunner can sometimes be a curse, especially this early in the cycle.
But it was hard for Walker to downplay his frontrunner status on Saturday at Iowa senator Joni Ernst's inaugural Roast and Ride event in Boone, where local barbecue joints catered a buffet and a Hardees truck rolled in to serve cheeseburgers to the crowd on hand. From the moment he arrived at Big Barn Harley-Davidson in Des Moines on Saturday to accompany Ernst and 300 other leather- and denim-clad motorcycle enthusiasts on a ride to the event, he was mobbed by both riders and reporters. The crowd left one woman frantically groping her way out of the fray, lamenting that she had somehow ended up inside the mayhem that was Walker's "bubble."
The crowds did not dissipate when Walker arrived at the Central Iowa Expo in Boone. He spent about 30 minutes shaking hands and chatting with people who were pressed against the fence dividing the speakers from the attendees. All the candidates had tents set up where they were handing out paraphernalia, from beer koozies to the more traditional campaign stickers, and taking e-mail addresses from prospective voters. Walker's booth was the most crowded.
RELATED: Wooing Social Conservatives, Scott Walker Doubles Down on Claim About Air-Traffic Controllers
He took the stage in blue jeans, a black T-shirt emblazoned with the logo of the Big Barn Harley-Davidson in Des Moines, a navy blue baseball cap, and black leather motorcycle boots. The black leather fingerless motorcycle gloves and the Harley-Davidson motorcycle jacket were left with the bike.
"I love a senator who knows how to castrate a pig, ride a hog, and cut the pork in Washington," Walker said of Ernst, before launching into his vision of a country that let everyone, not just a select few, "live their piece of the American dream."
Iowa is an important part of Walker's path to the nomination. "From my standpoint, if we're gonna get in, we're gonna be in Iowa not just for the caucuses, we're gonna come back again in the fall," Walker said at his press conference on Saturday. "Because I think the pathway to the presidency for a Republican president comes through the Midwest, and I think places like Iowa, Wisconsin, Michigan, Ohio, are going to be key to electing a Republican president."
RELATED: Scott Walker Is His Own Best Political Operative, and That's a Problem
In the near term, Walker might be able to dodge one expectation-hyping event — the Iowa Straw Poll. But on Saturday, all he was dodging were questions about whether or not he planned to participate. "Should we be a candidate for office as the president, I gotta tell you, I'm gonna be here a lot," he said. But Walker nonetheless went out of his way to avoid committing to any one event or schedule. "Whether or not it involves the straw poll or not, we'll make a decision after we make a decision about the candidacy," he told a small gaggle of reporters in an empty bank adjacent to Grassley's fundraiser. Asked whether he would embark on a "Full Grassley," holding events in all 99 counties as Grassley does, Walker instead talked about how much he loves meeting people and visiting "farms and factories and small businesses" in big and small towns alike.
Both Jeb Bush and Mike Huckabee, the 2007 straw-poll winner, have said that they will not organize for the event, raising questions about its value and relevance. Some Iowa Republicans have even begun questioning whether it will take place at all.
Walker left the door open to skipping it, noting that there were plenty of other events that brought the presidential hopefuls out to Iowa and drew enthusiasm and money for the Iowa GOP.
RELATED: The Media's Embarrassing Scott Walker Spectacle
"I think that's a great reminder that even though, you know, your comment about some have already chosen not to be participating in the straw poll, I don't by any means think that means there's any less enthusiasm for Iowa," said Walker, who, by this point, had changed into a navy blue suit and white shirt, but was still wearing the motorcycle boots.
#related#The straw poll puts Walker in a tough position. Because he's the frontrunner, anything short of a clear victory could hurt his campaign — Tim Pawlenty's candidacy ended after he failed to win that event, on which he had staked his candidacy. If he skips it, he could be criticized for ignoring the event, and some Republicans suggested that the frontrunner's decision not to participate would be the death knell for the poll.
But it's not clear how widespread that backlash would be. Iowa elected officials encouraged all presidential hopefuls to participate, but seemed to have little appetite to outright criticize those who might opt out. "It's not disqualifying," Ernst conceded, though she said she believed candidates "would get a better response" if they did participate.
"I would encourage it, yes, but they would not hear anything negative from me if they decided not to participate," Grassley said, adding: "Don't forget we've had some people win straw polls and not do so well in the caucuses."
– Alexis Levinson is a senior political reporter at National Review.