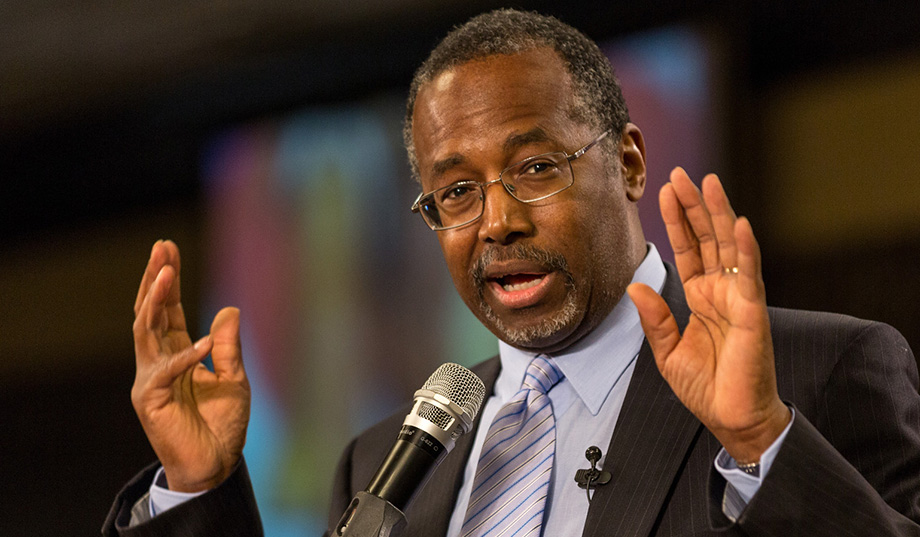 On a Tuesday evening in Barrington, N.H., Ben Carson offered an unorthodox campaign yarn: He told the crowd about how his sexual history easily disproved a paternity lawsuit against him.
"I knew that the only woman I had ever slept with in my whole life was my wife," he said.
Carson's candidacy cannot be written off: He ranks fifth in the Real Clear Politics polling average of national GOP primary polls and raised $10.6 million in the second quarter. And yet if you watch him on the stump, you can't miss the fact that his speeches are almost nothing like any other politician's. Remarks on the campaign trail, delivered at his characteristically quiet volume, typically meander away from the political to the personal, more storytelling than persuasion, sometimes not touching on the fact that he's a candidate at all.
He's told voters not only about his sex life, but about the time the drug dealer who gave him candy as a kid was killed, and plenty of the gritty details of many brain surgeries. His style sets him apart, too: "He's got a very unique sort of speaking style in that he's very soft-spoken, but also sometimes it looks like he's closing his eyes. From a stylistic perspective, he's certainly outside what you would think of as normal politicians," says Republican consultant Reed Galen.
Carson's campaign-trail remarks may raise questions about whether his goal is actually to reach the White House or merely to further introduce himself to the American people, to increase his celebrity, and to sell more books.
In part, Carson doesn't have to introduce himself to the people who show up to see him speak, or do much persuading.
In conversations with voters and at times in his speeches, Carson often seems wholly uninterested in talking about public policy. Sometimes, he simply directs people to his books.
"I don't know what your position is on global warming," a woman asked him in front of the Exeter Town Hall, where he had just signed a supersized version of the Taxpayer Protection Pledge.
"It's stated in my book," Carson said, before launching into a summary of his position.
"Do you have a plan for what to do about Obamacare?" he was asked moments earlier.
"It's talked about extensively in the last book . . . One Nation," Carson said, before mentioning that earlier that day, media outlets had reported that he had sold more books than any of the other GOP candidates since 2010.
In part, Carson doesn't have to introduce himself to the people who show up to see him speak, or do much persuading. The loyalty of his supporters, and their knowledge of his background and his books, is an advantage. But it also speaks to one of his potential problems. A lot of his supporters, as one Republican strategist says, developed their affection for Carson by reading his books or following him after his criticism of President Barack Obama at the National Prayer Breakfast launched him on the political scene. The intensely personal stories he tells are part of that package that has drawn many of his supporters. They are part of his success story: how Carson, the only African American candidate in the race, went from growing up very poor to becoming a world-renowned neurosurgeon.
#related#"They're very devoted to him because they came to the conclusion that he's a great guy. But I doubt that that group is particularly expandable," says the strategist, "because if you haven't come to that kind of pro-Carson view on your own through the means that most people have come to it, you're not likely to come to it."
Carson's remarks sometimes suggest that being president isn't necessarily his top priority. Outside of the Exeter Town Hall, Carson said he might only be a one-term executive.
"We gotta once again provide quality of life for the American people," the candidate told a group of admirers. "And that's going to require some difficult work, no question about it. And we can't just tinker around the edges; we're gonna have to do some major bodywork here. And I recognize that that may mean you're only a one-termer, but it's okay as long as we get the ship turned around and moving in the right direction."
In a 20-minute speech at the Faith and Freedom Coalition's Road to Majority Conference in Washington, D.C., last month, Carson seemed to wander onto every subject but his presidential bid. He put on a (terrible) fake Australian accent, joked about Australians always wanting to feel his hair when he worked there, talked about debating an atheist in Hollywood, gave a detailed explanation of surgical procedures by which he removed a young man's brain tumor and successfully separated conjoined twins, and declared how "vehemently" he stands "against political correctness."
What he did not mention was the fact that he is running for president.
The speech was compelling, funny, and at times inspiring. It spoke to the audience with its focus on the role that faith has played in Carson's life and his career. But the group assembled was not just a church group: The Faith and Freedom Coalition is dedicated to "mobilizing people of faith" to "influence public policy," and Carson never so much as alluded to the fact that there was a presidential election underway.
Carson press secretary Deana Bass says there's "really no response" to the suggestion that he's seeking the presidency with ulterior motives, but she describes him as a candidate who was somewhat surprised to find himself drafted to run.
"He's running because he believes that he has a real solutions for America, and he's very open about this," she says. "He says it at probably almost every opportunity that there was a time that he thought that he would be ready to retire, that he had a wonderful career as a neurosurgeon, he and his wife bought a beautiful home in West Palm Beach, and he was ready for retirement. The American people in a groundswell asked him to run. And he thought it would die down . . . and it just grew and grew and grew." The campaign has had no problem expanding its support beyond Carson's existing fan base, she added.
Carson is very open about the fact that he is still learning how to be a candidate.
Carson has, of course, spent his life doing something different from most of the politicians in the field, and he is very open about the fact that he is still learning how to be a candidate.
At the Road to Majority Summit, he opened his speech with a joking warning that he was going to glance at his watch occasionally because the event organizers had given each candidate a 20-minute window.
"I realized when I was out in Iowa, one of the left-wing media said, 'Carson kept checking his watch!' That's because they gave me a very specific time and I didn't want to go over it," he said with a laugh.
Carson's supporters don't seem concerned by some of the comments that sit funny with political observers. In fact, they appear rather enchanted by them. Carson's remark that he'd only ever slept with his wife drew huge applause in the hall. His Road to Majority Speech was also well received.
"I thought his speech was fantastic," says Joe Ryan, who was handing out materials for the super PAC backing Carson's candidacy.
Asked about the fact that Carson had never actually mentioned that candidacy in his speech, Ryan shrugged.
"Everybody knows that here," he says.
The people who had shown up to see Carson in Exeter all declared themselves fans, and seemed to have no problem with being referred to his book — they just asked him to clarify which one.
His fans are used to the unconventional delivery. When he made his candidacy official in May, Carson delivered a very measured, matter-of-fact announcement — there was no stirring crescendo in his speech, little rhetorical flourish. The crowd in attendance still went wild.
Bass says Carson is working on being "more disciplined in his message." But he's not trying to turn himself into a conventional politician, she says.
"People are constantly asking us, 'Can we have his prepared remarks?'" Bass says. "He doesn't have prepared remarks."
— Alexis Levinson is a senior political reporter for National Review Online.
Editor's Note: This piece has been updated since its initial publication.