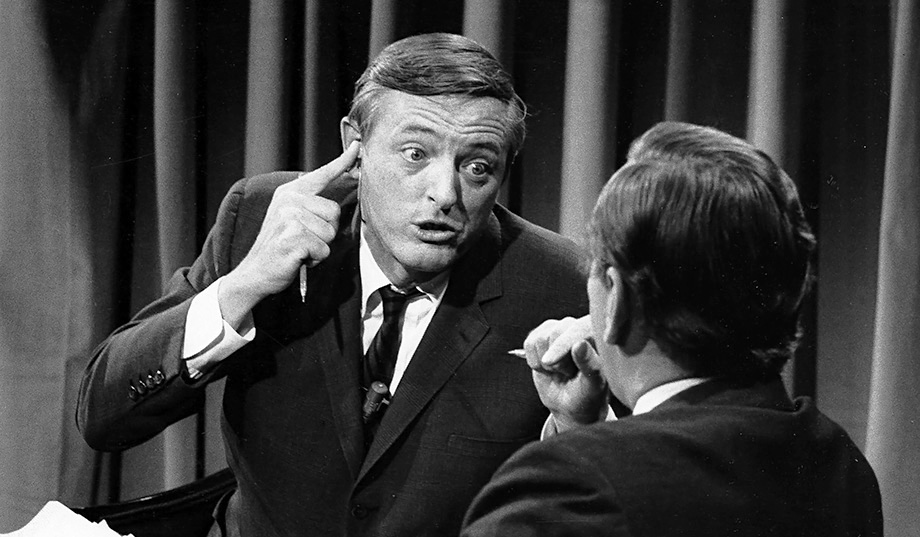 The bloodsports of Best of Enemies and Rogue Nation
Blame Michael Moore for the failure of Best of Enemies. This documentary about the series of debates between the conservative William F. Buckley Jr. (founder of National Review) and the liberal Gore Vidal in 1968 for the ABC television network lacks the inquiry into personality, behavior, and social context that Moore's gimmicky, partisan rabble-rousing eradicated from the non-fiction genre.
Despite its title, Best of Enemies is unconcerned with the substance of Buckley–Vidal's particular arguments. It makes a superficial show of polemics and political positioning. Emphasizing Buckley–Vidal as a prime-time performance, the show's depiction of the antagonistic non-relationship between the two men (despite class similarities) glosses over how the television medium diminishes political discussion and reduces TV figures into banal reflections of each other.
As the film's historical recall unfolds (using brief biographical sketches, talking-head testimonies, and transcripts read by Kelsey Grammer as Buckley and John Lithgow as Vidal), one is disappointed that the movie doesn't trace the tendency of Sixties TV exploitation, which might help to explain the catastrophe of contemporary TV's glib polemics. Directors Robert Gordon and Morgan Neville assume that the disaster of today's polarized news media began with the Buckley–Vidal contretemps and that the aftermath — TV's reckless sensationalism and the unquestioned liberal bias of today's media executives — was inevitable.
This failure occurs because Best of Enemies focuses on Buckley's and Vidal's celebrity (as the first aristocrats of electronic media) rather than presenting them as intellectuals or ideologues. The latter may be too big a word for filmmakers who chase after the most simple-minded audience response, but it's unavoidable if one wants to understand why Buckley and Vidal are at all interesting, then or now.
Best of Enemies focuses on Buckley's and Vidal's celebrity rather than presenting them as intellectuals or ideologues.
Recognizing or admitting ideology has become anathema to the propagandists of contemporary media; through Moore's influence, the Left's commitment to appearing authoritative and correct never brooks any argument. (In the film, former New York Times critic Christopher Lehmann-Haupt describes Vidal as "a great hater," and journalist Sam Tanenhaus describes Buckley and Vidal as "ideological debaters," but there's little on-screen proof.) Best of Enemies treats the demise of Buckley's high-level TV discussion program, Firing Line, casually, rather than as a dread indication of the decline of discourse and engagement.
How could a movie about two argufiers make a point about the nature of American political argument without detailing their philosophy and ethics? Each ABC spat is merely about how two men one-up one another. Gordon and Neville are interested in soundbites more than oppositional beliefs; it's the regrettable fashion of the times. The movie's flashpoint comes when Vidal calls Buckley a "crypto Nazi" and Buckley angrily utters a slur and threatens violence in response. Both men, goaded by the spotlight and the camera, are embarrassed, and the medium itself is shamed.
#related#Unfortunately for Gordon and Neville, Best of Enemies arrives after the publication of Kevin M. Schultz's book Buckley and Mailer: The Difficult Friendship That Shaped the Sixties. Schultz's thesis may exaggerate Buckley and Mailer's roles as the source of Sixties intellectual revolution, but it evinces respect for oppositional thinking — of literary intellection — as an expression of personality and beliefs. The way Gordon and Neville's Michael Moore–inspired film uses movie and variety-show clips (Sunset Boulevard, Laugh-In) is an attempt at popular appeal, but winds up vitiating the political topic — a basic weakening, just like network TV "news anchors," who now lack even the apparent sophistication of Howard K. Smith, whose baffled response to the Buckley–Vidal squabble was to spontaneously quote Shakespeare. That would be anathema today.
Best of Enemies believes in TV more than in its title figures as differently learned, sensitive men. TV is described as a "cementer" of ideas when it is more precisely a disrupter of ideas, a disrupter of thinking. It positions debater Buckley against talker Vidal, and thus their television head-butting, offering little substance, became a harbinger of TV's uncivilized future, where discussion is avoided and opponents are dehumanized, leaving political debate as bloodsport.
* * *
Tom Cruise has become the 21st century's Buster Keaton. His Mission: Impossible franchise makes him the stunt-master par excellence, the king of CGI-era derring-do. Like Keaton's, Cruise's outsized exploits widen your eyes while defying belief in anything except the wizardry of special effects.
Unlike Keaton, Cruise indulges in a denial of physics and probability in the aerobatics of Mission: Impossible–Rogue Nation that goes against basic cinematic pleasure. The dangerous feats (this time Christopher McQuarrie directs the traffic) lack ordinary simplicity and metaphorical richness, which is what made images of Keaton buffeted by wind, outrunning boulders, or surviving collapsing structures into poetic commentaries on man's fate.
Politics are the only thing abstracted in Rogue Nation, but not in any meaningful way. Cruise as Ethan Hunt runs his Impossible Missions Force as usual, although showing some weariness in his aged, toughened agility. Cruise is appealing as he overcomes those industry and media forces that oppose him (2011's Oblivion made near-poetry of the star's existential struggle). I miss the emotional pull of Ghost Protocol, where Paula Patton's minor character displayed big-time passion when avenging her lover's death ("I got her!" Patton memorably assured her colleagues).
Without that passion, Cruise's reliance on basic visceral excitation merely accustoms audiences to sensation rather than feeling. The missions accomplished in Rogue Nation don't feel any better than — or any different from — the inhumane dystopian chaos of Mad Max: Fury Road. These thrill-ride blockbusters are the end of the line for cinema. Cruise's Ethan Hunt is desperate. Keaton never seemed so.