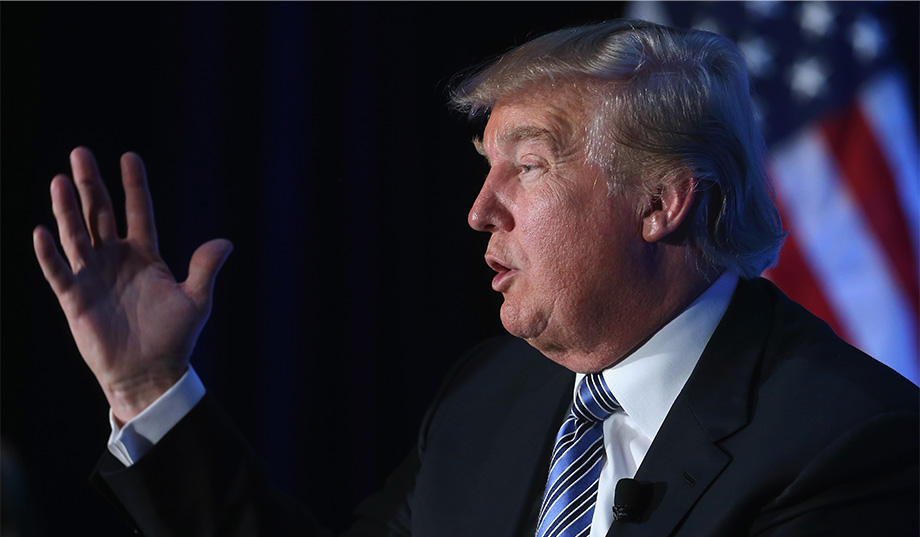 Look closer at Donald Trump's recent surge in the polls, and you'll see the Manhattan mogul's base of support is suddenly growing, but he's taking up oxygen from the sorts of conservative candidates who have in previous years drawn the excitement and attention of conservatives.
A testament to that fact: Texas senator Ted Cruz has gone out of his way to defend Trump in the wake of the firestorm surrounding the celebrity mogul's recent comments on illegal immigrants, evidence that he is trying to elbow his way into the limelight and win the favor of the sizeable number of voters who are telling pollsters they're supporting Trump. He may never rise above 15 percent in the polls, but it doesn't mean he won't affect the race. Merely by making himself the center of attention, he has the potential to prevent other, more serious candidates on the right from gaining traction. 
"Ted Cruz, among the more serious tier of candidates, had staked out probably the hardest line on immigration," says Rick Wilson, a Florida-based Republican consultant. "He touches the same deeply angry, populist, and extremely vocal segment of the GOP that is furious over immigration, illegal and otherwise. Trump directly draws from that hyper-populist pool, and Cruz realizes it, since he seems to be the last Republican still not knocking Trump's block off."
Trump jumped from 3 percent at the end of May to 12 percent at the end of June in CNN's national poll, putting himself in second place. In those same two surveys, Cruz dropped from 8 percent to 3 percent. Marco Rubio dropped from 14 percent to 6 percent, and Scott Walker dropped from 10 percent to 6 percent.
In Fox News's national poll, Trump leapt from 4 percent to 11 percent in a three-week stretch in June. Meanwhile, Cruz dropped from 8 percent to 4 percent; Rubio gained a point, and Walker dropped from 12 percent to 9 percent.
'Trump directly draws from that hyper-populist pool, and Cruz realizes it, since he seems to be the last Republican still not knocking Trump's block off.'
History, of course, suggests we should take Trump's early polling strength with a grain of salt. In April 2011, the Democratic firm Public Policy Polling found Trump at the top of that cycle's GOP field with 26 percent, ahead of Mike Huckabee at 17 percent and Mitt Romney at 15 percent. A week later, Gallup's first national poll found Trump debuting in a first-place tie with Huckabee at 16 percent, while Romney languished in second at 13 percent.
By mid-April, however, Trump had dropped to 8 percent in a Fox News poll, and he held steady there through early May, before announcing that he would not run for president after all.
Still, Trump's latest surge is a problem for any number of other candidates in the field: It seems pretty clear that the mogul's current fan base consists of the party's most conservative voters — those who have in previous years rallied behind candidates such as former Arkansas governor Mike Huckabee and former Pennsylvania senator Rick Santorum. Many of the same voters, in fact, who warmly welcomed Ted Cruz into the race this time around. 
"Donald Trump is a salesman — he understands that a dispirited portion of the Republican primary electorate wants to hear that mountains can be moved and battles long ago lost can be successfully re-litigated, and he cannot resist making that pitch," says Noah Rothman, an assistant editor at Commentary. "Ted Cruz, on the other hand, knows full well that the claims he has made regarding the introduction of a constitutional amendment that would subject Supreme Court justices to retention elections and advising states to ignore the Court's ruling with regard to gay marriage are not only bad ideas but they are unfeasible. He, too, is pitching disaffected GOP voters."
#related#Liz Mair, a GOP consultant who formerly worked with Scott Walker, sees Trump benefiting from his high name ID, the usual bump that occurs after a campaign's announcement, and his ability to reflect and amplify the base's anger.
"There is a portion of the GOP electorate who are just mad as hell and aren't going to take it anymore, who tend to show support for whoever also sounds the maddest or most inclined to stick it to the powers-that-be at any given time," says Mair. "Trump is likely benefiting from a shift in support among people in the latter category away from candidates including Cruz, who is probably retaining support from conservatives who like his principles first and foremost, but may be losing out a little among the 'burn the house down' types," she adds.
"Those people want a presidential candidate who essentially allows them to vent their frustrations, by proxy; and Trump has a huge megaphone to amplify said venting."
— Jim Geraghty is the senior political correspondent at National Review.
Editor's Note: This piece has been amended since its initial publication.