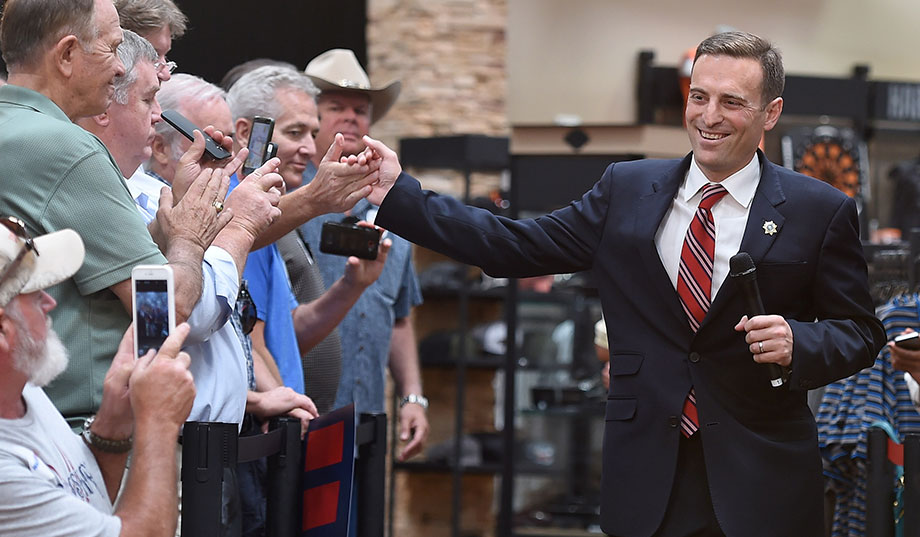 Nevada's attorney general has been in office just eight months. He already looks like a conservative star in the making.
Reno, Nev. — It's the rare state attorney general who, just eight months into his first term in elected office, draws four top-tier presidential candidates across the country to try their luck with voters at a brand-new event, unique in the recent history of Nevada politics and untested in its ability to attract voters.
But that is what Laxalt did earlier this month, when he convinced Scott Walker, Ted Cruz, Ben Carson, and Carly Fiorina to travel to Corley Ranch, one hour southeast of Reno at the foot of the Sierra Nevada mountains, to speak at his Inaugural Basque Fry.
It was the clearest manifestation yet of the role Laxalt is carving for himself in Nevada GOP politics. The scion of a legendary state political dynasty, Laxalt is, in part, claiming his family's legacy. But he is also becoming a force in his own right, someone who could shape the future of the Republican party in Nevada.
"He's a very big player, already. . . . Here's a guy who's only been in office six [sic] months and he brings all this together. It's remarkable. It's wonderful," former Nevada Governor Robert List told National Review at the end of the Basque Fry.
It's a view widely shared in state GOP circles, that Laxalt is on the road to bigger things. He was barely sworn in when some people started making noise about him challenging Senate Minority Leader Harry Reid. That speculation continued after the powerful incumbent announced his retirement, opening the seat. Laxalt declined to run, insisting the job he has now is exactly the job he wants.
A famous last name and a fresh face help, but they wouldn't be enough to make Laxalt a rising political star. In his first eight months as attorney general, he has become known as a conservative champion.
In January, Laxalt joined 25 other state attorneys general in a lawsuit against Obama's executive orders on immigration. He made the decision against the wishes of Nevada governor Brian Sandoval, who said he thought it was a matter best handled through legislative means. In June, he joined a lawsuit against the Environmental Protection Agency over a rule expanding the definition of bodies of water subject to EPA pollution regulations.
"This office matters now, these two years. More than a senator, more than a congressman, attorneys general can make a huge impact on trying to slow down the Obama administration, trying to uphold the rule of law," Laxalt says, sitting with National Review in the empty restaurant of the Best Western across the street from Reno's airport. It's about 5 p.m. the day before the Basque Fry, and he's just flown in from Las Vegas after attending a nearby event with Ted Cruz. Later, he will appear at a fundraiser for Representative Joe Heck, the Republican running for Reid's seat.
Laxalt seems to be seeking a role as a revitalizing conservative force in Nevada Republican politics.
In some ways, Laxalt seems to be seeking a role as a revitalizing conservative force in Nevada Republican politics. In part, this is his legacy. Laxalt's grandfather, Paul Laxalt, casts a long shadow over state GOP circles as a former governor and senator who was one of Ronald Reagan's best friends and confidants.
The younger Laxalt clearly holds his grandfather, whom he affectionately refers to as "grandpa" throughout our conversation, in high esteem. The Basque Fry is a revival of Basque Barbecues the elder Laxalt held during his time as senator. It is also designed to evoke that storied Reagan era of Republican politics and the more optimistic brand of conservatism that went with it. Laxalt's PAC, which organized the event, is called the Morning in Nevada PAC. The venue, near Lake Tahoe, has significance, too: The elder Laxalt and Reagan worked together to protect Tahoe when they were governors of the neighboring states that share its stewardship.
Naming it the Morning in Nevada PAC was "a nod to Ronald Reagan, who's famous for Morning in America, who revived our country," Laxalt told the assembled crowd as he kicked off the Basque Fry on a sunny Saturday morning. "Nevada's ready for a revival. America's ready for a revival."
At the same time, Laxalt also wants to revive, or perhaps, successfully assert for the first time, Nevada's importance in the nominating process.
"I don't want to overstate, but I really think that Nevada could be picking the next president, or at least the next Republican nominee," Laxalt says.
With or without Laxalt's help, Nevada, the fourth state to hold a nominating contest in 2016, is likely to play a bigger role than in past years, as the historically large field all but guarantees no candidate will have the race sewn up by the time the Silver State votes. For the past two cycles, the state has been the ugly duckling of early nominating contests, the one that simply wasn't worth the effort for a campaign. Though part of that is explained by the particular slates of candidates in 2008 and 2012, the sheer logistics of campaigning in an area as vast as Nevada — where the bulk of votes are located near Las Vegas, in populous Clark County, but reaching small pockets of voters in more rural areas can require driving hundreds of miles — are also a difficulty.
But that means, Laxalt says, it is the first state outside what he calls the "primary bubble" — the first test of how a candidate would play beyond the early states, and thus an important early opportunity for a campaign to pick up momentum.
Through the Basque Fry, Laxalt says he hoped to help connect candidates with voters who don't usually get a whole lot of love. But the event also positioned him as a prominent steward of Nevada's role in the nominating process.
'I don't want to overstate, but I really think that Nevada could be picking the next president, or at least the next Republican nominee,' Laxalt says.
"When I called the candidates, I said, 'Hey, if you commit to me, I'll bring as much of those long drives of the state to one spot,'" Laxalt says. Indeed, according to organizers, people from all 17 counties bought tickets.
It is in part a testament to his family name that he was able to convince the candidates to make the trek. It is a testament to him that he was able to pull it off.
The Basque Fry drew 1,750 people counting volunteers, according to its organizers. About 1,000 tried but were unable to secure tickets when the event sold out. And though a fifth committed presidential candidate, former New York Governor George Pataki, was a no-show, the event was by all accounts a huge success.
"It just occurred to me that Nevada should have, not just one, but a dozen of these events if we're going to stay [the] first in the west primary state," says Laxalt. He adds that he is determined to help Nevada elect a Republican next fall, though Republicans will first need to overcome the 94,000-person voter-registration advantage Democrats hold statewide, according to the most recent data available from the Nevada Secretary of State.
Events such as the Basque Fry are an opportunity to work toward that end. The Nevada Federation of Republican Women registered Republicans to vote at a booth at the event, flanked on one side by a giant balloon elephant holding a sign that said Vote Republican.
"I want this state to be a Republican state for 2016, and if this can be a kind of grassroots event that gets people excited . . . I think it'll make a big impact," Laxalt says, noting that reviews of the event would travel back to voters in every far-flung part of the state.
Laxalt's actions as attorney general have kept him exceedingly popular among conservatives in Nevada, leaving him poised to play a role not just in helping the state vote Republican, but in picking the Republican nominee. He has not ruled out making an endorsement in the presidential race but says he does not yet have an idea whom he might consider supporting.
Candidates have sought him out: He introduced Cruz at a luncheon in Henderson, Nev., earlier on the day that he sat down with NR; a few weeks before that, he introduced Scott Walker at his first campaign event in the Silver State, the day after Walker announced his candidacy.
He would by no means be the only coveted endorser in the state — securing Senator Dean Heller's endorsement was a coup for Jeb Bush, and Sandoval's endorsement, should he choose to make one, would be a boon for any Republican. But Laxalt's endorsement could resonate with a constituency that Heller's and Sandoval's might not.
"Adam espouses a sunny, optimistic conservatism and has been leading the fight against federal overreach in his first year as attorney general. As his Basque Fry showed, he has become a force in Nevada politics. Should he choose to endorse a 2016 candidate, it will be very powerful for conservative voters," says Brian Baker, president of Ending Spending, which helped sponsor the Basque Fry.
His growing political influence aside, however, Laxalt says he's focused on doing the job he was elected to do.
"If I have time to start focusing on the politics, I will," he says. "I care about the direction of our state; I want this to be a Republican state. I think it was just a few years ago, I think it's still a red state, and I think organization is our main issue, organization and motivation. And so if I have some opportunity down the road to be able to try to work on that, I will try to do that, but for now I'm working hard on being a good AG."
— Alexis Levinson is a senior political reporter for National Review.