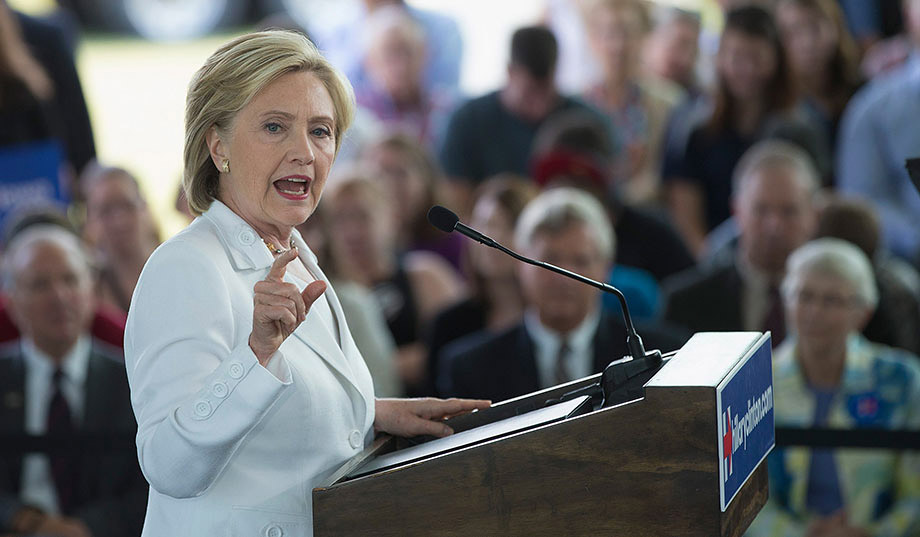 Minneapolis, Minn.—To the increasing reports of Democratic leaders panicking over Hillary Clinton's e-mail scandal and considering alternative presidential candidates, delegates at the Democratic National Committee's summer meeting on Thursday had just one response: Remain calm! All is well!
To a man, the state Democratic-party leaders and activists who packed the hallways of the Minneapolis Hilton scoffed at suggestions that Clinton's e-mails could sink her campaign — and cautioned Vice President Joe Biden against pursuing his own campaign against her.
"I think it would be a mistake for him to enter the race, as a respected Democrat and politician," says Nick Balletto, Connecticut's Democratic-party chairman. "People have tremendous respect for him, see him as a dignified gentleman. And I think if he does this, he kind of changes that."
On Thursday, the New York Times reported that top Democratic-party leaders are "frustrated" with the Clinton campaign's inability to control the spiraling narrative surrounding her use of a private e-mail account and the retention of classified information while she was secretary of state. "They've handled the e-mail issue poorly, maybe atrociously, certainly horribly," said former Pennsylvania governor and ex-DNC chair Ed Rendell. "The campaign has been incredibly tone-deaf, not seeing this as a more serious issue."
RELATED: Poll: Voters Call Hillary 'Liar,' 'Dishonest,' 'Untrustworthy'
Democrats in Minneapolis, however, took umbrage at Rendell's potshot. "If he thought that, he could've called Hillary Clinton four or five months ago," says Kathleen Sullivan, a DNC delegate from New Hampshire. "A former governor, a former DNC chair, for him to go in now and say, 'Oh, they've handled it terribly?' Well I'm sorry, I think that's jumping on a bandwagon."
Despite plummeting poll numbers and skyrocketing negatives — 61 percent of voters say Clinton is not "honest and trustworthy" in the latest Quinnipiac poll — DNC delegates aren't the slightest bit worried about the e-mail scandal and the damage it could cause the Clinton campaign.
"This nonsense about the e-mails? She didn't do anything [former Secretaries of State] Colin Powell and Condoleezza Rice didn't do!" says Marge Hoffa, vice chair for Minnesota's Democratic party. "I am not concerned at all. She didn't do anything wrong. They're just trying to make a whole lot out of nothing."
RELATED: Joe Biden Is the Anti-Hillary — and That Should Worry Republicans
"I'm not concerned," echoes South Dakota Democratic vice chair Joe Lowe. "It's a political issue brought up by the other side. And I think she will come out and prevail in this without a problem."
"I think she turned everything over, I think she told the truth," says Balletto. "She's certainly survived many a witch hunt, and if this is another witch hunt, she'll survive this one as she has in the past."
Get Free Exclusive NR Content
Witch hunt or not, Clinton's e-mail travails are undoubtedly taking their toll. Senator Bernie Sanders's implausible presidential campaign has surged along with doubts about Clinton's trustworthiness, particularly in the crucial early-primary state of New Hampshire, where he now tops Clinton in the polls.
And her weakness has brought other vultures circling — specifically Biden, who in the latest Quinnipiac poll performed better than Clinton against top Republicans. After weeks of meetings with donors and advisers, Biden admitted on a DNC conference call Wednesday that he'll run if he can scrape up the "emotional fuel" following his son's death in May.
RELATED: Democrats Look at Plan B: Biden as a One-Term President, with Warren as His VP
The DNC's apparent advice to Biden? Don't bother. Not one delegate would admit to even considering any candidate other than Clinton. Some added privately that they couldn't name a single state-party chairman or vice-chairman who felt differently.
#related#"I certainly respect everything that Vice President Biden has done for us as Democrats, all across the country," says South Dakota Democratic chairwoman Ann Tornberg, before ostentatiously pointing to the shiny Hillary logo pinned to her lapel. "I have my loyalties already with a candidate that I'll be supporting, and I don't think that position will change for me personally."
So why does the press keep finding nervous Democrats desperately pushing for a Biden candidacy before Clinton's scandal-ridden campaign implodes? "As far as I'm concerned, it's all media-driven," says Sullivan. "You've got some squishy Democrats in Washington that go, 'Oh, I'm so excited! I'm so upset!' Well, you know what, calm down. Things are fine. And we're going to win."
— Brendan Bordelon is a political reporter for National Review.