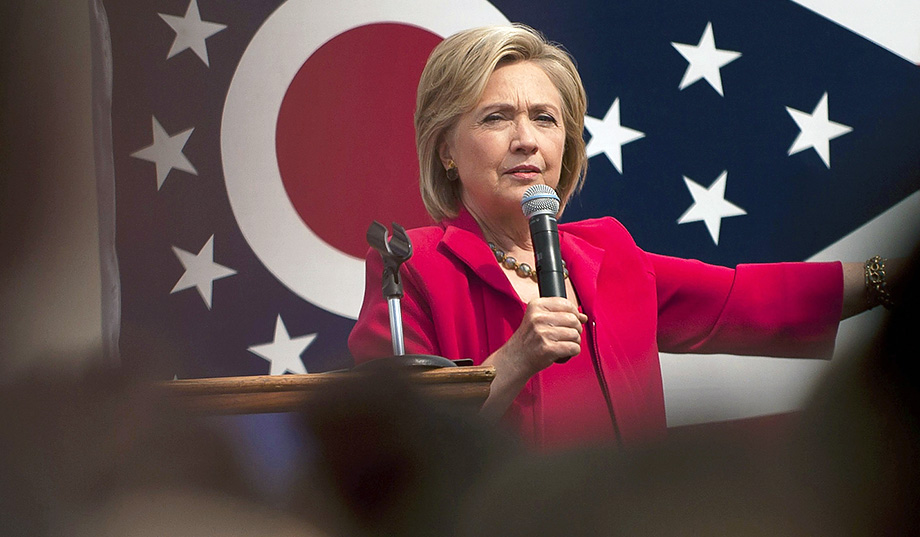 So infectious is the boobery of the moment that the vector of contagion has penetrated even the high tower walls behind which dwells Hillary Rodham Clinton, into whose weedy enchanted kingdom few are admitted except discreet deliverymen with the usual weekly bulk shipments of eye-of-newt and toe-of-frog supplements. Herself frequently is banal, insipid, poorly informed, glib, contemptible, and almost always boring, but she's usually not much of a genuine bomb-thrower, until she accuses her opponents of being genuine bomb-throwers, i.e., declaring that those in the pro-life camp who object to the vivisection of living human beings for commercial purposes are soul mates with "terrorists."
Which terrorists, you ask? Herself won't quite say, but these are terrorists who have nasty and atavistic ideas about the role of women in society. IRA? No . . . Sri Lanka's Buddhist Power Force? Not quite . . . What's left of the Euskadi Ta Askatasuna, Epanastatikos Agonas, or Fuerzas Armadas Revolucionarias De Colombia? I'd be surprised if the former secretary of state could correctly spell all three. The unnamed miscreants here are none other than the gentlemen of Derka Derka Muhammed Jihad (haka sherpa sherpa!), but Herself is too timid to name them even when she is libelously matching her Republican rivals with their theology.
The pro-life movement is energized just at the moment by a series of videos being released by the Center for Medical Progress, the anodyne name and mission statement — "a group of citizen journalists dedicated to monitoring and reporting on medical ethics and advances" — of which does not quite communicate the seriousness with which the organization goes about the grisly business of exposing the ugly, murderous reality of the American abortion racket.
RELATED: Hillary Compares Republicans' Views on Women to Terrorists' Views on Women
There has been surprisingly little violence in the fight over abortion. Since the blanket legalization of the procedure by Supreme Court mandate in 1973, eight people have been killed in anti-abortion violence, and some of that was tangential. (John Salvi, for example, murdered two Planned Parenthood employees, but he was a crackpot who seems to have been motivated at least as much by an imaginary Vatican currency-manipulation scheme that existed only in his disturbed mind.) Eight is eight too many, especially for a movement that claims to deplore the loss of human life, but it is rather fewer than the number of Americans killed by five-gallon plastic buckets in any given year. But the Left prays devoutly for right-wing terrorism, and every now and then the Right delivers: Much has been made of the fact that the Center for Medical Progress is allied with Operation Rescue, which has in its employ Cheryl Sullenger, who once was sent to prison for plotting to use a gasoline bomb to destroy an abortion clinic. At trial, she recanted her support for violence.
Get Free Exclusive NR Content
As well she should have. If the pen is mightier than the sword, the modern digital video camera and the associated editing suite is a thermonuclear warhead, and the Internet is an ICBM traveling at the speed of light. CMP's investigation was deceitful — it was sneaky as all hell, in fact — and it was excellent journalism, the sort of thing that would win a Pulitzer prize if the Pulitzer committee weren't manned by the gutless and the intellectually dishonest. The usual complaint is that the videos have been deceptively edited, which must be dismissed as nonsense by those with the stomach to watch the full footage, which CMP has made available. Planned Parenthood et al. have responded by trying to use the courts to intercept CMP's reporting, without much success: Planned Parenthood won and then lost an injunction. But even if the butchers' guild had prevailed in court, it is nearly certain that it would not prevail in reality: "You can't stop the signal." The Soviets had their samizdat, and we in the 21st century have our samizdata.
RELATED: The Media Stays Shamefully Silent about the Most Shocking Planned Parenthood Video Yet
Operation Rescue has gotten into the investigative business itself, collating 9-1-1 calls and public records, even digging through abortion-clinic trash to produce evidence supporting its demands for investigations.
On the one hand, we have people using the techniques that made 60 Minutes famous to expose what is, after all, only reality — the reality behind a contentious public debate too often characterized by a refusal to deal with the facts. We have activists and politicians who want to use that reporting to reform the law and public practices, and maybe to influence the nation's morals, too, in the hopes that Americans' attenuated moral instincts have not been extinguished entirely. Some terrorists.
#related#On the other hand, we have knife-wielding killers slicing through the faces of newborn children — children with beating hearts — to get at the prize behind as the green-eyeshades types in accounting demand "More brains!" like they're in some old zombie movie. But it isn't a movie: It is real life, and real death. More livers, too — 50 more a week, as one lip-smacking ghoul dreamed of retailing.
Herself is horrified by one of these. That she is horrified by the wrong one is no surprise to anybody who is familiar with the career of Hillary Rodham Clinton, for whom the phrase "the banality of evil" is far better tailored than her pantsuits.