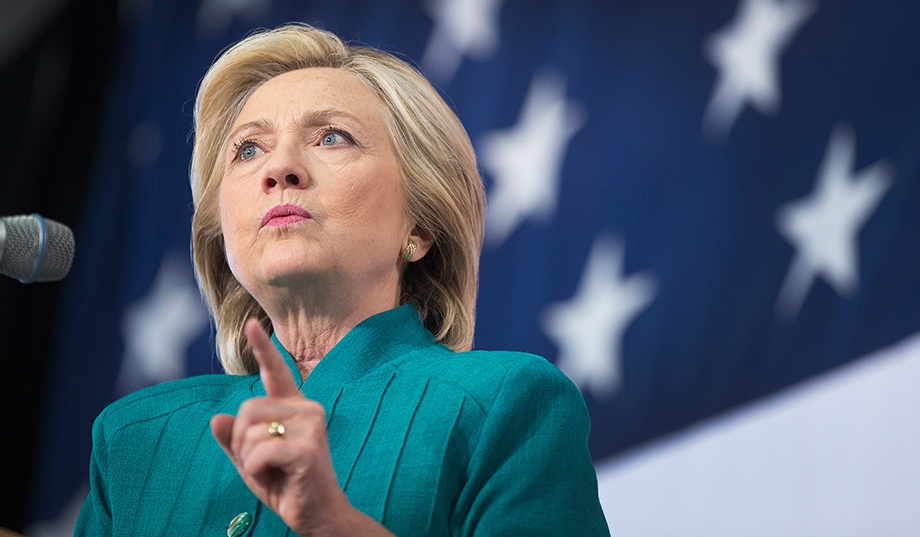 Hillary Clinton's use of a private, unsecured server to store classified information while she was secretary of state now dominates the news cycle — making it easy to forget that her transgression very nearly went undiscovered. Without the House Select Committee on Benghazi's initial probe into Clinton's communications, even the fact that she used a private e-mail account to conduct government business may have remained a secret.
It's puzzling. At the time, many State Department employees did appear to know of Clinton's private account, yet the State Department inspector general (IG) only opened an investigation into the scandal in April 2015, years after she had left office. Before then, the agency's top watchdog had given no indication that it was either aware of, or concerned by, Clinton's e-mail practices. Why?
There was no permanent, Senate-confirmed inspector general at any point during Clinton's tenure at State. Despite its own repeated pledges of transparency and bipartisan pleas from Congress, the Obama administration declined to nominate an official IG until five months after Clinton had left office. By then, she had become the only secretary of state to serve without the oversight of a permanent inspector general since the position was created in 1957.
That vacancy mattered a great deal, say two former federal inspectors general and Senator Chuck Grassley (R., Iowa), chairman of the Senate Judiciary Committee. They claim that without a confirmed IG, the State Department's investigative arm was effectively crippled by a lack of independence and institutional authority. If Harold Giesel, the "acting" inspector general who headed the office from 2008 to 2013, did know about Clinton's private server, his temporary status made any inquiry into the issue difficult and politically dangerous. And worries about his independence were only compounded by his close ties with State Department higher-ups.
RELATED: What to Make of Hillary's Latest Excuses for Her Reckless E-mail Conduct?
"We'll never know the extent of the damage to good governance caused by this lapse," Grassley says, "but it's fair to say some of the problems exposed lately probably could have been prevented with a permanent inspector general in place."
President Obama entered the White House in January 2009 promising to usher in an era of greater transparency. But by the end of his first term, his unwillingness to nominate an independent watchdog to take over for Giesel at the State Department had raised bipartisan concern. Though other agencies had languished without a confirmed IG throughout Obama's first four years, the State Department was the only one to which the he never bothered to even nominate a permanent watchdog.
Inspectors general offices are particularly hamstrung when headed by a temporary leader, who can be removed at any time and often lacks the required relationships with investigative staff and other federal watchdogs.
RELATED: How the State Department Is Stiffing the Intelligence Community Out of Hillary Clinton's E-mails
"The IG role is unique in that all the authority of the office of the inspector general comes from the inspector general himself," says Ken Donohue, the former inspector general at the Department of Housing and Urban Development (HUD). "Having a strong, nonpartisan leadership in place is very critical."
"A confirmed inspector general can provide leadership, he can set long-term priorities within the office, staff the office, and motivate the office," another former federal IG says. "A senate-confirmed, permanent IG will also have more authority with managers within the agency and the head of the agency, more authority with Congress, and more authority with other law enforcement agencies."
Get Free Exclusive NR Content
Concerns about Giesel went beyond his temporary status, however. As a former ambassador under President Clinton who'd been a foreign-service officer since the Nixon administration, his ties to the Secretary and department he was tasked with policing were extensive and, to some, troubling. And in 2010, the Project on Government Oversight (POGO) released e-mail evidence illustrating a close personal relationship between Giesel and Undersecretary of State Patrick Kennedy, who is now accused of stonewalling the intelligence community's investigation into Hillary Clinton's classified e-mails.
The e-mails appear to show a tendency by Giesel to defer to State Department management during investigations into the department's activity. In one, Giesel told Kennedy he was "trying to keep a lid on unreasonable expectations and behavior" among his staff as they looked into possible waste, fraud, and abuse surrounding the State Department's Iraq operation. He also recused himself from an investigation into Kennedy's relationship with a contractor then under criminal investigation, something POGO called "a tacit admission that he has either a real or perceived conflict of interest with management."
RELATED: The People v. Hillary Rodham Clinton
In 2011, the Government Accountability Office and lawmakers from both parties urged the Obama administration to nominate a permanent successor to Giesel. The White House declined to do so until June 2013, and Giesel remained at his post until former federal prosecutor Steve Linick took over in September 2013.
"The Obama administration should answer for why it allowed that to happen," says Grassley. "There's been no transparency on the reason for the lack of the appointment for so long."
RELATED: Judge Grows Irritated with State Department Foot-Dragging on Clinton E-mails
Donohue, the former HUD IG, says it's difficult to grant the White House the benefit of the doubt on their foot-dragging — especially when other departments also went without watchdogs for years. "If there's an abundance of a lack of confirmed IGs, there's a certain deduction that it's done purposefully," he says.
Others say President Obama's failure to nominate an IG for State could mean he was covering for Clinton — or at least willing to look the other way. "I'm not sure [Obama] knew everything she was doing [with private e-mail], he might not have," says one former inspector general. "On the other hand, maybe he had some inkling that what she was doing, if she had an IG, it might bring bad publicity for his administration."
#related#The importance of a permanent, confirmed inspector general for effective oversight is underscored by Linick's ongoing investigation into Clinton's private e-mails. In June, over Undersecretary Kennedy's strenuous objections, Linick took the unusual step of inviting intelligence community IG I. Charles McCullough to join him in the search for sensitive material. McCullough's office discovered classified e-mails almost immediately — including two documents marked "Top Secret."
Had Linick been unconfirmed, observers worry Clinton's retention of classified material would've remained undiscovered. "An acting inspector general just wouldn't have the authority, relationships, or gravitas to pull in other IGs as [Linick] did," says the anonymous former inspector general.
"If you didn't have a confirmed inspector general at the State Department, would [an acting IG] be willing to pursue such matters?" asks Donohue. "Linick — for a number of reasons, but one being that he was confirmed — was willing to pursue this matter. Otherwise, nothing would've happened."
— Brendan Bordelon is a political reporter for National Review.