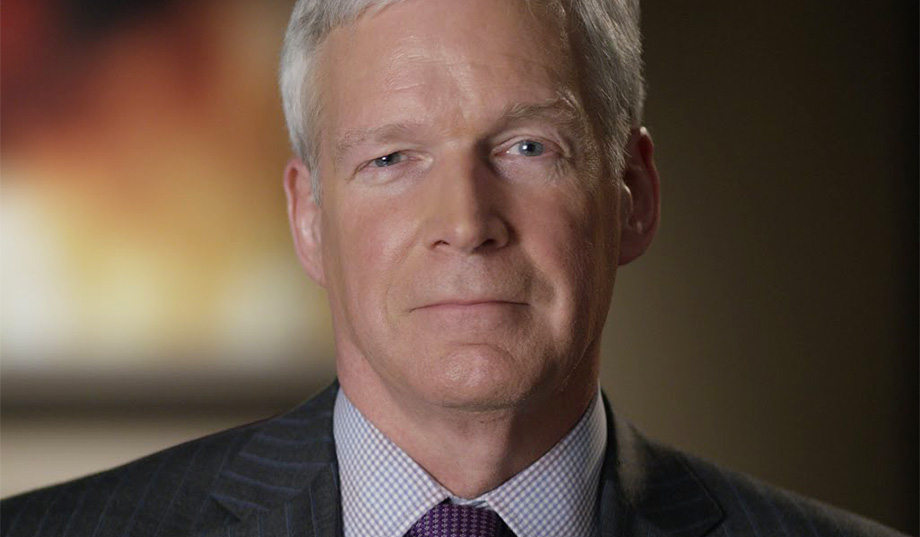 If you've heard anything about Mark Everson — and you probably haven't — it was last week, when Fox News handed the peripheral GOP presidential candidate an unusual PR coup. Upset at being excluded from the network's second-tier debate on Thursday — even former Virginia governor Jim Gilmore got a spot — the former IRS commissioner filed a complaint with the FEC, attracting a bit of much-needed media attention in the process.
It's unlikely to do much good. Shut out of debates and not even included in most polls, Everson is perhaps the most improbable candidate on either side of the aisle. It's not just low name ID; from his business ties to a man at the center of the IRS's tea party-targeting scandal, to the affair that ended his marriage and cost him his job at the Red Cross, to allegations that the tax-advisory firm where he now works once cheated the IRS out of three-quarters of a billion dollars, Everson's biography includes plenty of details that could repel conservative Republican voters. Why, then, is he running?
Everson's platform is unusual for a presidential candidate — heavy on tax policy and replete with strange promises such as serving a single term and bringing back the draft. The former tax commissioner is quick to note that he's not a politician. "People don't like the politicians," he says, pointing to the success of Donald Trump. But though he's never held public office, Everson did spend more than a decade in the federal bureaucracy — first in the Reagan administration, and then later as head of George W. Bush's IRS. A lot of people don't much like bureaucrats, either.
That's why Everson also touts his private-sector experience. He believes his hybrid career in government and business gives him a unique advantage in the Republican field. But with conservatives increasingly upset by the revolving door between federal bureaucracies and the businesses that profit from them, Everson's back-and-forth résumé may not endear him to Republican voters.
Everson's history at Alliantgroup, the tax-advisory firm where he serves as vice chairman, does little to burnish his conservative credentials. In January 2014, he hired ex-IRS commissioner Steven Miller to lead Alliantgroup's Washington, D.C. office. Miller was forced to resign from the IRS in May 2013 due to his involvement in the tax agency's targeting of conservative nonprofits. According to Politico, Miller knew about the targeting a year before it became public, but did not reveal its existence to GOP lawmakers despite their frequent inquiries. And it was his idea to soften the impact of an upcoming inspector general's report by planting an IRS employee in the audience of a tax panel to ask a question about the targeting.
Everson says the choice to hire a key player in the IRS targeting scandal was a business decision that speaks to Miller's expertise. "People get second chances," he says. He rejects the idea that voters would be put off by his relationship with Miller. "I don't feel that the firm is — or I am — tying myself to [the targeting]," he says. "When he joined the firm — think about the timing here. I didn't make my decision to move forward with this endeavor until early in 2015. So it's a very different timeline." He declines to comment on whether he believes Miller was directly involved in the scandal, saying he hasn't gone through all the "voluminous documents."
"I've been totally clear about the IRS," he says. "I've condemned both the underlying conduct and the way it's been managed ever since [I left]."
Everson's platform is unusual for a presidential candidate — heavy on tax policy and replete with strange promises such as serving a single term and bringing back the draft.
Everson's company has been plagued by its own alleged misconduct. In 2009, two former Alliantgroup employees filed a whistleblower complaint with the IRS, claiming the company had coached clients on improper tax workarounds that cost the agency as much as $712 million in wrongly awarded refunds. Internal memos obtained by Bloomberg Business showed that IRS auditors found some merit in the allegations, and thought a penalty could be appropriate. But other agency analysts resisted, and the investigation was not allowed to move forward.
Though Everson joined the firm just after the accusations were made, Bloomberg Business reported that the presence of a former IRS commissioner made the agency's auditors and their bosses nervous. During an agency conference call regarding the allegations, one IRS auditor wrote "concern" next to Everson's name on a memo. Investigators were further spooked in May 2010, when Everson and his business partner Dean Zerbe met with five top IRS officials — including Steven Miller, who at the time ran the agency's whistleblower office. The IRS dropped the inquiry altogether a few months later.
"I have no knowledge of the details of that at all," Everson says about the investigation into Alliantgroup. "[The story] came as sort of a shock to me. . . . People can make whatever allegations they want to, but the business is a well-run, conservative business."
Even if Republican voters dismiss Everson's questionable business ties, his personal history could sink his chances with social conservatives. A six-month stint as CEO of the Red Cross just after he left the IRS in 2007 ended in his resignation over an affair with a married female subordinate. Everson's marriage didn't survive — he's now raising a child, his fourth, with his former mistress. And when he announced his campaign in March, he admitted that another, unborn child of his had once been aborted. "I still wonder what that man or woman would be like today," he wrote.
Everson has invested time, energy, and money into his long-shot run. His campaign announcement featured a slickly produced video, and he's been out pressing the flesh in Iowa. Why would a virtual unknown with a history that could put off many conservatives make that kind of effort?
"Everyone assumes that if you're running for president, you're in it to win it," says Ford O'Connell, a veteran GOP strategist who worked on John McCain's 2008 campaign. "A lot of people run for this for other offices, for media deals, or to pursue other endeavors. It's just a way to get your name in lights, and frankly there's tons of media coverage."
"He may be looking to transition jobs, he may be looking for a cabinet position, he may be looking for a media deal," O'Connell says. "It's clear that he's trying to leverage this for something, the only question is what that something is."
But Everson says he's serious about pursuing his "narrow path" to the Republican nomination. "I did this because I'm concerned about the country, and I don't like all the over-the-top political rhetoric," he says. "I have a series of things to contribute, and I want to put those things in front of the American people."
— Brendan Bordelon is a political reporter for National Review.