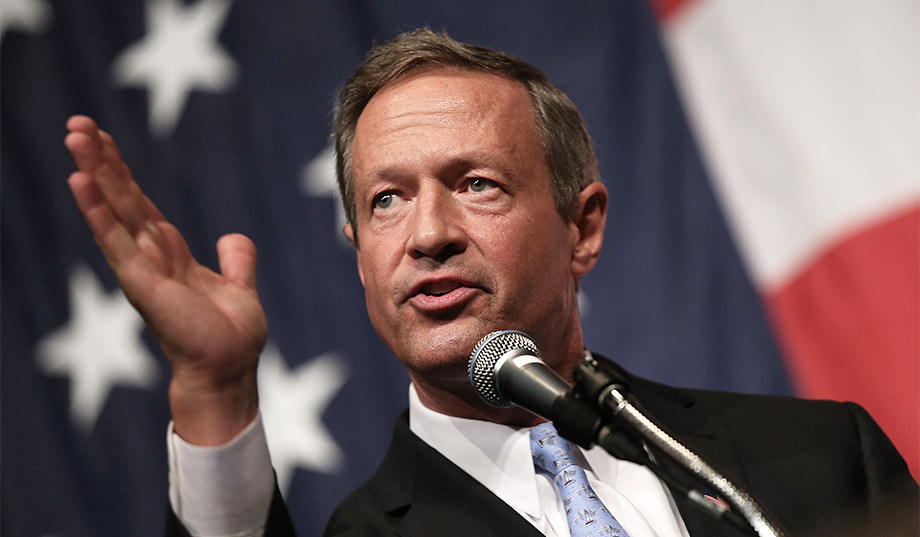 Minneapolis — Former Maryland governor Martin O'Malley effectively declared war on the Democratic establishment today, accusing a room full of liberal elites of having "rigged" the 2016 primary debates in favor of Hillary Clinton, his rival for the party's presidential nomination.
Standing just feet from Democratic National Committee (DNC) chairwoman Debbie Wasserman-Schultz (D., FL.) at the DNC's summer meeting in Minneapolis on Friday, O'Malley delivered a fiery speech slamming the party's "cynical" debate schedule.
"Four debates and only four debates — we are told, not asked — before voters in our earliest states make their decision," he said. "This sort of rigged process has never been attempted before."
Though O'Malley is struggling to break out of the low-single digits in the polls, his speech received numerous standing ovations — particularly from the substantial contingent of Bernie Sanders supporters seated behind the DNC delegates. "Is this how the Democratic Party selects its nominee?" the former governor asked, prompting large swaths of the crowd to shout back "No!" Wasserman-Schultz appeared less-than-pleased by the criticism and the crowd's response to it.
RELATED: Hillary Clinton Dodges Questions About Bill's Paid Speeches, Abedin's Conflicts of Interest at DNC Presser
In a press conference after the speech, O'Malley made the connection between the DNC's limited debate schedule and establishment bias toward Hillary Clinton even more explicit. "What good can we possibly be doing by limiting debates, especially in this very important year?" he asked pointedly. "Who does it serve?" One reporter asked whether he was "hinting" that it may serve Clinton. "I don't think I was hinting," he said. "I thought I was pretty clear."
Get Free Exclusive NR Content
"Certainly there's a tremendous amount of people in the Democratic Party whose relationships with President Clinton and Secretary Clinton go way, way back. And I understand that," O'Malley added. He was then asked whether those relationships may be tilting the national party toward Clinton. "Let me be very disciplined — I believe we need more debates," he said.
"If you go back through, there has not been a time in history where the DNC has inserted itself in this process," he continued, calling the DNC's plan to hold the sole New Hampshire debate during the busy Christmas shopping season "too cute by half."
#related#The former Maryland governor also promised on Friday to bring legal action against the DNC's "exclusivity clause," which would punish candidates who participate in unsanctioned debates. "We've already given them notice that we believe the exclusivity clause is not legal," he told reporters.
O'Malley was the most strident voice slamming Democratic leadership for limiting debate, but he wasn't alone. Vermont Senator Bernie Sanders also signaled his support for more debates, telling reporters he will continue to press Wasserman-Schultz and the rest of the DNC on the issue.
— Brendan Bordelon is a political reporter for National Review.