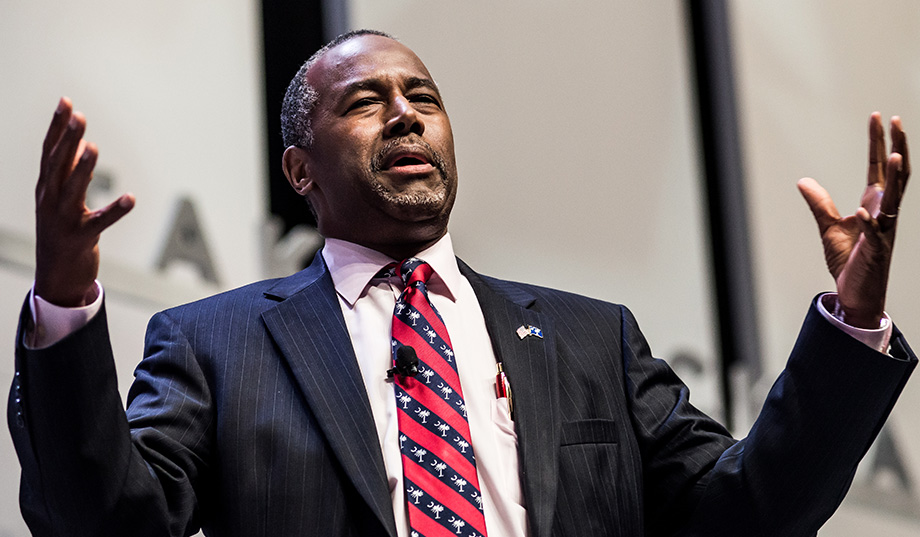 Barry Bennett, Ben Carson's campaign manager, works out of an office suite in Alexandria, Va. dubbed the "Operating Room."
It's an overcast Monday morning, and Bennett has just wrapped a 90-minute meeting on the campaign's Facebook strategy. It stretched on slightly longer than usual: As the end of September looms, and with it the Federal Election Commission's deadline for the third fundraising quarter, Carson's strategists are devising the social-media content needed to sustain a final push for donations, a vast majority of which come through Facebook prompts. Bennett's expression is bright as he tells me the campaign has raised nearly $20 million in the last two months.
Such meetings are routine within the Operating Room. When he launched his campaign in March, Carson lacked the healthy donor list enjoyed by rivals who've spent their lives in electoral politics, even after his campaign purchased the direct-mailing list amassed by The 2016 Committee, a pro-Carson super PAC. His team has thus relied in large part on social-media platforms for fundraising. Through a mix of merchandise, ads, petitions, rally invitations, and even direct fundraising appeals from Bennett himself, the campaign has been able to solicit hundreds of thousands of dollars each week from an ever-growing army of online supporters. It's made Carson something of a cause célèbre among grassroots conservatives, an outsider candidate whose intimate appeals to his virtual fans — many of whom have read his books and followed him loyally since day one — have helped give him the highest favorability rating in the GOP field.
RELATED: Ben Carson, Aloud
Carson's 4 million Facebook followers easily best Democratic frontrunner Hillary Clinton's 1.5 million, and put him ahead of every other Republican candidate. Donald Trump can claim 3.8 million, the next highest, but he has had a Facebook page since 2009. Carson's was launched in September 2014. Fellow outsider Carly Fiorina registers just under 500,000, and establishment candidates Jeb Bush, John Kasich, and Chris Christie all hover under 300,000.
"We've dominated the process of converting likes to donors," Bennett says.
Bennett, who is no stranger to presidential politics — he's consulted for super PACs backing Rick Perry and Newt Gingrich — has always prioritized data analytics in campaigns. But there's nothing terribly sophisticated or novel about the Carson team's use of Facebook, even if other campaigns have yet to catch up to it.
His staff regularly posts petitions and polls as a means of getting new e-mail addresses for their mailing list. "Last week we had a petition on Facebook to stop the Iran deal. Over 300,000 people signed it," Bennett says. "Now I can talk to those people directly about foreign policy, or send them an e-mail and ask, 'Do you want a 'Stop the Iran Deal' T-shirt from Ben Carson?'"
RELATED: On Islam, Ben Carson Is Right and Charles Krauthammer Is Wrong
They've also mastered the use of so-called "carousel ads," in which followers can scroll through a mélange of Carson gear — T-shirts, hats, bumper stickers — and donate to the campaign directly through Facebook. The campaign rewards supporters in turn: Each night, followers are encouraged to engage with Carson's page by submitting questions for a series called "Ask Ben." Most recently, Carson responded to fans who asked him about congressional term limits (he supports them) and his favorite pizza toppings (Carson is a vegetarian, so, veggie works).
#share#It's a strategy that Bennett says has allowed the campaign, which once relied exclusively on rented e-mail lists, to build an original e-mail network of over 2 million names. Perhaps more important, social media has become the primary avenue through which Carson's donors—the vast majority of whom have given less than $200, according to FEC reports—contribute to the campaign, which has raised a total of $30 million counting this quarter's estimates.
"It's a direct line to our supporters, and virtually free in terms of content creation," Bennett says. "In the last six days, we've had rallies in Ohio, Michigan, and Virginia — all of those people were invited through Facebook."
"I don't know why other campaigns don't get this," he says.
Social media is even more crucial in a Republican primary where the sheer number of candidates has made television advertising all but obsolete.
For Bennett, social media is even more crucial in a Republican primary where the sheer number of candidates has made television advertising all but obsolete. He sees Carson's use of Facebook, Twitter, and Instagram as a way to "get through the clutter" and speak directly to the campaign's target audience. "My theory has always been that with ten or twelve candidates on the GOP side and three or four on the Democratic side, plus all of their super PACs, plus all of the outside interests, there just aren't enough gross rating points in Iowa to purchase," Bennett says, referring to the measure of advertising performance through weekly television ratings.
"It's going to be a big, expensive draw on television, so you better have a platform to get around that," he adds. "In politics, you have to dominate a lane. We've chosen to dominate social media."
The growth shows no signs of slowing, even in light of Carson's controversial statement last week that he would not support a Muslim for president. In fact, quite the opposite. The day after Carson made the comment on NBC's "Meet the Press," Carson's team issued a fundraising appeal across social media. "If you've been following the latest 'controversy' over my comments about Islam, you know the arrows are out for me," his Facebook post reads. "I will need your help to push back. . . . I want to raise $100,000 TODAY to show America that we will not be silenced by the PC Police."
"We raised $650,000 that day," Bennett says. "Dr. Carson isn't going to change his belief system based on which way the wind blows. So let the media drag it out. It's working out just fine for us." (Carson clarified on Sunday that his comment referred only to Muslims unwilling to "subjugate" Sharia law to the Constitution, adding that he also would not support a Christian president advocating for a theocracy.)
#related#The Carson team also plans to take full advantage of the added exposure that comes from its budding relationship with Kanye West. West made headlines last week in a Vanity Fair article when he lauded Carson as "the most brilliant guy." Carson returned the praise, telling ABC News that, after talking with the hip-hop star, he was "extremely impressed with his business acumen."
Bennett says his team is committed to "partnering" with West at some point during the primary — he says he does not know when — to educate inner-city communities about the "failure of poverty programs" and the need for a leader who wants "to give these people skills, not welfare checks."
"Kanye has millions and millions of followers," Bennett says, "and to the extent that we can get a message through him, work alongside him . . . that's fantastic."
The move seems to fit well within their social-media strategy.
"Imagine how many followers we would get," Bennett says. "Imagine the cameras."
— Elaina Plott is a William F. Buckley Fellow in Political Journalism at the National Review Institute.