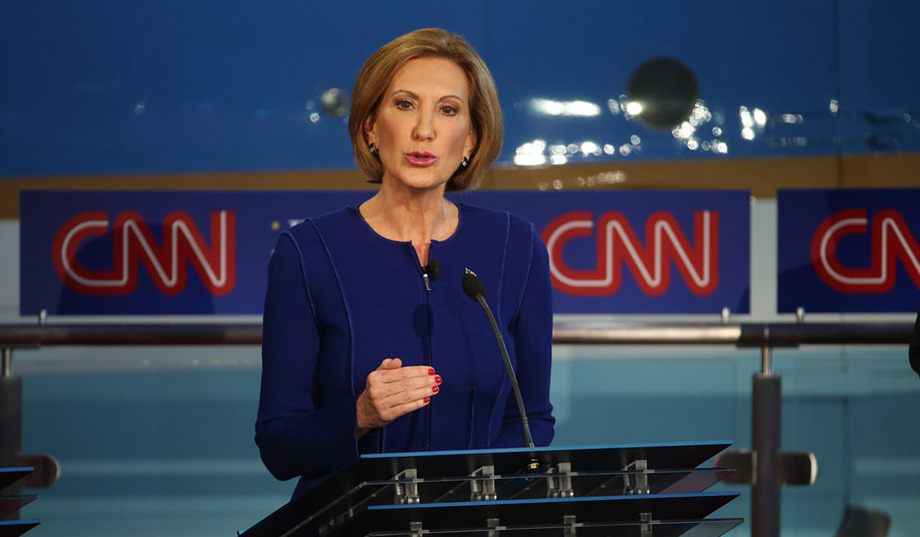 Carly Fiorina just dared President Obama and Hillary Clinton to watch the series of undercover Planned Parenthood videos that has Republican lawmakers pushing to defund the nation's largest abortion provider.
"Anyone who has watched those video tapes — I dare Hillary Clinton [and] Barack Obama to watch these tapes," she said, her intense delivery drawing the largest applause of any line to that point in tonight's GOP presidential debate. "Watch a fully-formed fetus on the table, its heart beating, its legs kicking, while someone says 'we have to keep it alive to harvest its brain.' This is about the character of our nation."
Her remarks were an apparent reference to the seventh video released by the Center for Medical Progress exposing Planned Parenthood's apparent sale of body parts taken from aborted babies. In the video, a former employee of then-Planned Parenthood partner Stem Express named Holly O'Donnell described how a Planned Parenthood employee tapped the chest of an aborted baby "and it starts beating."
"She gave me the scissors and told me that I had to cut down the middle of the face," O'Donnell says in a Center for Medical Progress interview. "I can't even describe what that feels like."
#share#White House Press Secretary Josh Earnest has defended Planned Parenthood even though he admits he has not watched the videos. "I suspect somebody has," he told reporters during a press briefing last month. "I am merely repeating what I've seen that they've said and what has been reported publicly about what they've said."
#related#Senate Democrats recently filibustered a vote on legislation that would defund Planned Parenthood, legislation supported by a majority of the upper chamber. Lawmakers are currently debating how to target the group's federal appropriations with the government set to run out of funding on October 1. A group of 30 to 40 House Republicans has pledged not to vote for any government-funding bill that does not completely defund the abortion giant.
Senate majority leader Mitch McConnell (R., Ky.) argues that congressional Republicans should not try to use the government funding lapse as a chance to strip out the Planned Parenthood subsidy, because President Obama would veto the bill and trigger a government shutdown that might be blamed on Republicans. "If we will not stand up and force President Obama to veto this bill, shame on us," Fiorina said.
— Joel Gehrke is a political reporter for National Review.