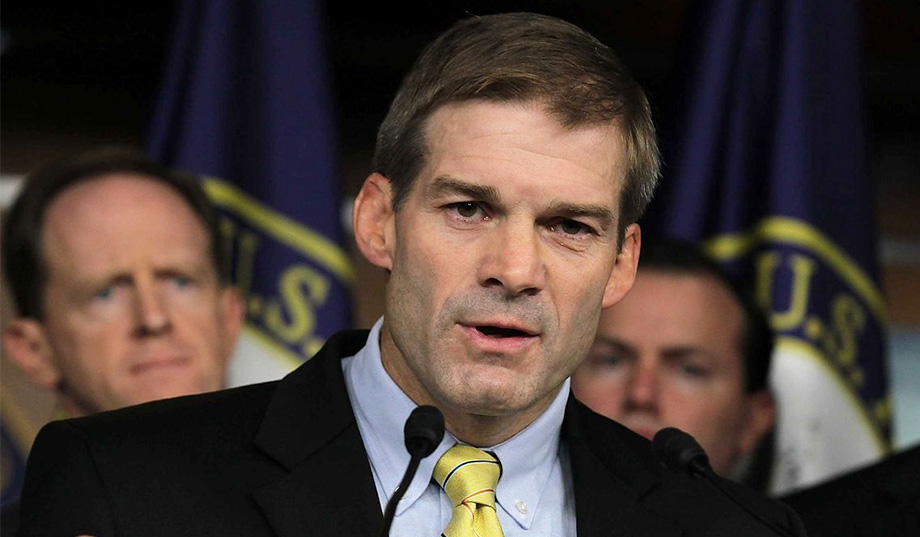 A caucus of conservative House members says it will refuse to back any bill funding the federal government that includes money for Planned Parenthood, in the wake of a series of undercover videos that suggests the group is selling fetal body parts.
"Given the appalling revelations surrounding Planned Parenthood, we cannot in good moral conscience vote to send taxpayer money to this organization while still fulfilling our duty to represent our constituents," the House Freedom Caucus (HFC), led by Representative Jim Jordan (R., Ohio), said Thursday. "We must therefore oppose any spending measure that contains funding for Planned Parenthood."
With government funding set to run out on October 1, the HFC statement raises the likelihood of a standoff over Planned Parenthood that could result in a government shutdown. GOP leaders have promised not to allow such a scenario to play out, but HFC has enough members to deny House Speaker John Boehner (R., Ohio) the 218 Republican votes needed to pass a funding bill. If Boehner acquiesces to the HFC's demand, and congressional Republicans pass a government funding bill that withholds tax dollars from Planned Parenthood, President Obama will veto the legislation, which could trigger a shutdown. And if he asks House Minority Leader Nancy Pelosi (D., Calif.) to provide the remaining necessary votes, it might fan conservative anger and kick off another attempt to depose him as speaker.
Boehner is quick to point to the three congressional probes of the nation's largest abortion provider that have been launched since the Center for Medical Progress began releasing their sting videos. "Our goal here is to get to the bottom of this and, above all, to protect the unborn." he told reporters Thursday. "The goal here is not to shut down the government, the goal is to stop the horrific practice of an organization selling baby parts."
#share#HFC formed earlier this year as a group of 30 to 40 lawmakers who would collaborate at key junctures in order to move House leadership to the right. The group pressured Boehner during the fight over funding for the implementation of President Obama's executive amnesty orders and refused to vote for the "fast-track" bill that empowered the president to negotiate free trade agreements — a move that forced Republican leaders to devise a complicated series of votes that would garner Democratic support.
"We are trying to push the entire conference to the right, but you can only do that effectively if you do it in a positive way."
"We are trying to push the entire conference to the right, but you can only do that effectively if you do it in a positive way," Representative Raul Labrador (R., Idaho) told National Review in January. "You can only do it effectively if there are no surprises, if we go ahead and sit down with leadership and let them know what we want, why we want it, [and] what ideas we have to improve the product or the process."
House Minority Leader Nancy Pelosi (D., Calif.) could provide the votes needed to pass a government funding bill that would send money to Planned Parenthood, but such support might come at a price. Democrats have demanded that Republicans agree to increase government spending beyond the budget caps set by the 2011 sequestration bill, and used the threat of a government shutdown as a weapon in those talks.
"Republicans have a choice," Senator Patty Murray (D., Wash.) said in June. "They can either work with us early on a bipartisan budget deal that will set the topline budget levels and allow the Appropriations Committee to work on bills that can be signed into law. Or, they can wait until we reach a crisis, until we approach or hit another completely unnecessary government shutdown — and work with us then."
#related#Even if Boehner can corral the Democratic votes, such a scenario could leave him in a tricky spot: HFC member Representative Mark Meadows (R., N.C.) offered a motion to vacate the chair, which would depose Boehner as speaker, in August. Meadows did so without the support of his HFC colleagues and Boehner dismissed him as an eccentric. "This is one member," Boehner said last month. "I've got broad support amongst my colleagues."
And yet, Boehner hasn't allowed the motion to receive a vote, raising questions about his survival if lawmakers were asked if they want him to stay as speaker. "Who knows?" one Boehner ally told Politico. "I don't know. I don't know how you change this dynamic."
— Joel Gehrke is a political reporter for National Review.