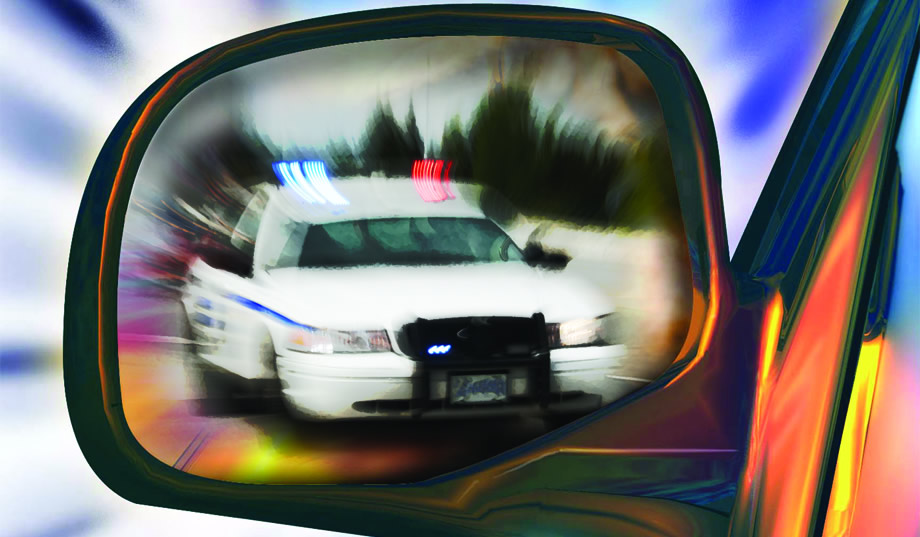 From the October 5, 2015, issue of NR
You're driving along and a bit late for work, or to get the kids to school, or to some other pressing engagement. The speed limit is 35, but you know that, on this stretch of road, everyone drives 40 or even 45 without fear of consequence. Such is your haste that you press the accelerator, and with it your luck, until the speedometer hits 50. You check the clock on the dash and are gladdened to know that, if the traffic signals break your way, you'll make it to your destination on time.
And then there it is behind you: the police car, its red and blue lights ablaze. The hope you felt only a moment ago has been dashed, instantly supplanted by what an appellate court in California once described as "the sinking feeling a driver experiences upon seeing police lights in the rear-view mirror." Yes, you are sunk. You pull to the curb to await your fate.
Most drivers have had such an experience, and we are grateful when it's someone else stopped on the side of the road, for we know the unease felt by that unfortunate motorist as he sits forlornly in his car, perhaps calculating the costs soon to be paid, and waits for the officer to complete the traffic citation. "There but for the grace of God," we think as we drive past, "go I."
It's easy to empathize with a driver who has been caught speeding or running a stop sign. It is much harder for most people to imagine what goes through a police officer's head as he walks up to that driver's window.
It's easy to empathize with a driver who has been caught speeding or running a stop sign. It is much harder for most people to imagine what goes through a police officer's head as he walks up to that driver's window. Recent events have served to underscore the dangers police officers face in America: Nine have been shot to death just since August 1, including one, Deputy Darren Goforth of the Harris County, Texas, sheriff's department, who was killed execution-style while engaged in the mundane task of putting gas in his patrol car. The traffic stop is only slightly less mundane, but it presents some of the greatest dangers a police officer can encounter.
Bear in mind that the officer who pulls you over for a minor traffic violation has no idea that you are ordinarily a law-abiding citizen who happens to be in a hurry to get somewhere. Prior to pulling you over, he may have had a chance to check your license number for registration information and to see whether your car has been reported stolen, but even if such a check revealed no cause for concern, he still knows nothing about you. As he steps from his car and approaches you, he must at least briefly entertain the remote possibility that you will pull a gun and try to shoot him. You may therefore note that his demeanor at first seems brusque, or that he seems unduly alarmed if you fail to follow his instructions as quickly and as precisely as he would wish. To put it in terms currently fashionable, his life matters, and he must behave accordingly.
Yes, most traffic stops are for minor violations, but violent felons can and often do also violate traffic laws. When I was a young and very green member of the Los Angeles Police Department, I saw a car run a stop sign. The driver pulled to the curb immediately, and I assumed he had seen me behind him and realized he was about to be stopped. Both the driver and a male passenger got out of the car unbidden, and soon I realized they were trying to encircle me as if preparing to attack. I unholstered my handgun and ordered them both to lie on the ground. They complied, and when backup officers arrived I discovered that the car had been stolen. I was lucky. Only a year earlier, an LAPD motorcycle officer named Paul Verna had stopped a car for what he must have thought would be an uneventful traffic citation. The people in the car turned out to be armed robbery suspects. They shot and killed Officer Verna.
Traffic stops can be categorized into three basic types. The first and most common is the "routine" stop, in which an officer witnesses a traffic violation, pulls the car over, and, after satisfying himself that the occupants are not a threat, issues a citation, with all involved parting ways civilly if not always amicably. But it is only in retrospect, when the stop has concluded without incident, that it can be labeled "routine."
The second type is sometimes described as a "redirected" traffic stop. Such a stop begins when an officer witnesses a traffic violation and pulls the car over, but upon making contact with the occupants he detects something that suggests there is more afoot. For example, he may recognize the driver or a passenger as a wanted fugitive, or he may see a weapon or detect the telltale odor of marijuana. In this scenario, all of the occupants will most often be ordered from the car, and they and the car will be searched.
The third type is the "pretext" traffic stop, in which a traffic violation serves as justification for stopping a car whose occupants are suspected of some other offense, evidence of which the officer hopes to discover. In this scenario as well, the occupants can expect to be ordered out of the car and, if the circumstances warrant, perhaps searched.
#share#But may an officer order someone to exit a car without some minimal level of justification? Yes, he may, just as he may order a car's occupants to stay inside if he chooses. The Supreme Court has recognized the hazards attendant to traffic stops, and in Maryland v. Wilson (1997) and a series of other cases, it has ruled that an officer stopping a car may direct the driver and passengers to exit or to remain inside at his discretion. Such a command does not require an explanation or justification. YouTube abounds with videos of people arguing with police officers who have stopped them. I have yet to see one in which the officer says, "Gee, I guess you're right," and goes on his way.
The tactics police use during traffic stops have come under public scrutiny of late, with one incident in particular drawing much attention. On July 13, Sandra Bland, 28, was found dead in a Waller County, Texas, jail cell, after apparently committing suicide. She had been arrested three days earlier during a traffic stop that escalated into a physical struggle with police officers. Police dash-camera footage showed that the stop had been routine up until the officer asked Bland to put out her cigarette before signing the warning he was issuing her for failing to signal a lane change. When Bland refused, the officer ordered her to exit the car. This she also refused to do, at which point she was forcefully removed from the car and arrested. There is much to debate in the way the officer handled the situation, but there is no question that he acted legally in ordering Bland to get out of the car.
A police officer is obligated to exercise his authority with some discretion and sense of proportion, of course, and what may be technically legal in a given situation is not necessarily advisable. But a motorist who objects to being ordered from his car, or to some other perceived police misconduct during a traffic stop, should resist the temptation to argue the case at the side of the road, where he has no chance of winning. He should instead take his argument to the courtroom, where even bad drivers sometimes get a break.
— "Jack Dunphy" is the pseudonym of a police officer in southern California. This article originally appeared in the October 5, 2015, issue of National Review.
* National Review magazine content is typically available only to paid subscribers. Due to the immediacy of this article, it has been made available to you for free. To enjoy the full complement of exceptional National Review magazine content, sign up for a subscription today. A special discounted rate is available for you here.