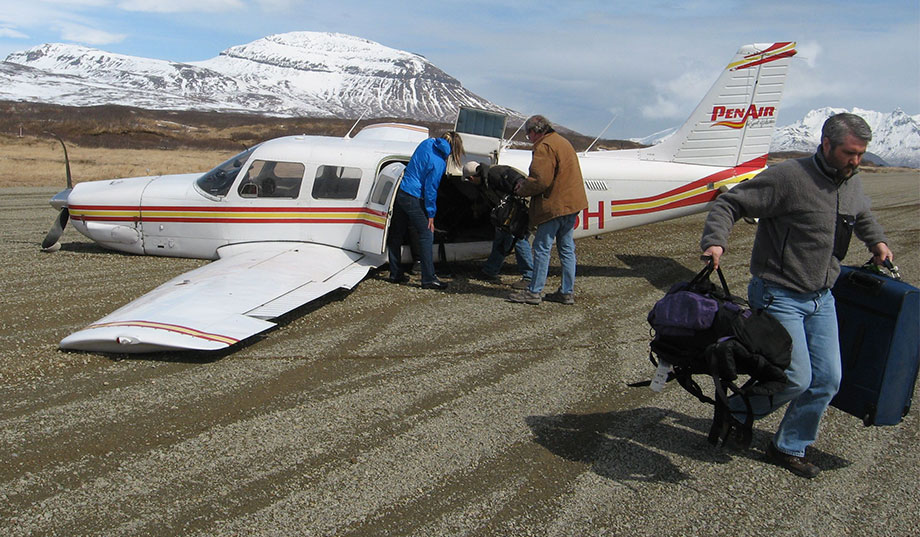 The Alaskan crisis President Obama is ignoring.
Editor's Note: A version of this article appeared in the June 22, 2015, issue of National Review.
The 950 residents of King Cove, Alaska, have been trying to build an emergency road to nearby Cold Bay. They have been trying to build the road for 40 years.
King Cove is near the western tip of the Alaskan Peninsula; a few miles west begin the Aleutian Islands. King Cove has a school and two churches and a Chinese restaurant, and its economy is buttressed by the presence of PeterPan Seafoods, one of the largest commercial fishing operations in North America, whose seasonal employees constitute about one third of the local population. But like most towns in the Alaskan bush, it has only a small clinic and no full-time physician. For everything from minor surgeries to delivering a baby, residents must venture to a proper hospital — 625 miles away, in Anchorage.
Rarely can that be done directly from King Cove. The town's 3,500-foot gravel airstrip, built in 1970 in the Delta Creek Valley north of town, cannot accommodate large aircraft, and the single- and twin-engine aircraft that use it are particularly vulnerable to King Cove's weather and geography — which are, to put it lightly, forbidding. The airstrip is situated between two volcanic peaks, which funnel into the valley winds that regularly reach 70 mph. And while clear, calm days do visit King Cove, bad weather — thick fog, lashing rain, driving snow — is Mother Nature's curse on King Cove a third of the year, sometimes more.
So getting to Anchorage requires first getting to next-door Cold Bay, a hamlet of 100 people, mainly transient state and federal employees, that happens to be home to a 10,000-foot, all-weather airstrip capable of handling the long-distance flight to the state's largest city. (Why tiny Cold Bay has such an outsized role in King Cove's story is something of a historical accident: Cold Bay Airport was built in World War II, when this distant patch of the Alaska Territory became a strategic outpost against a possible Japanese invasion. The site chosen, Army engineers agreed then, and locals agree now, was the only one in the area suitable for an airstrip of such size.)
'I've listened to your stories. Now I have to listen to the animals.'

— Interior Secretary Sally Jewell
The problem is getting to Cold Bay. In clear weather, that can be done with an air taxi from King Cove's airstrip. But when the weather is foul, making the trip to Cold Bay requires a boat (and calm seas) or a medevac helicopter (often supplied by the Coast Guard) — and, potentially, more time than a patient has.
To solve this problem, King Cove residents have sought to build a one-lane, gravel road from King Cove to Cold Bay, across the two-mile-wide isthmus that links the towns. Nineteen miles of the 30-mile road already exist. But eleven miles remain — and they traverse the Izembek National Wildlife Refuge.
This is one infrastructure project in which the Obama administration has not the slightest interest. In August 2013, with King Cove's decades-long effort seemingly about to come to fruition — a bill having passed Congress, the president having signed it — Sally Jewell, secretary of the Department of the Interior, flew to King Cove and, to people who told her of loved ones waiting desperately for a rescue helicopter, and of friends perishing in plane crashes in the cloud-swathed mountains, announced: "I've listened to your stories. Now I have to listen to the animals."
#share#The animals had the last word. "Building a road through the Refuge would cause irreversible damage not only to the Refuge itself, but to the wildlife that depend on it," Jewell said in a December 2013 statement, citing a four-year environmental-impact assessment conducted by her department. "Izembek is an extraordinary place — internationally recognized as vital to a rich diversity of species — and we owe it to future generations to think about long-term solutions that do not insert a road through the middle of this Refuge and designated wilderness."
The Izembek National Wildlife Refuge, a 315,000-acre preserve established in 1980 by the Alaska National Interest Lands Conservation Act — without consulting the native peoples, King Cove residents note — is, indeed, home to a rich array of wildlife, notably of the winged variety: 155,000 Pacific black brant (almost the entire global population) visit each fall, as well as emperor geese (6,000) and Steller's eiders (23,000), to indulge in the eelgrass beds in the lagoons adjacent to the refuge. It is for such species' sakes that 300,000 of Izembek's acres are "designated wilderness," the highest level of protection afforded to federal lands.
Yet there is something ironic about the federal government's accusing Alaskan natives of treating local wildlife frivolously. The majority of King Cove residents are members of the Aleut peoples who have subsisted along this frontier for four millennia. They know how to coexist with the local fauna. And more to the point: The most endangered species in the area is not the eider.
In 1970, when King Cove built its airstrip, locals knew that wind and weather would present a challenge to pilots. In 1980, their worst fears were realized. A local fisherman had his foot severed when a crab pot fell on him; the local nurse feared he would bleed out if he did not get to Anchorage. The fisherman was hauled aboard a plane, joined by the nurse — the only one in town — and her assistant. A blizzard had blown in. The plane crashed before reaching Cold Bay, killing everyone aboard.
In July of the following year, bad weather hid King Cove's airstrip from an approaching charter pilot. He and his five passengers were killed when their plane crashed in the mountains nearby.
Since 1980, 19 deaths — in plane crashes, or waiting for a rescue vehicle that did not arrive in time — have been attributed to the lack of a safe, speedy route between King Cove and Cold Bay.
Since 1980, 19 deaths have been attributed to the lack of a safe, speedy route between King Cove and Cold Bay.
And the number could be much higher: Since Secretary Jewell delivered her fiat, King Cove has required 31 medevac rescues, ten of which were performed by the Coast Guard.
What difference would the road make? In April 2013, Etta Kuzakin went into labor early. She went to King Cove's clinic at 8 a.m. The Coast Guard finally arrived — six hours later. King Cove residents estimate the road would cut the average bad-weather travel time — 12 to 15 hours from King Cove to Anchorage, including time spent waiting for a medevac — by two-thirds.
"I was lucky," says Kuzakin. "The Coast Guard was in the area. That is really what it was. They were in the area." She says she owes the life of her daughter, Sunnie Rae, to the Coast Guard.
But the Coasties are not responsible for the residents of King Cove. From its air station on Kodiak Island, 250 miles southwest of Anchorage, the closest Coast Guard unit — the largest in the Pacific — is responsible for monitoring the safety of thousands of commercial fishing boats, freighters, cruise ships, and other vessels that chug about the Bering Sea, Bristol Bay, the Gulf of Alaska, and Alaska's Pacific coastline, an aerial search range of 4 million square miles. Says Gary Hennigh, King Cove city administrator: "When you've got a sick person in a community, the Coast Guard can be 400, 500 miles away. We're very fortunate and thankful that they do make those stops, but that's not their job." Consider the danger that threatened thousands of unwitting sailors and fishermen on March 11, 2014, when the Coast Guard medevaced — in separate trips — King Cove fisherman Walter Wilson Jr., after a 600-pound cod pot fell on him, dislocating both of his hips and fracturing his pelvis, and his infant son, Wyatt, who was suffering breathing difficulties. And keep in mind: The Coast Guard does this — or tries to — for every underserved town.
#share#In rejecting King Cove's proposed road, Secretary Jewell failed to address the risk posed not only to King Cove residents but also to medevac personnel and Coast Guard servicemen — and, by implication, to every sailor and fisherman for whom they are responsible. Instead, she touted potential alternatives to the road, such as the hovercraft that conveyed residents of King Cove to Cold Bay from 2007 to 2010. She did not mention, of course, that that hovercraft not only proved too costly for locals to operate (it lost $1 million a year) but also could not operate in waves higher than six feet or winds stronger than 30 mph — in other words, about 30 percent of the time it was needed. Additionally, every alternative to a road was dismissed in 2003 — in a previous Interior Department environmental-impact study.
But it is not just the Obama administration that has favored this life-threatening status quo. Delegations of King Cove residents have been traveling to the nation's capital, at no small cost, since the 1980s, when Senators Ted Stevens and Frank Murkowski were championing King Cove's cause in the Senate (their Senate champion now is Frank's daughter, Lisa). Five presidential administrations have heard their petitions. In 2007 the King Cove delegation met with all 535 congressional offices. Etta Kuzakin, president of King Cove's Agdaagux tribe, led the group to D.C. in May.
The history of the King Cove road campaign is a depressing affair, a too-long chronicle of lousy deals in Congress, broken (if well-meaning) promises in Alaska, and that notorious instrument of bureaucratic delay, the study, whether the pro-road Department of Transportation reconnaissance study in the early 1990s, the pro-road 2003 study, or the most recent, anti-road study upon which Jewell claims her decision is based (and which Hennigh says is blatantly, demonstrably biased). But it is, at root, a story of the institutionalization of environmental fanaticism, and of government betraying its purpose.
It is, at root, a story of the institutionalization of environmental fanaticism, and of government betraying its purpose.
Nothing demonstrates this better than the land-swap tactic by which King Cove has tried to negotiate a solution. The first land swap, proposed by King Cove, was written up as the King Cove Health and Safety Act of 1998. It directed the Department of the Interior to agree to trade the 206 acres in the Izembek Refuge necessary to build the road for 650 acres of land adjacent to the Kinzarof Lagoon (which borders the Refuge) controlled by the King Cove Corporation. (The King Cove Corporation is one of more than 200 Alaska Native Village Corporations created by, and responsible for administering the provisions of, the Alaska Native Claims Settlement Act of 1971, which sought to resolve longstanding conflicts over land titles between the federal government and Alaska's native peoples.) The bill required that the road be built with minimal impact on wildlife, and that during seasons of high bird concentrations it be restricted to emergency use. King Cove agreed, and the bill passed the Senate easily. But then–interior secretary Bruce Babbitt announced that he would press Bill Clinton to veto the bill. In June 1998, Babbitt published an op-ed in the New York Times — "Road to Ruin" — in which he accused Murkowski and Alaska congressman Don Young of secretly working on behalf of Alaskan oil interests. The bill was never taken up in the House.
RELATED: President Obama, Not Green Enough for the Hardcore Greens
When Frank Murkowski traded his Senate seat for Alaska's governor's mansion in 2002, he renewed the idea of a land-exchange bill. In a 2005 meeting with Bush-administration interior secretary Gale Norton, Murkowski proposed 4,400 acres (of state-owned land this time) for those same 206 acres in the Izembek Refuge. The next year, when Norton resigned, Murkowski increased the offer nearly tenfold to entice her replacement, Dirk Kempthorne: 41,500 acres of state land.
In late 2006, community leaders from King Cove held extended talks with U.S. Fish and Wildlife Service director Dale Hall. (Fish and Wildlife is part of the Department of the Interior.) For Hall, 41,500 acres was still insufficient. The final agreement, hammered out over the next several months, would include not just the state's sizable gift but King Cove Corporation's original 650-acre offer — sweetened by an additional 12,500-plus corporation-controlled acres. Three-quarters of the total would become new, federally designated "wilderness" in Izembek. It was hardly a fair exchange, says Hennigh. "But residents said, 'If this is what it's going to take. Because this is about our lives.' Sometimes the world's not as fair a place as you might think." The terms of the exchange were formalized in the Omnibus Public Land Management Act of 2009.
Get Free Exclusive NR Content
The wildly disproportionate agreement – in terms of raw acreage, the federal government would add to Izembek more than 200 times what it relinquished — was intended by the people of King Cove to be a show of good faith, a demonstration that they understood the gravity of what they were asking for: the first congressionally approved road through a federally designated wilderness. But Sally Jewell, given final authority to determine whether the land exchange (and so the proposed road) was "in the public interest," was unmoved. The Obama administration (like the Clinton administration before it) has no plan to be the administration that set that precedent.
RELATED: The Environmentalists' Civil War
Yet neither the administration nor environmentalists will admit that the precedent, in effect if not in statute, already exists – and in the disputed territory itself. The Izembek National Wildlife Refuge, including its wilderness areas, is already crisscrossed by 50 miles of roads, left over from the days of rattling Army trucks (which, rest assured, took no great precautions on behalf of the eelgrass). Rather than relinquish those roads to the vicissitudes of nature, the federal government has chosen to maintain them – not to save the lives of local residents, but to serve the large populations of hunters who fly to the refuge yearly to shoot game or waterfowl. In fact, the U.S. Fish and Wildlife Service advertises Izembek's "world-famous" hunting opportunities on its website; the eager sportsman can pursue moose, brown bear, and several species of duck. You know what else you can hunt in Izembek? The Pacific black brant goose.
Alaska, by dint of distance, has always harbored a temperamental antipathy toward the powers that be in Washington. Alaskans have been frequently unwilling to trust that a far-off government is able to recognize, and pursue, their best interests. Alaska's native peoples, who hunted the land long before America's legal apparatus was erected upon it but who have nonetheless been cut out of many land-designation decisions, have been even more distrustful. In its dealings with King Cove, the federal government has validated that skepticism. Whether under a Republican or a Democratic administration, the federal government has prioritized the preservation of wilderness over the protection of its citizens. And when the very people in danger sought help, the federal government used the opportunity to wring concessions from them.
In King Cove, when the clouds gather, so does fear. "The transcendent law of nature and of nature's God," James Madison wrote in Federalist 43, "declares that the safety and happiness of society are the objects at which all political institutions aim." But in King Cove, Alaska, where federal authorities have put wildlife ahead of human life, neither safety nor peace of mind is to be found. "You pray every day," says Kuzakin, "that nobody has a life-threatening injury."