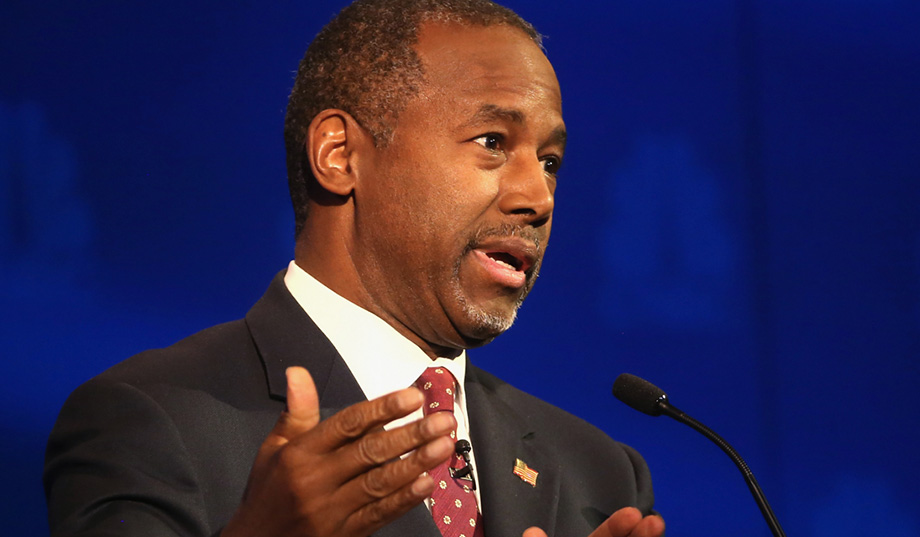 The conventional view is that Ben Carson's debate performance was a problem.
"Clinton would have him for lunch," Dick Morris declared. "Carson combines the limited knowledge of government and budgeting of Sarah Palin with the soft voice of John McCain. Just as Obama ran all over McCain in the debates, so would Clinton run over Carson. But a lot worse."
Carson's laid-back style was noted by RealClearPolitics political reporter Caitlin Huey-Burns: "Notably, the two frontrunners for the nomination stayed largely in the background. Trump and Carson, who've become rivals since the retired neurosurgeon's recent gains in the polls against the real-estate mogul, didn't attack each other. In fact, they didn't really attack anyone. Instead, they appeared content watching their fellow competitors fight for attention on a national stage they have both dominated."
After all, Dr. Carson spoke less than everyone (except a demoralized Jeb Bush and Rand Paul).
Count his co-frontrunner Donald Trump among the befuddled. "I'm surprised at Ben Carson, but I go after Ben Carson," Trump told MSNBC before the CBS/New York Times poll showed Carson ahead 26 to 22 percent. "That's my whole life. If somebody is an opponent, I want to win. Ben Carson is now doing well."
RELATED: If You're Black, Lead the Pack
After the first two debates, I had the same reaction as a lot of pundits: Huh? I don't get it. He seems like a nice man. But he seems so invisible at the debate.
I mean, I got Trump early. I didn't like him, particularly, but I got that a big strong alpha male who promised to beat up on the bad guys — and didn't give a darn about political correctness — could have a certain appeal in these trying times, and I never disrespected Trump as a clown or a sideshow.
Maybe the pundits are right this time about Dr. Carson. Or maybe we just don't yet get his appeal in this extraordinarily unconventional election year.
#share#In the first debate, in which Carson hardly got any air time, he gained 24,000 Twitter followers, more than twice as many as second-place Marco Rubio. After the second debate, in which a Powerline commenter called Carson's performance "shockingly weak" and "lame," Carson and Carly Fiorina each gained just over 20,000 new Twitter followers and both surged in the polls. Fiorina's surge was temporary, however, and Carson just keeps going up.
Carson's almost universally panned — or simply overlooked — debate performance once again won the Twitter debate.
After the first two GOP debates, Dr. Ben Carson steadily surged until now he is arguably at least the co-frontrunner — beating Trump by 4 points in the latest national poll, solidly ahead in Iowa, and surging into a statistical dead heat in South Carolina.
Last night, Carson's almost universally panned — or simply overlooked — debate performance once again won the Twitter debate, gaining 6.2 thousand new followers compared with second-place Marco Rubio's 4.5 thousand new Twitter followers.
Carson's lovely and measured response to an absurdly hostile "gotcha" question by the moderator, asking why he would be on the board of Costco given its gay-friendly policies, may be part of the reason why:
Well, obviously, you don't understand my views on homosexuality. I believe that our Constitution protects everybody, regardless of their sexual orientation or any other aspect. I also believe that marriage is between one man and one woman. And there is no reason that you can't be perfectly fair to the gay community. They shouldn't automatically assume that because you believe that marriage is between one man and one woman that you are a homophobe. And this is one of the myths that the Left perpetrates on our society, and this is how they frighten people and get people to shut up. You know, that's what the PC culture is all about, and it's destroying this nation. The fact of the matter is we the American people are not each other's enemies, it's those people who are trying to divide us who are the enemies. And we need to make that very clear to everybody.
#related#As the new frontrunner, or co-frontrunner, Carson is going to get new scrutiny; witness the flurry of stories today about his relationship with a company called Mannatech, which he denied on national television on Wednesday. I think it is going to prove an enormous non-issue, hinging as it does on what the word "relationship" means to voters. Four paid speeches and some unpaid nice interviews do not make Ben Carson responsible for Mannatech.
I still do not know whether or not I think Dr. Ben Carson could get elected president, or whether, if he were in the White House, he could solve our most urgent problems.
I do know: I am not going to misunderestimate him again.
— Maggie Gallagher is a senior fellow at the American Principles Project. She blogs at MaggieGallagher.com.