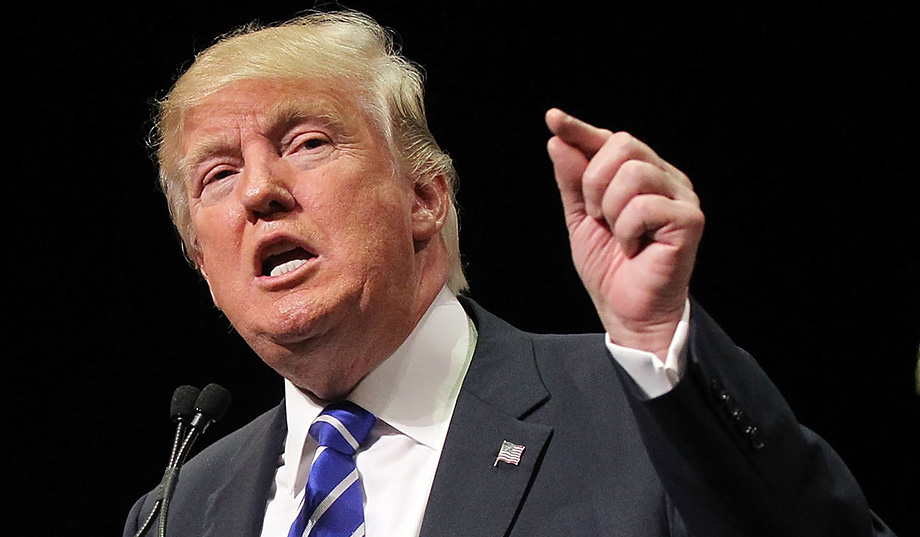 It began as whispers in hushed corners: Could it ever happen? And now, just three months from the Iowa caucuses, members of the Republican establishment are starting to give voice to an increasingly common belief that Donald Trump, once dismissed as joke, a carnival barker, and a circus freak, might very well win the nomination.
"Trump is a serious player for the nomination at this time," says Ed Rollins, who served as the national campaign director for Reagan's 1984 reelection and as campaign chairman for Mike Huckabee in  2008.
Rollins is not alone in his views. "Trump has sustained a lead for longer than there are days left" before voting begins in Iowa, says Steve Schmidt, who managed John McCain's 2008 presidential campaign. "For a long time," Schmidt says, "you were talking to people in Washington, and there was a belief that there was an expiration date to this, as if there's some secret group of people who have the ability to control the process."
But for Trump, a dip in the polls after the second debate that many predicted was the beginning of the end has arrested; and for nearly four months, he has remained at the top of the polls. Now, long-time GOP strategists who were expecting Trump's act to wear thin a couple of months ago worry that he can't be stopped, or at least that he has a significant chance of winning the nomination.
It's a drastic departure from the near-universal sentiment of the Republican establishment voiced when Trump announced his candidacy in June. In the weeks following his campaign launch, many Republicans fretted not that Trump would win the nomination, but that his incendiary remarks about illegal immigrants would irreparably harm the GOP brand. (The former Bush-administration press secretary Ari Fleischer compared Trump to a roadside accident. "Everybody pulls over to see the mess," he told Politico in late June. "And the risk for the party is he tarnishes everybody.") Now, many members of the GOP establishment are concerned less that Trump will hurt the brand than that he'll become its standard-bearer.
RELATED: Obama's Weakness Fuels the Demand for Trump's Strength
"I know all of us dismissed Trump, early on, all of the so-called experts," Fox News's Chris Wallace said Sunday. "'Summer fling,' 'momentary amusement.'" But Wallace, who interviewed Trump late last week and aired portions of the interview on his show Sunday, said he finds himself feeling differently now. "As I watched that interview and I heard what he had to say . . . I am beginning to believe he could be elected president of the United States," he said.
Poll after poll this election cycle has registered the distaste of Republican voters for political experience; they prefer an outsider with a fresh approach to a battle-tested veteran.
Wallace was struck by the sheer force of Trump's personality, but there are other reasons to think he has a real shot at the nomination. Poll after poll this election cycle has registered the distaste of Republican voters for political experience; they prefer an outsider with a fresh approach to a battle-tested veteran. For instance, the latest survey from the Pew Research Center, published in early October, shows that by more than a two-to-one margin, Republican and Republican-leaning voters prefer a candidate with new ideas to one with a proven record. That's a change: Republicans have traditionally preferred governors to senators, for example, because they prized their executive experience. And Pew notes that this is a shift in attitude that coincided with Trump's ascension. "Just five months ago," the polling company writes, "GOP voters valued experience and a proven record over new ideas, 57 percent to 36 percent."
Trump is not the only candidate who lacks political experience, and Pew's findings help to explain why the retired neurosurgeon Ben Carson is surging in the polls as well. But Trump has done something they haven't, something that now-former presidential candidate Scott Walker demonstrated is difficult to do — sustain the momentum he developed in the weeks after he launched his campaign.
#share#Republican strategists say that momentum is key to notching wins in the early primary states, which themselves are essential to securing victories later on. "He has the potential to win Iowa and New Hampshire and more," says Rollins. "No one seems to be developing to challenge him at this time."
"Momentum matters a great deal," says Schmidt. "You have to win in the early states to win in the larger mega-state primaries that fold out over the balance of March and April."
RELATED: Trump Wrongs the Right
Skeptics remain. Stuart Stevens, who served as a senior adviser to Mitt Romney's 2012 presidential campaign, notes that Republicans in Iowa and New Hampshire haven't elected renegade candidates when they've had an opportunity to do so, as recently as last year. "I think a reasonable way to look at this is to look at who gets nominated for governor or Senate in these states," Stevens says. In Iowa, the mustachioed Terry Branstad, whose political network is largely supportive of New Jersey governor Chris Christie, is the longest-serving governor in state history. In the 2014 Senate primary, Joni Ernst, then a state senator, beat back challenges from both the right and the left. New Hampshire elected the moderate Kelly Ayotte to the Senate in 2010.
"So," Stevens asks, "could Donald Trump win a nomination for the Senate or governor in Iowa or New Hampshire?" "Not in a million years." Then again, the early states have surprised before.
RELATED: Four Easy Steps for Beating Donald Trump
As Trump has become a more permanent fixture on the political scene, other questions linger. Can he vary his routine? Is he serious about building a ground game?
Over the past few weeks, the Trump campaign has begun at least to hint that it is interested in rounding out the picture of its candidate. Trump's four children opened up to People magazine about their father for an article published earlier this month; on the cover, Trump shared the spotlight with his wife and his youngest son, Barron. Trump's daughter, Ivanka, and his son, Eric, have begun making television appearances on behalf of their father. (Showing that the apple doesn't fall far from the tree, the younger Trump told Fox News's Greta Van Susteren last week: "Everything he touches turns to gold.") Profiles of Trump's wife, the former Melania Knauss, and of Ivanka, published in the New York Times and Politico magazine, respectively, have also provided glimpses of Trump the family man.
#related#And while Trump is beginning to make traditional campaign expenditures and build a ground game in the early-voting states, he is spending less on these measures and undertaking them later than other campaigns, which have been putting the gears in motion for the past year or longer. Typically, in caucus states such as Iowa and Nevada, these sorts of political fundamentals matter. But Trump has already defied supposedly immutable laws of politics.
Trump's supporters will surely cheer the emerging consensus, but, as Trump would be the first to point out, the establishment has been wrong before. Right now, it might find consolation in that fact.
— Eliana Johnson is Washington bureau chief of National Review.