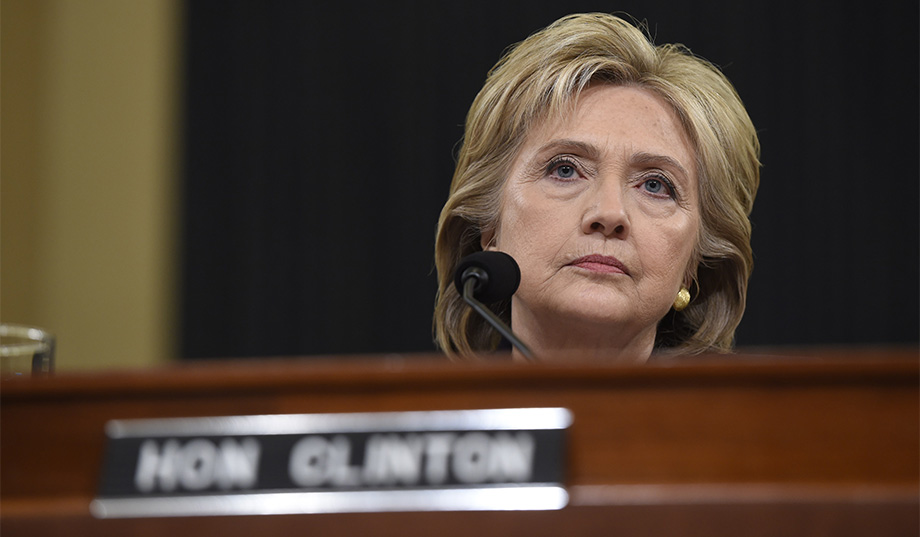 Yesterday's hearing of the House Select Committee on Benghazi confirmed what many have long suspected: By the evening hours of September 11, 2012, the Obama administration knew that the deadly assault on the American diplomatic compound in Benghazi, Libya, was a planned terrorist attack, yet for several days afterward top administration officials attributed the attack to a spontaneous protest of an anti-Muslim video. Hillary Clinton, then secretary of state, participated in that cover-up.
On Thursday, the committee revealed that Clinton sent an e-mail to her daughter, Chelsea, shortly after 11 p.m. on September 11, lamenting that "two of our officers were killed in Benghazi by an al-Qaeda-like group." The same night, on the phone with Egyptian prime minister Hisham Kandil, she dismissed the video explanation completely: "We know the attack had nothing to do with the film. It was a planned attack, not a protest. . . . Based on the information we saw today, we believe that the group that claimed responsibility for this was affiliated with al-Qaeda."
RELATED: The Clintons' Greatest Political Gift: Persuading Millions of Americans to Defend the Indefensible
Yet on September 14, with four flag-draped coffins at her side at Andrews Air Force Base, she declared: "We've seen rage and violence directed at American embassies over an awful Internet video that we had nothing to do with." And according to Charles Woods, father of Tyrone Woods, a retired Navy Seal killed in the attack, the secretary assured him: "We are going to have the filmmaker arrested who was responsible for the death of your son." It was not until September 21 that Hillary Clinton publicly called events in Benghazi a "terrorist attack."
#share#The committee caught Clinton in several other contradictions. She maintained that longtime confidant Sidney Blumenthal was not an "official or unofficial" adviser to her on Libyan affairs, that his several hundred e-mails to her were "unsolicited," and that she had no inkling of his private business interests in the country. E-mails from Clinton to Blumenthal and other associates prove each of these claims incontrovertibly false. Clinton maintained, too, that the State Department's Accountability Review Board report on Benghazi was "nonpartisan" and "independent" — even though her aide Cheryl Mills admitted last month to altering the report.
Clinton told willful, knowing lies about a terrorist attack that killed four Americans — and even lied to the families of the deceased.
In the wake of yesterday's hearing, Democrats have shifted from maintaining that Clinton never lied to dismissing the committee's revelations as "old news." That Clinton is untrustworthy is indeed old news to anyone who has paid attention to her long career. But it is always newsworthy when we acquire evidence that a leading presidential candidate told willful, knowing lies about a terrorist attack that killed four Americans — and even lied to the families of the deceased. Meanwhile, she had told the truth immediately to the Muslim Brotherhood–led government of Egypt.
Similarly, the press has moved quickly from denouncing the House Select Committee on Benghazi as a partisan witch-hunt to mocking it for failing to get its witch. But the committee is doing some of the most important work Congress can do. When government fails as tragically as ours did in Benghazi, public officials can choose to lie about it or to expose it. Republicans on the committee, at least, have made the honorable choice.