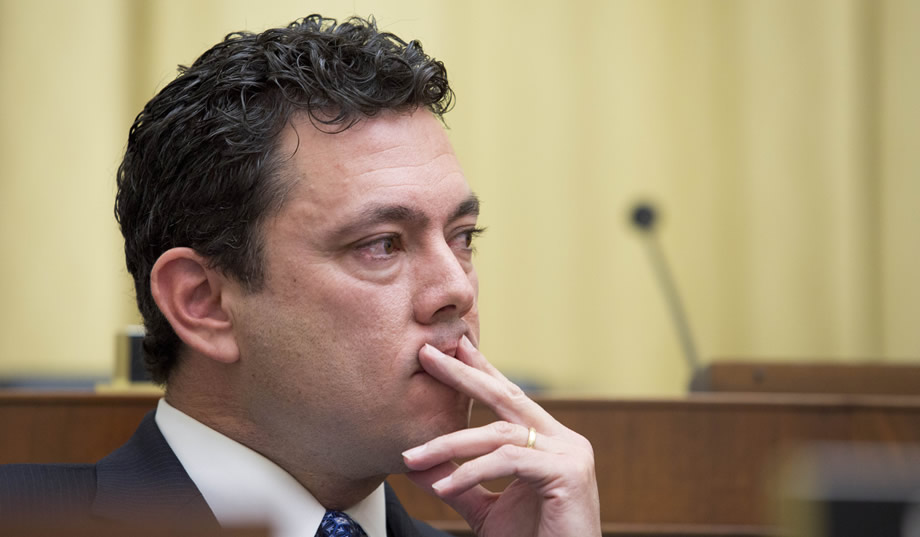 House Oversight and Government Reform Committee chairman Jason Chaffetz (R., Utah) may jump into the race to succeed outgoing Speaker John Boehner.
Since Boehner announced his upcoming resignation last Friday, House Majority Leader Kevin McCarthy has loomed as his presumptive successor. Though McCarthy's only declared rival for the job — Florida Representative Daniel Webster — has failed to garner any serious interest, the rank-and-file lawmakers who precipitated Boehner's resignation have signaled a willingness to block the majority leader's ascent to the top spot in the conference. House Freedom Caucus members have discussed backing an alternative candidate, but their efforts to recruit a viable challenger kicked into high gear after McCarthy made a damaging gaffe implying that the Benghazi committee had been a partisan effort to hurt Hillary Clinton's chances in the upcoming presidential election.
Chaffetz hasn't confirmed to his recruiters that he's running for speaker — "I'm hearing he's in," one HFC member who has advocated for his candidacy tells National Review — but he "appeared to be gauging support for a potential speaker run," per CNN. Politico first reported that he was preparing a bid. His supporters hope that his candidacy will give lawmakers who are frustrated with McCarthy — or skeptical that he can convince House rebels to stop their agitating against leadership plans — the courage to defy the California Republican.
"Normalcy is out the window," Representative Thomas Rooney (R., Fla.), a McCarthy supporter who describes himself as a "very close" friend of Chaffetz. "Nothing surprises me anymore."
The majority leader has significant institutional advantages in the speaker's race, given that he has spent years recruiting successful candidates to Congress, raising money for colleagues, and even hosting dinners for various lawmakers and congressional groups.
"You're talking about eight years at least of goodwill [accrued] by McCarthy," Rooney explains. "My responsibility is to all my constituents, as a member of Congress, and the goodwill that I've built up with Boehner and the goodwill that I've built up with McCarthy means something in actual committee assignments or weight given to the things that I need put into action."
Chaffetz, by contrast, has not held a major leadership post — which is a blessing and a curse. "For somebody to come in and go right for speaker without any [indication] that he was even interested in leadership before now . . . that's what's kind of odd for me," the Florida lawmaker adds. "But look who the front-runners are for president. This is a crazy year. People that are so-called outsiders might get a wellspring of support."
For Chaffetz, a speaker's bid entails the risk that McCarthy wins and then strips him of his powerful committee chairmanship. And the potential candidacy comes at a less-than-ideal time for the Utah Republican, as he conducted a hearing on Planned Parenthood this week that was widely-panned for failing to weaken the abortion giant. "Being a committee chairman is kind of like being a mini-speaker. You are the one who is guiding the message and making sure people are in line and understand what the message is and communicating it," the aide says. "Internally, people notice that [media criticism of the hearings] — members notice that."
Whatever the risks or difficulties that Chaffetz faces, even a losing candidacy could make him a hero among the conservative grassroots. And if the House Freedom Caucus follows through on its threat to vote with Democrats in opposition to McCarthy — as it had warned it might even before Chaffetz stuck his head up — then he might find himself positioned to emerge from a "nasty floor fight" as the consensus candidate. 
Of course, it could also be someone else entirely. "We could get to the floor, [and] if Kevin doesn't have the requisite number of votes, we're in a scramble then to see what we could do," Rooney says.
— Joel Gehrke is a political reporter for National Review.