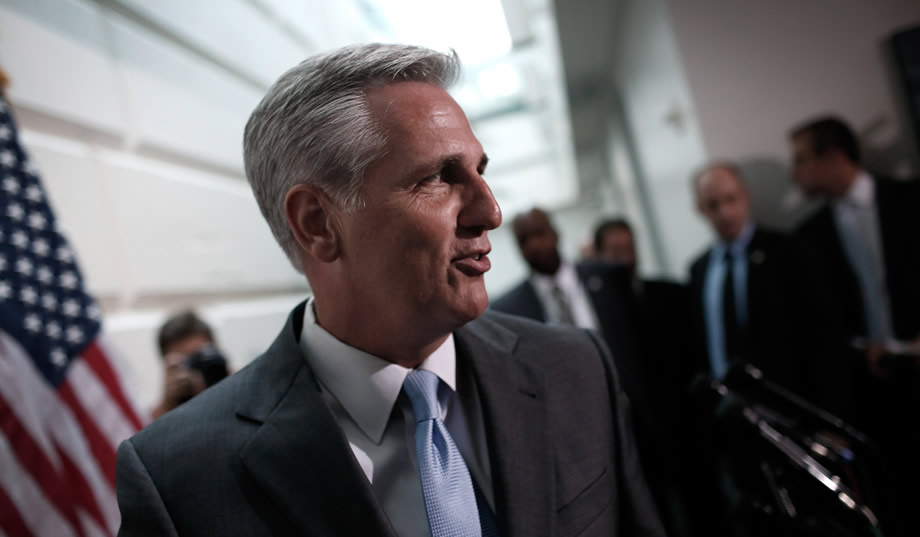 House Majority Leader Kevin McCarthy (R., Calif.) is hardly a lock to be voted into the speaker's office, according to several of the conservative lawmakers who precipitated John Boehner's resignation.
McCarthy's supporters expect the fractious conservatives to acquiesce to his leadership after he wins the speaker's race by a large margin in a GOP conference meeting next week. "When we go to the floor, everyone in the Republican conference will vote for the Republican nominee," Representative Joe Barton (R., Texas) tells National Review. "There's no law that mandates that you have to vote for your political nominee, but the tradition has been that you do."
Tradition has proven a weak guide over the past year, though, and it's possible that the grassroots anger that convinced Boehner to give up his gavel continues to grow over the next month. For one thing, Boehner's lieutenants are the favorites to win the closed-door leadership races next week, which could inspire a direct challenge to McCarthy from lawmakers who hoped for a more dramatic change in the wake of Boehner's departure. And if Boehner makes good on his promise to "clean the barn up" before leaving office, grassroots anger that he negotiated with Democrats as a lame duck could strengthen the backbenchers' resolve.
#related#Members of the House Freedom Caucus (HFC) have issued public warnings about their current unwillingness to support McCarthy. "He doesn't have 218 [votes]," Representative Tim Huelskamp (R., Kan.) told The Hill.
McCarthy needs to get to 218 votes because the speaker's race, unlike any other leadership race, ends with a vote on the House floor in which every member of the lower chamber can participate. If the 188 Democrats vote for a Democratic speaker, then it only takes 29 dissenting Republicans to deny McCarthy the victory. So where does he stand now? It's hard to say for sure, but an HFC member estimates to NR that, of the 40-or-so members of the caucus, only one has committed to backing McCarthy. Another HFC member predicts "a nasty floor fight."
Some Republicans regard such warnings as a mere negotiating tactic, especially because House Freedom Caucus chairman Jim Jordan has maintained close lines of communication with McCarthy over the years. "My gut is that they come in with a list of demands, he probably gives vague promises for two or three of them, [and] they say 'sounds good,'" says one senior GOP aide. "Jim is a super-nice guy and he'll trust [McCarthy] at his word."
Members of the House Freedom Caucus (HFC) have issued public warnings about their current unwillingness to support McCarthy.
That may be, but the difficulty of McCarthy's position is clear. If Boehner's resignation results in the majority leader, the majority whip, and the chief deputy whip receiving promotions, conservative activists will not be happy. Even moderate Republicans worry that the scenario could intensify the fight between leadership and the backbenchers. "Do we want real change in leadership or do we just want to move the deck chairs around?" one well-connected Republican asks. "I just want stability."
The situation could be exacerbated by any steps Boehner or other Republicans take to "clean the barn" for McCarthy, starting with the push to revive the Export-Import Bank. Ex-Im's termination has become a righteous cause among conservative activists, who regard the agency as a symbol of crony capitalist government largesse. Many Republicans, including Boehner, support it. Representative Steve Fincher (R., Tenn.) is using a legislative maneuver called a discharge petition to bring up a bill reauthorizing the agency. It's a rare power play, as it would involve circumventing House Financial Services Committee chairman Jeb Hensarling (the conservative Texan who has refused to allow the bill out of committee) with help from Democrats.
#share#"Holy war" within the House Republican conference would ensue if Fincher's plan were to succeed, according to a Republican who is not a member of the House Freedom Caucus. This congressman, who voted for Boehner in January, believes that such a fight — when paired with the promotion of Boehner's lieutenants — would increase the likelihood of a revolt on the House floor.
In the end, McCarthy might be saved by the lack of a credible alternative. "The truth is, there was no conservative who could beat John Boehner," Mulvaney wrote after the failed January attempt to depose the speaker. That doesn't mean McCarthy will win without a fight.
— Joel Gehrke is a political reporter for National Review.
Editor's Note: This story has been amended since its original publication.