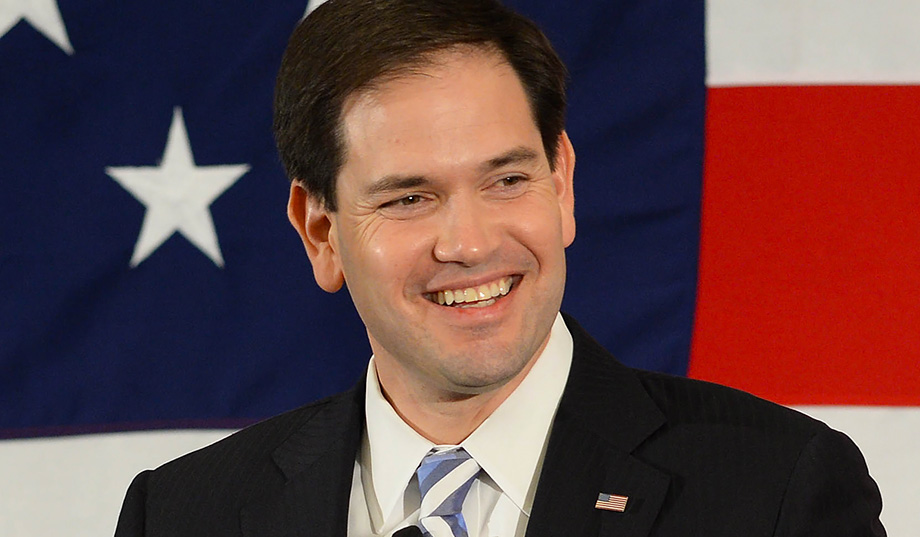 Marco Rubio seems to have scored one of the major undecided donors in the Republican primary: hedgefund billionaire Paul Singer.  
Singer, who was a generous contributor to President George W. Bush and the Swift Boat Veterans for Truth, has until now remained on the sidelines of the 2016 race, but a source close to the Rubio campaign says he plans to raise money for Rubio, and that an announcement is expected as soon as tomorrow. 
It's one of the first signs that Rubio, who posted underwhelming third-quarter fundraising numbers, is gaining a foothold with the GOP establishment's biggest donors after a string of impressive debate performances that have generated positive headlines in the press but less hard cash than he would've liked. 
Singer's impending decision comes at a potentially pivotal time for former Florida governor Jeb Bush, who is struggling with deteriorating poll numbers and turned in a weak debate performance on Wednesday evening in Colorado. Singer's move will raise further questions about the effectiveness of the Bush campaign's efforts to staunch the flow of money and support to Rubio with attacks on his Senate record and whispers about misdeeds in his past. 
Given the timing of Singer's move, speculation that Bush's performance in Wednesday's debate pushed the billionaire hedge-fund magnate into Rubio's camp will be unavoidable. Bush, who has long promised to run a joyful and optimistic campaign, made headlines in the debate by attacking his one-time protégé for missing Senate votes.  
Speculation that Bush's performance in Wednesday's debate pushed the billionaire hedge-fund magnate into Rubio's camp will be unavoidable.
Piggybacking on moderator Carl Quintanilla's pointed question about Rubio's Senate attendance record, Bush suggested he resign his office. Rubio, the crowd firmly behind him, responded, "Jeb, let me tell you, I don't remember you ever complaining about John McCain's vote record. The only reason you're doing it now is because we're running for the same position and someone has convinced you that attacking me is going to help you." Bush never recovered, remaining largely absent for the rest of the debate.
Singer was a supporter of George W. Bush, but also one of Rubio's earliest backers in his 2010 Senate race against Charlie Crist. Having watched a big field of Republican candidates bloody each other four years ago, donors share a general hope that this cycle's nominee will emerge from the primary process unscathed. 
#share#The feud between Bush and Rubio started earlier this month, when Bush began to say publicly that Rubio lacked leadership skills, and it has intensified in the weeks since. After Bush's attack at Wednesday's debate, Thursday brought the leak of a PowerPoint presentation shared with the Bush campaign's top donors, which declared Rubio a "risky bet" due to his "misuse of state party credit cards, taxpayer funds and ties to scandal-tarred former Congressman David Rivera."
The attacks have so far showed no signs of helping Bush or hurting Rubio. But if Rubio's team hasn't gotten down in the mud, it has not stayed silent either. In an e-mail to supporters Friday morning, J. Warren Tompkins and Jon Lerner, the strategists running the super PAC supporting Rubio's bid, wrote that they no longer believe Bush has a shot at the nomination. "When you consider all angles, as we do, there are really only four candidates with a reasonable chance of becoming the Republican nominee: Senator Marco Rubio, Dr. Ben Carson, Donald Trump, and Senator Ted Cruz," they said. 
#related#Singer's move will buoy that assessment. Above and beyond the seven-figure checks he's capable of cutting to candidates and political-action committees, his endorsement carries sway in the wider community of wealthy Republican donors. He has emerged as one of the biggest bundlers of hard money in the Republican party, raising hundreds of thousands of dollars for Senate candidates in the 2014 election cycle. Over the past several years, he's united donors who favor an aggressive, internationalist foreign policy — including Citadel's Kenneth Griffin and AQR Capital's Cliff Asness — to build a broad fundraising network ​that many say is second only to the libertarian Koch brothers' in its strength. Singer is also a supporter of conservative think tanks like the American Enterprise Institute and the Manhattan Institute, activist organizations like the Federalist Society, and super PACs like the Club for Growth and Ending Spending. 
Though Singer is known in particular for favoring gay marriage, his position has not prevented him from supporting conservative candidates who see the issue differently. He was among the largest bundlers for Arkansas senator Tom Cotton in 2014 and for Texas senator Ted Cruz in 2012, each of whom, like Rubio, opposes gay marriage. 
Both the Rubio campaign and a representative for Singer declined to comment for this story.
— Eliana Johnson is Washington editor of National Review.