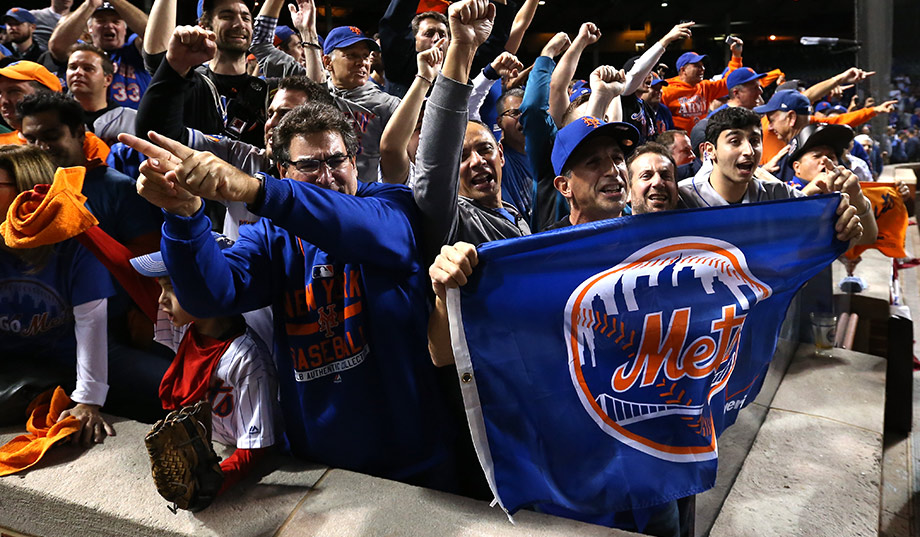 In 1969, two miraculous events rekindled American optimism: man's walking on the Moon and the New York Mets' winning the World Series.
In 2015, the Mets are in the World Series again, for the first time in 15 years. Riding the momentum of a surreal run of two and a half months, the club could win its third world championship and first since the Reagan administration. What might "morning in the Amazins' America" augur today?
Let us first survey the painful recent history of the franchise and the nation, which have followed parallel trajectories, rising and falling.
From 2006 to 2008 the Mets won, and won a lot. In '06 the team drew to within one torturous pitch of a World Series berth. This heartbreak gave way to two years of second-place finishes, each marked by soul-crushing September collapses in which the Mets' playoff dreams were dashed on the last day of the season.
Worse than the collapses on the field were those in the front office. Mets ownership was big into real estate; its fortunes were heavily invested in Bernard Madoff's schemes. While the Mets' payroll swelled, the prices of America's financial assets similarly inflated, particularly in the real-estate sector. Then came the Great Recession and the housing bubble's burst, under which Madoff's Ponzi scheme was revealed. The collapse of the Mets' fortunes followed.
The fates of the Mets and of America were joined, embodied in the Mets' new ballpark, Citi Field, which opened in 2009. This characterless McMansion of a stadium — largely devoid of defining Mets-ness, save for a steroid-injected apple — was so titled thanks to a naming-rights deal effectively underwritten by the taxpayer. Like much of America's housing stock, the Mets' home, Citi Field would remain largely uninhabited during miserable years to come. The edifice literally rusted before it even saw its first game.
As the American economy slogged along, so too did the Mets, who found creative ways to fail en route to six straight losing seasons. Supposedly minor injuries festered and led to lost years. Management claimed it had funds to acquire talent, while continuously cutting back. The Mets' debt ballooned as it serviced existing debt.
Early in 2015, the team's imprudent and miserly majority owner was named the head of Major League Baseball's Finance Committee. Was "failing upward," as in politics, a new rule in MLB? Then, just in time for Opening Day, Steve Kettmann's book Baseball Maverick: How Sandy Alderson Revolutionized Baseball and Revived the Mets was published. How could anyone have the temerity to argue that the Mets' general manager, who had not overseen a single winning Mets team, had revived the Metropolitans?
Demoralized, some Mets fans even put up billboards above the chop shops near Citi Field, urging the Mets' owners to sell the team.
#share#
Slowly, the Mets began to accumulate young talent.  Like an enterprise recovering from a restructuring, the team focused on its core competency, which was pitching, and shed albatross contracts. We Mets fans toiled in the abyss alongside our team for what seemed like an eternity. #LOLMets was a meme we lived nightly.
Yet we continued to love our franchise, believing that the hours and small fortunes we devoted to our team would somehow not go unrequited forever.
Baseball has an ebb and a flow, a palpable tension, a narrative better than any story.
We continued to love baseball perhaps because it reminds us of life. It is a game of failure and redemption, triumph and tragedy, and hot streaks and cold streaks. Our daily existence may be mundane and routine, but baseball is there for us to lose ourselves in each night. Baseball has an ebb and a flow, a palpable tension, a narrative better than any story.
The Mets' 2015 season has had all of these things, and more.
It began with a maddening level of mediocrity even for the Mets, with the club's young pitching excelling while its horrific lineup languished, sorely missing orange-and-blue-bleeding captain David Wright to potential career-ending spinal stenosis.
It continued with the most remarkable inflection point of a week in Mets history. A heartrending 48 hours included homegrown Met Wilmer Flores's being left on the field to cry on hearing he had been traded — only for the trade to (fortuitously) fall through — followed by a Biblical storm coinciding with the season's most gut-wrenching loss. Meanwhile, Mets management made a flurry of transformative moves bookending the two days, propelling the Mets from pretenders to contenders overnight and, by Sunday evening, into first place, on the back of Flores's own heroics.
It culminated in a storybook surge to the playoffs, sparked by Wright's fairytale comeback, the newly acquired, and brilliant, Yoenis Cespedes, and a postseason in which the Mets' fireballing young pitchers were singlehandedly backed by unlikely Cy Young Award slayer Daniel Murphy. Murphy's record-setting run includes seven home runs in nine playoff games, totaling half of his 14 over 130 games during the regular season.
#share#
Some have compared Mets fandom to a religious experience.
Others, such as Harry Stein, view Mets fandom as integral to their political identity, the team's failures tempering their liberal idealism. I tend to agree: If the facts of life are conservative (and baseball reflects life), and man is inherently flawed (like the Mets), then there is something conservative about Mets fanaticism.
George Will, a longtime fan of the Cubs team over whom the Mets just triumphed, believes we baseball romantics have it wrong. He writes in his ode to the Cubs' Wrigley Field, A Nice Little Place on the North Side:
Baseball fans, an otherwise sensible and agreeable cohort, are given to gushing. It is a grating attribute. . . . They have a high-octane sentimentality about everything from playing catch with Dad to baseball's resemblance to heaven — how do they know? — or Pericleses's Athens, or the Federal Reserve Board. Is there anything that baseball has not been said to resemble? Or to be a metaphor for?
With the utmost respect for Mr. Will as a baseball expert, writer, and thinker, I must disagree.
To have witnessed this Mets team rise from the ashes and blossom into perhaps the dominant force in baseball — this Metamorphosis, punctuated by Daniel Murphy's turning Murphy's Law on its head, is a testament to the beauty and magic of this game.
I am a diehard Mets fan devoted to the letter of the Constitution and the spirit of the Declaration. Such allegiances are constantly challenged. But if there is hope for the Mets in 2015, if there is finally joy in Flushing (and Mudville), then surely there is hope for our great nation, too.