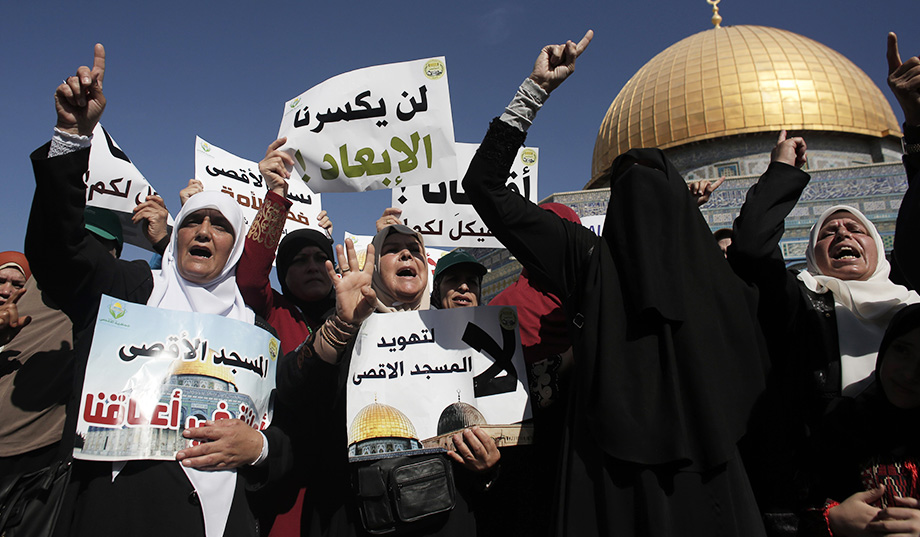 A good magician hones his craft by spending countless hours mastering sleight-of-hand techniques. The audience is distracted by one hand while the other hand is executing the illusion.
The Palestinian Authority (PA) pulled off an amazing sleight-of-hand trick this month by erasing Jewish ties to the Land of Israel.
Last week, the PA, with the backing of six Arab countries, successfully shepherded a resolution through the U.N. Education, Scientific, and Cultural Organization (UNESCO) listing the Cave of the Patriarchs in Hebron and Rachel's Tomb in Bethlehem as Muslim sites, and condemning Israel for archeological excavations near the Temple Mount.
The resolution followed weeks of violent encounters, which started as a series of riots at the al-Aqsa mosque on the Temple Mount, where Palestinians had stockpiled rocks, firebombs, and other weaponry. After the riots, Palestinians alleged that the status quo over the Temple Mount, where Jews are allowed to visit but not pray, was being threatened by Israel. These allegations were repeated, and exacerbated, by PA President Mahmoud Abbas, who accused Jews of contaminating Muslim and Christian holy sites in Jerusalem with their "filthy feet."
RELATED: Palestinian Reasoning: Yield to Our Crazy Religious Intolerance or We'll Kill You 
By stoking riotous violence on the Temple Mount, the PA gave itself a pretext for demanding concessions from UNESCO, and it pounced, overreaching at first to establish a bargaining position. Its original proposal asked that the Western Wall, officially known by its Hebrew name, "Kotel," be rechristened as the Arabic "Buraq," and recognized as belonging to the al-Aqsa Mosque compound. Even UNESCO's director-general Irina Bokova condemned this power grab, stating that it would "further incite tensions" and was inconsistent with the organization's "mandate and efforts."
#share#Though Israel maintains control over Jerusalem, administration of the city's holy sites is entrusted to their respective religious authorities. The PA failed to win the Kotel as part of al-Aqsa, but its leaders will no doubt try again, and use the concessions they did win to agitate for Islamic stewardship of any number of other contested sites. When they do not get what they want, a slew of U.N. Resolutions will rain down condemning Israel's refusal to hand over control of "Muslim" property. The PA will then proceed to incite its people to violently demand what they couldn't take through diplomacy, and the process will repeat itself, the Palestinians winning incremental concessions each time.
RELATED: There Is No God but Hephaestus — And Fire Is His Messenger
The PA has continuously denied Judaism's historical and religious ties to the region. During the 2000 negotiations at Camp David, then PA President Yasser Arafat refused to acknowledge Jewish ties to the Temple Mount and claimed that a Jewish Temple never existed there.
Before Israel took control of the region, Jewish holy sites were vandalized and desecrated, and Jews were denied access to many of them, including the Kotel. Muslims have built mosques directly on top of some Jewish shrines in order to lay claim to them.
RELATED: The Media's Shameful, Shameless Bias against Israel
Even now, Jewish sites in PA-controlled areas are subject to violent assaults. Last week, a Palestinian mob set fire to Joseph's Tomb, a Jewish holy site located in the West Bank. While the Muslim administrators of the Temple Mount have official visiting hours for non-Muslim visitors, such visitors are forbidden from praying there. Just visiting the Temple Mount is difficult for non-Muslims, who are subject to harassment as soon as they set foot on the site: Muslim youths are paid salaries to harass Jewish and Christian visitors. These professional bullies even accosted a U.S. Congressional delegation visiting the mosque.
With one hand, the Palestinians are claiming that Israel is performing a power grab in an attempt to change the status quo of the Temple Mount. With the other hand, the Palestinians are co-opting religious sites, changing the status quo of the Temple Mount in their favor, and attempting to erase Jewish connections to contested Holy lands. All of this is being done in plain sight, with the tacit acceptance of the international community.
It's some magic trick.
— Alex VanNess is the manager of public information at the Center for Security Policy.