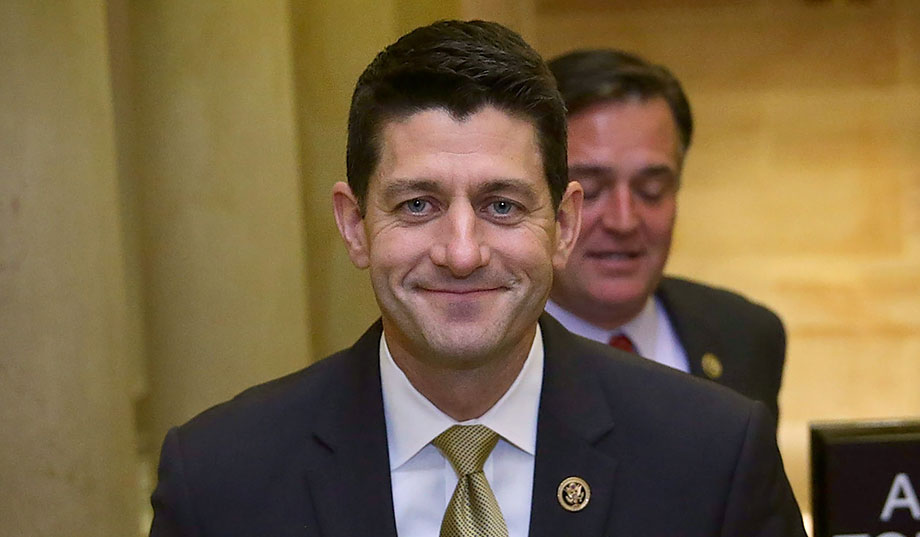 Outgoing House Speaker John Boehner's last-minute debt-limit deal is a textbook example of what Paul Ryan has promised not to do as leader of the Republican conference. 
"I think the process stinks," the incoming speaker told reporters Tuesday. "We are up against a deadline. That's unfortunate. But going forward, as a conference, we should have been meeting months ago to discuss these things, to have a unified strategy going forward."
Such comments might sound like convenient political posturing, but they comport with Ryan's remarks to conservative lawmakers in the House Freedom Caucus (HFC) last week. As he courted the HFC's support, Ryan criticized Boehner's performance as a strategist and a manager of the conference. He proposed changes with the implicit promise of empowering rank-and-file lawmakers — and the potential to induce their loyalty, sparing him Boehner's fate.
"[Ryan] said we haven't been running a good ship for a while now," one HFC member tells National Review. His diagnosis: Boehner's team has too often failed to develop an actionable strategy in fights with President Obama, which has resulted in leadership setting the GOP agenda in eleventh-hour talks that give Democrats the negotiating power to advance their legislative priorities.
RELATED: No to the Budget Deal 
As a corrective, Ryan plans to schedule "semi-regular" GOP conference meetings "that are focused on policy" rather than House current events, according to a spokesman in his office. He also wants to meet more frequently with individual members of the conference, giving HFC lawmakers a chance to influence the strategy while also binding them to support the conference's plan.
"I think what he was saying was, 'Ok, guys, I'm going to be very inclusive and I'm going to give you the opportunity to make your amendments, but then when I do that I'm going to expect you guys to not go off and create some kind of donnybrook rebellion that undermines the cohesiveness of the conference,'" another HFC member says. "If he's going to try like that, I'm going to try my best to not be so willing to step away from the titular hierarchy."
#share#Such an appetite for unity arises, in part, from another criticism Ryan leveled at Boehner in his meeting with the HFC. According to two lawmakers who attended, he argued that stewardship of the Republican conference had gone downhill since former House Majority Leader Dick Armey left office in 2003, because the committees had atrophied as the most significant legislation was crafted by party leaders in the midst of high-drama talks with Democrats.
Ryan's team wouldn't discuss private meetings, but confirmed his affinity for Armey. "In his time in the House, things worked best when Armey was the leader, because he allowed committees and committee chairs to handle the legislation and allowed committees to write the bills rather than have them written out of the leadership offices," says the Ryan spokesman.
RELATED: Republican Leaders Should Dump Obama's Budget Deal
The former vice-presidential nominee emphasized to the conservative backbenchers that he was speaking from experience, not just paying lip service to regular order. "He said, 'I've gotten very pi–ed off about the leadership coming in and mucking around with the committee when they don't know what they're talking about. I'm not going to do that,'" according to a third HFC member who attended the meeting. "He was sort of incensed that he would get an e-mail from a 28-year-old staffer in the leadership office, sort of arrogantly informing him that this legislation would have to be changed in order to meet muster."
The hands-off approach Ryan envisions applies equally to the entitlement-reform legislation he had hoped to write as chairman of the House Ways and Means Committee. "Certainly, the committees are going to be writing the policy," his spokesman says. "I think what it means for the conference is that they're going to have a speaker very willing to take risks and put forward bigger, bolder ideas, even if you know that they're not going to be able to be signed into law by this president. He's laying the groundwork for that, so we can be ready to move in 2017."
RELATED: Paul Ryan's Impact on the GOP Is Only Beginning
HFC members might have been less impressed with such ideas if Ryan hadn't given them reason to think they'd have a chance to serve on the committees that develop those big ideas. "There was a lot of talk about fairness in committee assignments," a fourth HFC member says.
Ryan didn't make any promises, but those in attendance were convinced he shares a belief — common among conservatives inside and out of the Freedom Caucus — that the plum committees are dominated, wrongly, by moderate Republicans. "The funniest part of the discussion was when we were sitting in the Ways and Means [Committee] room, and Paul says, 'Is there anybody here that's on Ways and Means?' and he looks around the room," another HFC lawmaker recalls. "And about three or four seconds later, everybody starts laughing."
#related#If the changes Ryan envisions unite congressional Republicans in high-profile clashes with Obama, they might also provide an avenue for rallying the conservative activists who once loved Ryan but have been angered by his drift toward Boehner's orbit in recent years. "If we get back to promoting a vision and advancing big, bold, conservative ideas, then that is a better way to change the conversation, get us focused back on the big things that unite us as conservatives and that will lead to less acrimony over what are some of the smaller things," says Ryan's spokesman.
With that in mind, HFC members hope they have found someone who can identify a third way between grudging acquiescence to President Obama and quixotic, last-minute revolts against GOP leaders. "Look how far we've come in the last nine months," says Representative Marlin Stutzman (R., Ind.). "We're really moving the needle. And I think Paul Ryan moves the needle even further. And it's good to remind ourselves of the long game here, because things really move slow in D.C."
— Joel Gehrke is a political reporter for National Review.