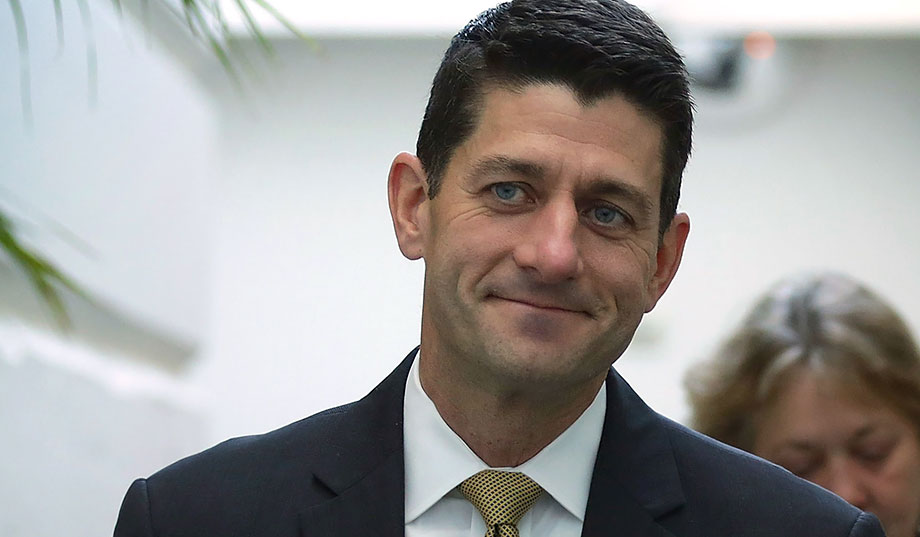 It all started with a call from Kevin McCarthy.
Paul Ryan was holed up in his office on a crisp Thursday morning, making final revisions to a speech nominating McCarthy as the next speaker of the House, when his phone rang. It was the majority leader himself. He told Ryan he no longer wanted the job and informed him that he'd be announcing his change of heart at that afternoon's Republican conference meeting.
Ryan was stunned — but he knew what was coming next. As their conversation turned to the future of the conference, McCarthy made the case that Ryan should step up and become speaker, arguing that he was the only Republican capable of uniting the conference — a sentiment echoed throughout Ryan's conversations with colleagues over the following week.
Ryan was not interested in the job, and everyone knew it. He had insisted to me in past conversations, including in a National Journal profile last fall, that he would "never" be speaker. He said so after Eric Cantor, heir apparent to the speakership, lost his primary last year. He repeated himself in September, after John Boehner announced his resignation. And in this moment, he told McCarthy the same thing.
EDITORIAL: Paul Ryan Should Run
Twelve days later — after phone calls with Mitt Romney, Reince Priebus, and other powerful Republicans, kitchen-table conversations with family members, and a flurry of conference calls with his senior staffers — Ryan stood before his colleagues and announced he would be willing to serve as speaker.
There were conditions attached, first and foremost that he would only serve as a "consensus" speaker with support from across the conference. This irked some of the conservatives who brought down Boehner and McCarthy. But ultimately a clear majority of House Freedom Caucus members pledged their support to Ryan Wednesday night, and in return the Wisconsin congressman made it known he would continue his quest for the speakership. He is now a virtual lock to be elected House speaker.
RELATED: Speaker Ryan's Conditions
Ryan's willingness to accept the job — after spending the better part of a decade denying any interest — says much about his own political evolution, but it also speaks volumes about the current state of the Republican party as he sees it.
According to interviews with friends and allies in his inner circle, most of whom described his recent deliberations on condition of anonymity, Ryan became convinced over the past twelve days that without a consensus leader, the House would descend into an anarchy so intractable that it could sabotage the GOP's congressional majorities, its presidential nominee, and the future of the party itself.
Ryan's initial, categorical opposition to becoming speaker melted under the heat of dozens of frantic phone calls from Republican luminaries.
Ryan's initial, categorical opposition to becoming speaker melted under the heat of dozens of frantic phone calls from Republican luminaries — including senators up for reelection, leaders of GOP-allied outside groups, and representatives from presidential campaigns — warning that further dysfunction in the House would do the party widespread damage next November, and perhaps for years to come. Some of Ryan's closest allies called to warn him that his career-defining goals — entitlement and tax reform — would be impossible to achieve with the House in turmoil.
In the sweep of Ryan's career, it makes sense that appeals to the collective good of the party were what finally changed his mind. He rejected pleas to run for president in 2012, only to accept Romney's VP offer out of a sense of duty, citing his concern for the country's direction. Once a proudly unflinching partisan, he returned to Congress from the 2012 campaign convinced that the GOP brand was defined by rigid opposition, and he set out to tackle poverty, immigration, and the budget on a bipartisan basis. (Those efforts, of course, earned him contempt from the same conservatives who had celebrated his selection as Romney's running mate in 2012, and they laid the foundation for today's conservative opposition to a Ryan speakership.)
Now, with the House in utter chaos after conservatives effectively pushed Boehner out — and with no other candidate able to unite and lead the House GOP — Ryan once again feels an obligation to intercede for the good of the party.
#share#
Despite his skepticism, Ryan heard McCarthy's pleas that Thursday morning and, sensing the desperation of the situation that was about to unfold, promised his friend he would think about the speakership. He had just one request: "Don't throw me under the bus in conference," Ryan told him, referring to the afternoon gathering.
McCarthy didn't need to. After his shocking announcement, Boehner abruptly adjourned the meeting, and House Republicans poured into the Capitol basement to begin telling assembled reporters it was time for Ryan to lead. Ryan, having dodged draft efforts repeatedly in the past, was well prepared with a statement reiterating that he wouldn't be speaker. But it became clear to the Wisconsin lawmaker in the hours that followed that this situation was unlike any he'd encountered before — and that the outcry was too intense to ignore.
RELATED: OK, Let's Fight: The Free-for-All Over Choosing a New House Speaker Isn't Chaos; It's Democracy
His initial suggestion to colleagues that they elect a "caretaker" speaker for the remainder of the 114th Congress — perhaps John Kline of Minnesota — was rejected. They weren't taking no for an answer this time. So Ryan spent the remainder of Thursday huddled in his Capitol suite with senior staff, soliciting input from his closest friends in Congress — Tom Price, Jeb Hensarling, Jim Sensenbrenner, and Sean Duffy, among others. He also spoke multiple times with Boehner, who reinforced McCarthy's plea: "Paul, we need you. You're the only one who can get us out of this mess."
As he boarded a jet Friday morning at Reagan National Airport — on his way to Chicago, from where he'd drive 90 minutes northwest to his hometown of Janesville, Wis. — Ryan was, in his heart of hearts, still a firm no. And yet he knew, deep down, that he'd have to at least consider it. So Ryan and his team agreed on an operating procedure: After a calming weekend away from the congressional clamor, they would hold daily conference calls during the recess week to discuss new developments in the leadership scramble and determine their path forward.
RELATED: Ryan and Reconciliation Is a Powerful Combination
That weekend, however, was hardly the sabbatical he'd hoped for. Ryan was inundated with e-mails and phone calls from friends voicing their support for him and allies expressing their concerns for the party. The leaders of prominent outside groups working to elect Republicans called Ryan to share scary data on the up-ballot impact of a dysfunctional House. And then there was Romney's call, which broke through amid all the noise. Their conversation brought the moment full-circle for Ryan and his closest confidants, reminding them of why he'd accepted the VP nomination three years ago. It wasn't because he wanted to be climb the political ladder and chase the presidency. It was because he was being asked to serve, and he felt he had a duty — to his party, to conservatism, to his country — to say yes.
There was plenty of pushback, however, from those who feared Ryan was being coerced into giving up his prized Ways and Means chairmanship for a workaholic job he'd never wanted. "When you've seen a friend or family member who's already in their dream job, you'd like to protect the guy so he can continue to pursue his goals," says Tobin Ryan, Paul's older brother and closest confidant. "So after that wave of persuasion, I almost sensed a counter-wave where other advisers, friends, and family members made sure Paul received a dose of caution."
#related#Ryan wasn't going to rush into anything. The Monday and Tuesday conference calls Ryan convened with his senior staff were mostly informational. These loyal members of his inner circle — longtime chief of staff Andy Speth, D.C. chief of staff Kevin Seifert, Ways and Means staff director Joyce Meyer, policy director Austin Smythe, and communications director Brendan Buck — caught him up on new developments, such as Texas congressman Bill Flores sounding out colleagues about a potential run. Ryan, still hopeful that another strong candidate would emerge and unify the conference, listened carefully.
But by midweek, the conversation had taken an abrupt turn. It became clear that no legitimate contenders would make a move to rally support for a run until Ryan made his decision. Sensing this, Ryan decided he would give the conference his answer the following Tuesday, after Congress returned. Then he asked his team to help him take a key step toward accepting the job: devising a list of conditions for the speakership that would make the position more appealing.
For Ryan, these changes would encompass the personal (weekend travel to raise money would take him away from his three young kids, so he asked for less of it) and the professional (eliminating a legislative mechanism that forces a mid-session referendum vote on the speakership, which had given Boehner multiple headaches in the preceding months). He also spoke broadly of the need for leadership to project a sweeping "vision" that informs its policymaking, and of implementing bottom-up procedural rules to end the internecine warfare that has paralyzed the GOP since it seized control of the House in 2010. If he was going to do the job, it would be on his own terms — with more latitude, less travel, and no threat of a conservative coup d'état looming over his every move.
On Wednesday night, Paul, Tobin, and their two wives sat in Paul's living room and had a candid, hour-long conversation about the realities of Ryan becoming speaker. Tobin says his brother was still expressing skepticism, but that something had changed in his tone and body language. "I went home that night thinking for the first time that he was calculating a way the role could work for him," Tobin says.
It became clear to Ryan's allies as the week wore on that he was warming to the idea.
It became clear to Ryan's allies as the week wore on that he was warming to the idea. Much as he'd done in 2012, shortly before signing on as Romney's running mate, Ryan was voicing his concerns about the direction of the Republican party, the conservative movement, and the country itself. He was trading frequent texts and phone calls with Priebus, his longtime friend and fellow Wisconsinsite. And twice in one week, he disappeared into the woods outside Janesville by himself, wielding a bow and crouching in a cramped tree stand for hours, a surefire sign to those who know Ryan best that he was preparing to make an important decision.
By Friday, the verdict was in. Ryan would put himself forward for speaker, but only if his conditions were acceptable to the conference — and only if he was a consensus candidate, unopposed by any major caucus or faction in the House GOP. As his staff scrambled to prepare for a speech he would deliver to colleagues Tuesday evening in Washington, Ryan called Boehner to share his decision. He also broke the news to a handful of close friends. He told them, in a preview of his speech to the conference, that if he could be a unifying choice he would be "all in" for the speakership.
With the decision made, Ryan unplugged and enjoyed a typical weekend — taking his kids to see Goosebumps at the movie theater and watching the Packers game Sunday afternoon at home.
#share#
Ryan's wife, Janna, had not been thrilled at the prospect of her husband's promotion. She felt the family finally begun to regain their privacy after the invasive national scrutiny of 2012, when reporters camped out on their front lawn and a protective detail circled their home. But she didn't throw up any roadblocks, either. The congressman's wife, like his senior staffers, told him from the outset she would be supportive no matter what he decided.
Ryan's chief concern was the job's impact on his children. The congressman lost his father at 55, and neither his grandfather not great-grandfather lived to see 60. Because of that, Ryan has admitted, he approaches life — and family time — with a "sense of urgency," knowing he must "make the most of it." Ryan has long been known to skip party fundraisers and duck out early from hometown political events when there are more pressing matters to attend — track meets, family barbeques, and trips to South Bend, Ind., to watch Notre Dame football games with his brother, Tobin, and their kids.
Barring any seismic change of circumstances, Chairman Ryan is about to become Speaker Ryan — and he might have to stick around a while longer, if only for the good of the party.
When it came time for Ryan to address his colleagues and the media on Tuesday, twelve days after he'd been set to nominate McCarthy as speaker, he emphasized that those family considerations were non-negotiable. He wouldn't be traveling on the fundraising circuit 40 weekends per year, and he wouldn't subject himself to the constant threat of an ouster. He would only accept the job if everyone — including the ideologically uncompromising conservatives in the House Freedom Caucus — was on board.
Ryan gave his colleagues until Friday to decide. And immediately on Wednesday some of Ryan's allies — including Hensarling, who is popular and influential with the conference's right flank — began lobbying conservative members to support Ryan for the speakership.
#related#Interestingly, the most important player in the drama might be Freedom Caucus chairman Jim Jordan, who in 2013 teamed up with Ryan and Hensarling to convince Boehner to keep sequestration in place as a way of ensuring guaranteed spending cuts. Ryan gave up some of those cuts in his budget compromise with Patty Murray later that year — a break that left Jordan steaming and was the beginning of a split in their alliance.
Of course, Ryan never worried about nurturing relationships in order to get elected speaker one day. His goal was always to chair Ways and Means. And in fact, he hinted last fall that his plan was to take over that committee, serve three terms, then retire from Congress at age 50, still "young enough where I can go do something else with my life."
If conservatives don't support him, Ryan can stick to that plan. If they do, Speaker Ryan might have to stick around a while — if only for the good of the party.
Barring any seismic change of circumstances, Chairman Ryan is about to become Speaker Ryan — and he might have to stick around a while longer, if only for the good of the party.
— Tim Alberta is chief political correspondent for National Review.