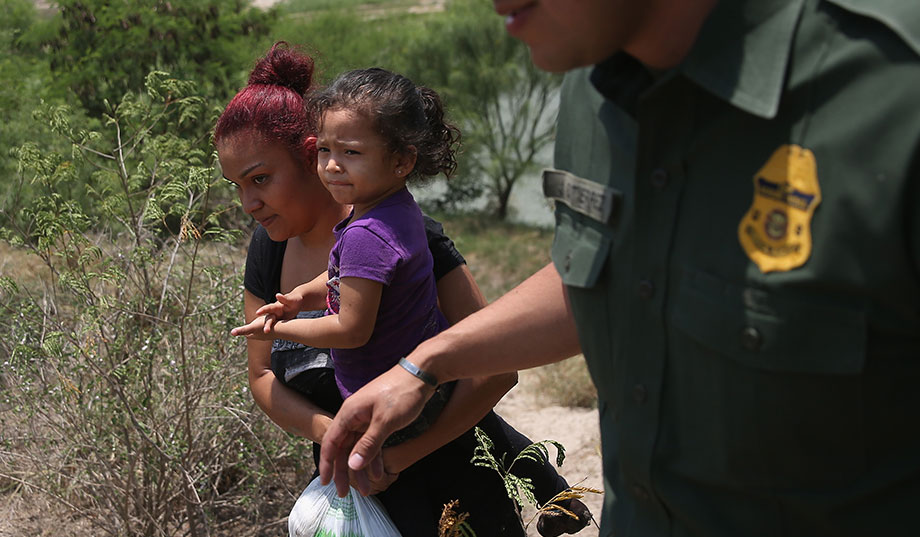 The number of Central American children arriving at America's southwest border is increasing, amid new worries that federal officials are placing some children into dangerous environments.
Nearly 5,000 minors have arrived at the southwest border in fiscal year 2016, a 97 percent increase from FY 2015, according to a new bulletin from the Department of Homeland Security. The number of "family units" arriving has risen 179 percent over the same period, from 2,162 to 6,029.
That's a far cry from the tens of thousands of children who arrived in the summer of 2014, though it approaches the limit of 7,300 beds that the Health and Human Services Office of Refugee Resettlement has on hand for unaccompanied minors. In its haste to place the children with sponsor families, congressional Republicans fear that HHS may be releasing some of them into the custody of human traffickers and criminals.
About 3,400 people cleared to receive the children "have later been determined to have criminal convictions including re-entry after deportation, DUI, burglary, distribution of narcotics, domestic violence, homicide, child molestation, and sexual assault," Senate majority whip John Cornyn and Senate Judiciary Committee chairman Charles Grassley wrote in a Monday letter to HHS and the Department of Homeland Security.
#share#The lawmakers reported a whistleblower's allegations that federal officials are not following internal regulations governing the vetting of sponsor families, and that at least some of the unaccompanied children are being exploited as a result.
"Although the whistleblower claims to have relayed these concerns to supervisors in August of 2015, apparently these individuals have no immediate plans to remove [children] from their criminal sponsors, but are 'discussing options,'" they wrote to Health and Human Services Secretary Sylvia Burwell and Homeland Security Secretary Jeh Johnson. "Due to a breakdown with screening and background checks of sponsors, many of the most vulnerable are being victimized."
#related#At the same time, congressional Republicans worry that ISIS terrorists could take advantage of the Syrian refugee-resettlement program to come to the United States from the southern border. House investigators noted that about a dozen Syrians who hoped to use fraudulent passports to enter the United States have been arrested in the last week.
"It is clear that any border apprehensions of putative Syrians presenting fraudulent identification documents is a matter of grave concern," Grassley and House Judiciary Committee chairman Bob Goodlatte (R., Va.) wrote to Johnson on Tuesday. "Such a fact makes it even more important to know whether Syrians apprehended attempting to enter the U.S. illegally have been allowed by this administration to remain in the U.S. and have been provided immigration benefits."
The replies to those letters could extend a heated debate about immigration and national security deep into the 2016 presidential season, just as the rise of ISIS and the border crisis dominated the 2014 midterms.
— Joel Gehrke is a political reporter for National Review.