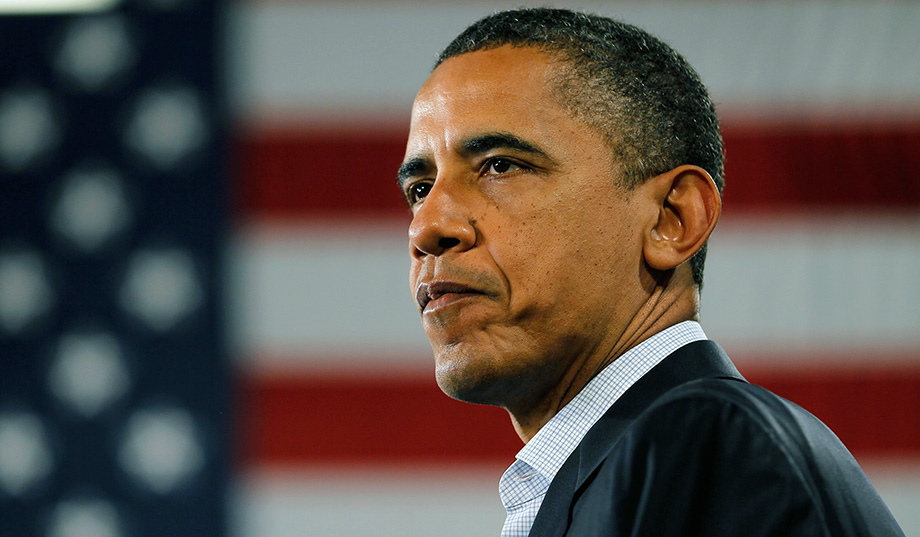 Much ink has been spilled blaming the state of U.S.–Israel relations on the poor personal rapport between President Obama and Prime Minister Netanyahu. The fact is that huggable Barney the Purple Dinosaur could have been Israel's elected leader, and the relations would have been equally hostile.
For seven decades from the moment of Israel's birth — through five wars, one campaign, eight operations, two "uprisings," and years of terrorism — Palestinian Arabs have done everything possible to avoid living peacefully side by side with a Jewish state.
This isn't ancient history. It's today.
Here is Palestinian leader Mahmoud Abbas speaking to the U.N. Human Rights Council in Geneva on October 28, 2015:
The situation . . . as a result of the continued Israeli occupation and its practices is the worst and most critical since 1948. . . . How long will this protracted Israeli occupation of our land last? After 67 years for how long do you think it is possible for it to continue? . . . Seventy years of suffering, injustice, oppression, and deprivation, and the perpetuation of the longest occupation known to mankind in modern history.
The Palestinian narrative has never varied: Israel has been built on occupied Arab territory — not since 1967, but since 1948. That's why Palestinians claim a "right of return" whose very purpose is their ideal "one-state solution" — one state where Jews are demographically outnumbered.
RELATED: The Obama Intifada
Standing in the way of the Palestinians' one-state goal has been Israel's and America's unwavering commitment to a negotiated final resolution of the conflict. A negotiated resolution would legitimize each side and leave both parties still standing.
Hence, the Arab side has sought to eschew negotiations in two ways: first, directly, by the use of force; and, second, indirectly, by insisting on externally imposed "solutions" via multilateral entities where Israel is outnumbered — such as the United Nations.
This isn't fantasy. It's fact.
RELATED: It's Obama, Not Netanyahu, Who's Killed the Two-State Solution
Here is Abbas at the U.N. General Assembly on September 30, 2015: "It is no longer useful to waste time in negotiations."
In contrast, here is Netanyahu at the U.N. General Assembly on October 1, 2015: "I am prepared to immediately, immediately, resume direct peace negotiations with the Palestinian Authority without any preconditions whatsoever."
So when President Obama announced on November 6, 2015, via Rob Malley, Middle East coordinator at the National Security Council, that there was an allegedly "new" "reality" in which "the parties are not going to be in a position to negotiate a final status agreement" during his presidency, he was adopting the Palestinian playbook.
RELATED: Rebuilding the U.S.-Israeli Alliance
This means the president will not spend his final year doing the only thing that would move the ball forward — namely, pressuring Abbas to choose diplomacy and negotiations over violence and third-party coercion. Rather, Obama will attempt to impose his will on Israel, the U.N. being the obvious modus operandi. After all, this president chose the Security Council over Congress on the Iran deal. He can let the Council do the dirty work on Israel, too. Indeed, over the past month, Samantha Power, the U.S. ambassador to the U.N., has been laying the groundwork for just such a treacherous strategy.
#share#Back up to October 3, 2015. A knife-wielding Palestinian attacked Adele Banita, a young Israeli mother, while she walked in Jerusalem's Old City with her husband Aharon, two-year old son, and infant daughter. Adele lived to tell the tale, supported by video evidence. Her 21-year-old husband lay dying, her son was wounded, and she suffered multiple stab wounds. With a knife still lodged in her body, she cried out for help to nearby Arab shopkeepers, who looked on. Instead of coming to her aid, they spit on her, laughed, told her to die, and stood by. A Jewish man who came to the family's aid was knifed to death.
RELATED: The Intifada Is Ideological Hatred of Israel in Word and Deed
But on October 22, 2015, Samantha Power made this shocking statement to the Security Council: "In Jerusalem, shoppers and merchants are on edge. . . . Said an Arab shopkeeper in the old city, 'When I prepare the juice, I am scared to cut the oranges in case someone sees me with the knife and shoots me.'"
Rather than tell the real-life story of the actual Arab shopkeepers and their pathologically violent Jew-hatred, Ambassador Power peddled the tale of an Arab shopkeeper's imagining himself to be a victim — in the same place as Banita's real killers.
President Obama's foreign policy has never wavered: He sought "daylight" between himself and Israel. He has achieved a chasm.
Power continued by calling on "both parties" to "exercise restraint." The Palestinians heard loud and clear the message of moral relativism and impunity for Palestinian incitement.
Days later, on November 3, 2015, Riyad Mansour, the Palestinian ambassador to the U.N., wrote a formal letter to the U.N. claiming that, in October, Palestinian "bodies were returned with missing corneas and other organs, further confirming past reports about organ harvesting by the occupying Power from the Palestinian victims of its brutality."
#related#Add to this Power's statement to the Security Council on October 16, 2015, in which she explained that Jews living in settlements (on what is legally disputed territory whose ownership is subject to negotiations) and Jews dying at the hands of "frustrated" terrorists were part of a "cycle of escalation."
Not surprisingly, the Palestinians' murderous rampage continues.
Anyone who believes that the president's toxic foreign policy on Israel is a mere personal vendetta against a foreign leader he doesn't like is giving Obama far too little credit. His foreign policy has never wavered: He sought "daylight" between himself and Israel. He has achieved a chasm.
The only question left is how much more blood the president can extract from Israel in his last twelve months.
— Anne Bayefsky is the president of Human Rights Voices and the director of the Touro Institute on Human Rights and the Holocaust. You can follow her on Twitter @AnneBayefsky.