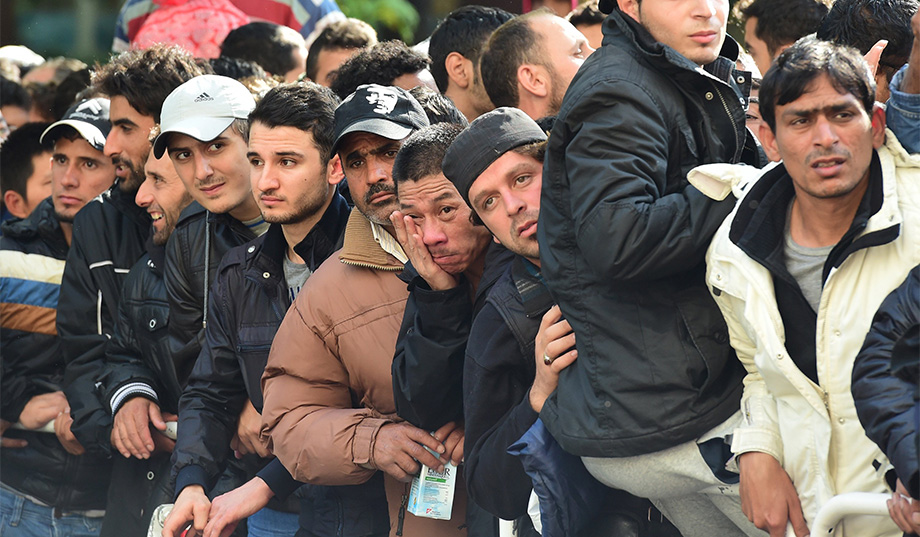 The growing refugee crisis in Europe is clearly a humanitarian issue. But if leaders don't bring some common sense into the equation, the humanitarian problems could become a geopolitical crisis. The U.S. needs to heed the lessons of Europe because a similar situation could erupt on our borders.
Margot Wallström, Sweden's Social Democratic foreign minister, declared this week that the refugee flow in her country, with its current population of 9.8 million, was enormous: "We cannot maintain a system where perhaps 190,000 people will arrive every year — in the long run, our system will collapse. And that welcome is not going to receive popular support."
The 190,000 refugees expected in Sweden this year would be the equivalent of 6.5 million people arriving in the U.S. — the population of Indiana.
A major reason so many refugees want to settle in Sweden, Germany, and other Northern European countries is that they have generous welfare-state programs for non-citizens. Even so, some refugees can be picky. The Swedish newspaper Local reported last week that "more than 30 asylum seekers refused to get off a bus that took them to temporary accommodation at a holiday park on Sunday night because they didn't want to stay in such a rural location."
RELATED: On Europe's Migration Crisis, the Global-Governance Crowd Dictates Wildly Unrealistic Policies
Other countries without an extensive welfare state don't seem to have Sweden's problem. Reuters reported that Lithuania "is throwing its doors open to refugees fleeing war and hardship in the Middle East, but is finding few takers." Rimantas Vaitkus, deputy chancellor of the Lithuanian government, told the news agency: "We are prepared to accept refugees immediately, but there are no refugees in Italy or Greece who agreed to resettle in Lithuania. . . . It seems that refugees know about Sweden, Germany, France, the United Kingdom, which either have generous social security or have been actively attracting immigrants."
"Fear is not a good adviser," has been German chancellor Angela Merkel's admonition to those who have criticized her policy of opening Germany's borders to what may become 1.5 million refugees this year. But she was worried enough about the political backlash to call "crisis talks" with her nervous coalition partners this past weekend.
RELATED: Merkel Takes Germany Down a Suicidal Path
Hans Seehofer, the head of her allied Bavarian Christian Social Union, warned that the massive migrant flow "is now threatening the ability of the government to act" and is allowing extremist voices to exploit the situation. The popularity of Merkel's conservative party has plummeted to 36 percent, its lowest level in four years.
Merkel helped create Germany's refugee crisis back in September when she announced that she would disregard European Union rules requiring refugees to seek asylum in the European country they first arrive in. By these rules, refugees would face deportation if they arrived in one country but moved on to apply for asylum in another (usually with better welfare benefits). She declared such rules "obsolete" and laid down the welcome mat to what a secret German government report estimated might amount to 1.5 million refugees this year. "This high number of asylum seekers runs the risk of becoming an extreme burden for the states and municipalities," the report concluded.
#share#There are no really solid numbers on the background and origin of every migrant and refugee entering Europe. The United Nations estimates that half of the people who have arrived in Europe by sea so far in 2015 are from war-torn Syria.
The U.N. says another 14 percent of this year's Mediterranean sea arrivals are from Afghanistan, and other 8 percent are from Eritrea. Others come from Iraq, Gambia, and Sudan.
RELATED: Thank Germany for the Influx of Fake Syrians
What isn't in much dispute is the estimate that about 70 percent of the arrivals are young men who are traveling alone. Pictures of families with children trudging across Europe tug at the heartstrings, but they aren't the majority of migrants. In the long term, having a large number of young unattached men will create social tensions. Jan Fleishschhauer, a columnist for Germany's Der Spiegel, magazine noted:
Those young people who have made it to Germany are under tremendous pressure. Their families at home are waiting for them to achieve something in their new home. Germany today is now considered something of a promised land in the Arab world. . . . But how will the immigrants react when they realize that they do not have enough education to gain a foothold here? How will they react when they see that there is no housing, as many mistakenly believe, and that over the long term all we can offer them is a cot in a temporary shelter?
European countries must offer refuge to asylum seekers who are fleeing war or persecution. But they are under no such obligation to those who are simply trying to improve their prospects, even if they have left behind lives of poverty. So is Europe's migration crisis a problem of border management and eventual return to home countries, or is it about relocation and integration of the new migrants into European countries? One thing recent history tells us: European countries are bad both at rejecting dubious asylum claims and making sure that migrants integrate into their new societies. I've seen the evidence in the slums outside Paris, France, and the resettlement areas near Malmo, Sweden.
RELATED: Media Coverage of Europe's Migrant Crisis Ignores the Long-Term Problems It Poses
But there is a lesson here beyond figuring out a better way to balance genuine humanitarian concerns with integrating foreigners into welfare-state societies. In 2010, the Libyan dictator Moammar Qaddafi warned Europe's leaders that they could be overwhelmed by migrants if they didn't develop a coherent joint response. Soon after, Western countries led the campaign to topple him — with Secretary of State Hillary Clinton leading the charge in the U.S. — and there was much cheering when Gaddafi's videotaped execution made the news. Libya has been in deep chaos ever since.
#related#Similarly, Western leaders celebrated the 2011 uprising against Bashar al-Assad. The U.S. even covertly sent aid. But then rebels we took to be potential democratic allies turned, in some cases, into barbaric backers of ISIS. The turmoil in the Arab world has fueled the migrant crisis in Europe. If there ever was a time to show a little humility and some respect for the law of unintended consequences, it's now, in understanding the roots of Europe's migrant crisis. Perhaps in the future, Western countries would be wise to consider a new version of an old adage: "Look before you leap into intervention."
— John Fund is National Review Online's national-affairs correspondent.