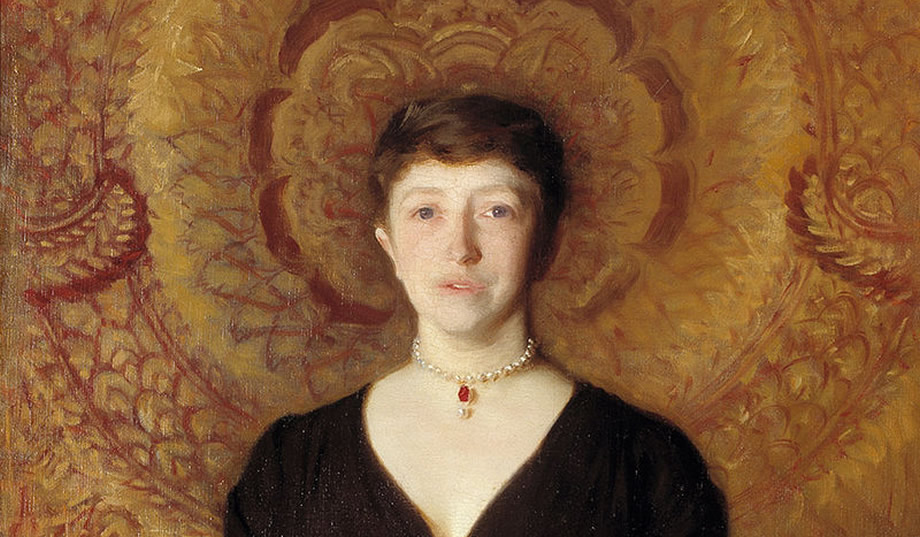 You might not wait all year long for National Philanthropy Day, but here it is nonetheless. 
In 1986, President Ronald Reagan proclaimed November 15 National Philanthropy Day to acknowledge and celebrate the achievements of private giving. 
Mindful of that tradition, we might consider two women, Isabella Stewart Gardner and Katharine Mary Drexel, whose philanthropic gifts continue to animate individuals and communities. Indeed, Gardner, who created a museum, and Drexel, who founded a university, could in turn be considered the face and conscience of the Gilded Age. These two American women remain compelling models for modern philanthropy and offer lessons in the stewardship of privilege.  
Isabella Gardner, born Isabella Stewart on April 14, 1840, occupies a unique place in our cultural heritage. She was both art patron and subject. Indeed, her image — both visual and literary — haunts much of  our artistic landscape of the late 19th and early 20th century. She looks at us from John Singer Sargent's bold portrait bearing Isabella 'Gardner'​s name, and from James McNeill Whistler's subtler, more impressionistic Little Note in Yellow and Gold. She speaks to us as Milly Theale at the Palazzo Barbaro in Henry James's On the Wings of a Dove, and as Isabel Archer in Portrait of a Lady. But perhaps she reveals herself most memorably in her own home, the home that became an American institution: the Isabella Stewart Gardner Museum in Boston.  
Isabella Gardner was both art patron and subject.
Isabella Stewart was, in fact, a New Yorker by birth. But in 1860 she married a Bostonian, John Lowell Gardner Jr., and so became, as she was sometimes called, "Isabella of Boston." They made their permanent home there, but the couple traveled extensively for long periods to Europe, especially Italy, and to Asia. Inspired by the erudition and tutelage of Charles Eliot Norton, whose lectures she had attended at Harvard, and aided by the advice of art critic Bernard Berenson, Isabella Gardner amassed a superior and eclectic personal collection, which eventually became too large for the Gardner home. 
Thus the Gardner Museum was born. When her husband died suddenly in 1898, Isabella proceeded alone with their plan to build a museum for their collection, which included paintings, drawings, sculpture, and tapestries from Europe, the Middle East, and the Far East. The museum was to be a replica of the Palazzo Barbaro in Venice — a place whose Renaissance beauty Isabella Gardner loved, and where she and her husband had spent considerable time with an artistic community of expatriates who had settled there.
Isabella Gardner created her museum with a singular vision that still animates it today. Even the unsolved, sensational heist of 1990, in which several of the museum's master paintings were stolen (including a Vermeer, a Rubens, and a Rembrandt), underscores her devotion to that vision: Mrs. Gardner's will provided that the museum's permanent collection remain unchanged, even after her death. Consequently, museum visitors today see only empty picture frames where the stolen paintings once were.
It is as if the audacity of the theft itself met its match in Isabella and her will. Those beloved paintings may be gone — perhaps forever — but it remains her museum, and she still has the last word. Yet the empty frames are also a silent and poignant reminder of the loss of these paintings to the art-loving public — and it was the general public that Mrs. Gardner ultimately served when, upon her death, she bequeathed her home and museum to her adopted city of Boston.
The Isabella Stewart Gardner Museum opened to the public in February 1903. Today, the Gardner Museum annually hosts 200,000 visitors who come to view its permanent collection of 2,500 remaining works from every part of the world.     
***
If Isabella Gardner was the public face of Gilded Age affluence, then Katharine Drexel was its discreet, if no less remarkable, conscience. 
Born in Philadelphia in 1858, Katharine Mary Drexel began her life in privilege. Later, she would become one of the first American-born Catholic saints (second only to Elizabeth Ann Seton). 
If Isabella Gardner was the public face of Gilded Age affluence, then Katharine Drexel was its conscience.
Her father, Francis Anthony Drexel, was a highly respected banker and son of the founder of the Drexel banking houses. The Drexels had a strong, personal commitment to the poor. Several days a week, Emma Drexel, Katharine's stepmother, received many of Philadelphia's poor into her home to hear their needs — usually for food, clothing, and rent — and would distribute aid to them accordingly. Her daughters were encouraged to help in this effort. In this manner alone, the Drexels gave away about $20,000 each year and paid the rent of approximately 150 families.
When Katharine's father died in 1885, his fortune was distributed evenly among the three sisters, leaving them with a total of $14 million. In 1891, Katharine Drexel decided to enter the religious life. Soon after, she put her inheritance toward founding her own order, the Sisters of the Blessed Sacrament, whose mission — and her vocation — was to educate Native Americans and African Americans.
Katharine Drexel's interest in the plight of Native Americans was ignited in her youth when, upon visiting a reservation with her father in 1864, she was disturbed by the poverty and deprivation of those living there. Even before entering the religious life, she had provided funding for numerous Indian mission schools in the west. 
In 1894, with much enthusiasm and under her direction, members of her order traveled to Santa Fe to teach the children of St. Catherine Indian School, a mission school in need of staff and funding. Shortly thereafter, Katharine Drexel, now Sister Katharine, funded St. Michaels Mission in Arizona, another Indian school, which would be staffed by the Franciscan brothers.
From these early efforts grew an expansive array of schools and missions — numbering close to 60 — throughout the United States, uniquely dedicated to the education of Native Americans and African Americans, many of whom otherwise would have had few or no such opportunities. 
One of Katharine Drexel's most impressive achievements was the establishment of Xavier University of Louisiana, the first Catholic university for African Americans in the United States. As with many of her endeavors, it started humbly and with strong, local roots, but ultimately achieved grand success. It began as a Catholic preparatory school for African Americans, which Drexel founded in 1915 when she acquired buildings recently vacated by Southern University. Demand and interest grew among the African-American community in New Orleans. When a College of Arts and Sciences was added in 1925, the school became Xavier University.
* **
Isabella Gardner and Katharine Drexel were women who, apart from adherence to any political or feminist ethos, managed their own resources and independently created institutions that served the public. Both women exhibited an originality of vision and leadership that transcended ideology.
Additionally, their philanthropic efforts began organically: Isabella Gardner acquired a passion for art while traveling abroad with her husband, and Katharine Drexel learned responsibility to the poor in her own home, from her parents' example. The social Isabella opened her home and offered the lasting beauty of her art collection; the more elusive Katharine dispatched members of her order to live with and educate the anonymous poor. Both women had deep and proud American roots. This American heritage — expansive, entrepreneurial, and democratic — at once claimed and liberated them to render art and education accessible beyond their own communities and time. Both these projects were deeply personal; they are also deeply enduring.