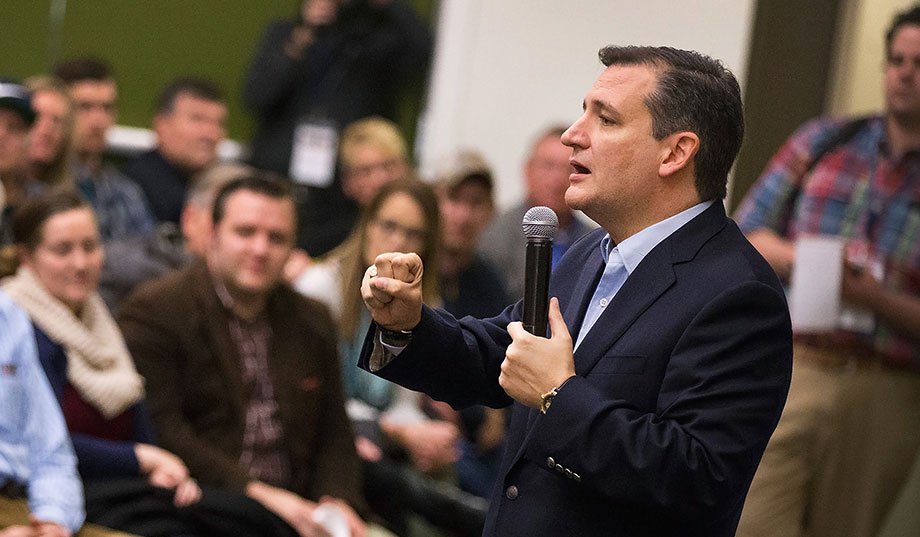 On Friday, during a campaign stop in Harlan, Iowa, Ted Cruz made clear his stance on President Obama's Trans-Pacific Partnership (TPP), telling a crowd of supporters that the colossal 12-nation trade accord was "deeply concerning."
"There are a number of Republicans on that [debate] stage who support TPP, who support [Trade Promotion Authority (TPA)]," Cruz said, according to the Des Moines Register. "I voted against TPA, and I intend to vote against TPP."
Now that the 5,594-page text of the TPP has been made public, grassroots conservatives are voicing their case against the deal, and Cruz is staking out a position alongside them, arguing that the TPP would undercut U.S. immigration laws and take jobs away from working-class Americans. It's yet another stance that differentiates the Texas senator from more establishment-minded, pro-business Republicans, who have largely stood firm in their support of the accord.
Cruz's opposition easily aligns him with the conservative-populist voters who've helped fuel his meteoric rise through the ranks of the GOP, and with the sentiments of immigration hawks such as Alabama senator Jeff Sessions, who has decried the deal as a transference of negotiation power from "individual Americans" to a "global regulatory structure." But while it may endear him to his base, it could also allow rivals such as Marco Rubio to accuse him of flip-flopping on his past support for the deal, opening him up to charges of political pandering and threatening his carefully cultivated image as the most principled candidate in the field.
RELATED: Here Come Cruz in Iowa
Though the Republican party has traditionally included free trade in its platform, TPP has caused a departure for some from that model as immigration takes on unprecedented importance along the 2016 campaign trail. Cruz has said that while he values free trade like most conservatives, he couldn't support fast-tracking TPP because it has the potential to usher in changes to immigration law through a Trade in Services Agreement (TiSA). That's a similar position to those expressed by fellow GOP presidential candidates Mike Huckabee and Rick Santorum, who have lambasted the accord in protectionist language, arguing that the deal fuels competition with foreign workers for American jobs.
Donald Trump has seized this protectionist mantle to help foment skepticism toward TPP among the grassroots. He's garnered applause for framing much of his populist image around opposition to the deal, calling it both a "disaster" and "an attack on American business." The criticisms from GOP candidates situate them squarely alongside Bernie Sanders, who back in April called the deal "job-killing."  
RELATED: How Ted Cruz Became a Jeff Sessions Republican
Right-wing outlets such as Breitbart have helped make TPP synonymous with President Obama by regularly calling it "Obamatrade" in headlines. And according to Tony Fratto, a former Treasury official and partner at Hamilton Place Strategies, which works to support TPP's passage, Obama's stamp makes the deal a non-starter for some conservative voters. "There is a corner of the party that is going to oppose agreements by the Obama administration regardless of the substance of them," he says.
For Fratto, Cruz's growing adherence to that view "reinforces the notion that [he] is trying to be the heir apparent to an eventual Trump collapse."
#share#Cruz is riding the building wave of grassroots sentiment against TPP by touting his badge as one of only five Republicans — including Rand Paul — to vote against TPA, the controversial power that makes it easier for presidents to push certain trade deals through Congress. That vote, however, came just two months after Cruz, along with Paul Ryan, penned an op-ed in the Wall Street Journal arguing that TPA was what "U.S. negotiators need to win a fair deal for the American worker." The two wrote that TPA would help Congress secure the passage of the "historic" TPP, which would yield "greater access to a billion customers for American manufacturers, farmers, and ranchers."
RELATED: Ted Cruz Calculates a Path to the Nomination
Cruz justified his change of heart in an op-ed for Breitbart, writing that the bill had become "enmeshed in corrupt Washington backroom dealings," which had resulted in the TiSA provision that threatens to change immigration law. He also claimed that Senate leadership had coaxed some senators to support the deal by promising them reauthorization of the Export-Import Bank in return. Politifact deemed the shift a "Full Flop."
Cruz has been scrutinized for alleged flip-flopping as of late, particularly on immigration. Rubio, whom Cruz has pummeled for supporting 2013's failed Gang of Eight immigration bill, has launched his own offensive by pointing out that his and Cruz's positions aren't all that different, as evidenced by Cruz's past support for raising levels of legal immigration. Rubio has also pointed to Cruz's introduction of an amendment to the Gang of Eight bill that would have granted legal status to illegal immigrants after three years, which Cruz has argued was intended as a "poison pill" to kill the bill. But Cruz's recent endorsement from Iowa representative Steve King, a star among conservatives, may help soften the blow of those criticisms.
#related#While TPP may continue to influence the rhetoric of candidates looking to make inroads into the conservative grassroots, it is unlikely to prove a significant test for candidates. National Journal reported earlier this month that several Senate leaders have said the bill is unlikely to reach the floor of Congress until the very end of Obama's presidency, if even then, given political concerns in both parties.
Ultimately, Cruz's opposition to the deal makes for a double-edged sword, allowing him to pick off even more votes from the populist base that continues to warm to him, but also making him an easy target for challengers who would question his commitment to principle over political expediency. It's a line of questioning he'd do well to prepare for — his future as the field's self-defined purist could depend on it.
— Elaina Plott is a William F. Buckley Fellow in Political Journalism at the National Review Institute.