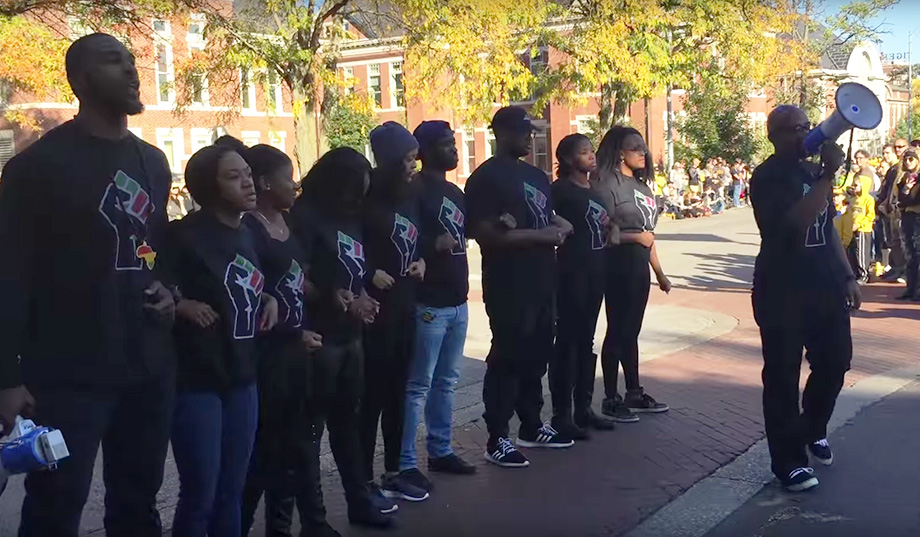 Earlier this morning, Tim Wolfe, the president of the University of Missouri system, abruptly resigned. Why? The popular narrative is that his "inadequate" response to a series of racist incidents on campus triggered a massive student backlash, including an unprecedented "strike" by the university's football team, and he finally caved to the pressure.
Yet this explanation collapses under the slightest scrutiny. The idea that Wolfe presided over a racially insensitive educational empire is a sad joke. A timeline of racial outrages in Columbia is sparse indeed, showing two allegations of racial name-calling (on a campus with 35,000 students) and one disturbing incident in which a swastika was drawn on a dorm wall with human waste.
No rational, sentient human being believes system presidents can be responsible for what lunatics do with their own feces, or that they can prevent any given student from shouting racial slurs. Not even the worst communist dictatorships could control the speech of all their subjects. Wolfe couldn't stop drunk undergraduates from hurling insensitive insults even if he established his own gulag and deployed commissars across campus.
EDITORIAL: Abject Missouri
His deposition has nothing to do with justice and everything to do with power. The campus culture wars aren't about "victims" or "racial injustice" or "safe spaces." People who shriek in the quad, launch hunger strikes in a blaze of publicity, or stand outside free-speech events and chant for censorship aren't anyone's victims. They're not weak. They don't need "protection." They're revolutionaries, and the revolution they seek is nothing less than the overthrow of our constitutional republic, beginning with our universities.
This is a movement built from the ground up around power and coercion.
This is a movement built from the ground up around power and coercion. They hate free speech because free speech represents nothing but a threat — a chance for dissenters to expose the bankruptcy of their ideas. They hate due process because due process stands in the way of class-based justice, of identity-based jurisprudence. They hate the orthodox Christian faith because it rejects their sexual ideology and places the human conscience beyond the reach of mortal man.
It's a movement enabled by weakness and empowered by cowardice. Only the intellectually and emotionally weak fall for the notion that students truly are "traumatized" by exposure to dissenting ideas. Only cowards lack the conviction to stand for the most basic American constitutional values, preferring capitulation to enduring even a few days or weeks of public critique.
#share#Fortunately for the radicals, our universities are populated by the craven and the cowardly. Push a professor, even slightly, and it's likely he'll fold. Demand faculty support for your protest, and dozens will rush to join, self-righteously advancing their own false oppression narratives even as they enjoy lives billions of others would covet. There is nothing brave about these people. They are not "elite." They don't deserve a single dime of taxpayer money or one cent of student tuition. They dishonor their schools and their country.
The Left has the will to power. University leaders have no will at all. They have earned nothing but contempt.
Closeted campus conservatives are worse than useless. Indeed, their very timidity contributes to the narrative that there is something shameful about their beliefs. To read anonymous letters from professors who are afraid to "out" themselves in a hostile campus culture is to read the sad dispatches of people too pitiful for their profession. Do something else, anything else, than merely sit and watch while the revolutionaries shred the Constitution, reject our culture, and assert their own will to power.
The true shame is that it doesn't even require actual courage to defeat the university Left, just a tiny bit of will — a small measure of staying power. No one is shooting at trustees. No one is beheading professors. There's no guillotine in the quad. Instead, campus "leaders" tremble before hashtags and weep at the notion of losing a football team so inept that it couldn't score a touchdown through most of the month of October. Let them strike. With an offense that inept, the SEC won't even notice.
These are the times that try men's souls? No. These are the times of men without chests. The Left has the will to power. University leaders have no will at all. They have earned nothing but contempt.
— David French is an attorney and staff writer at National Review.