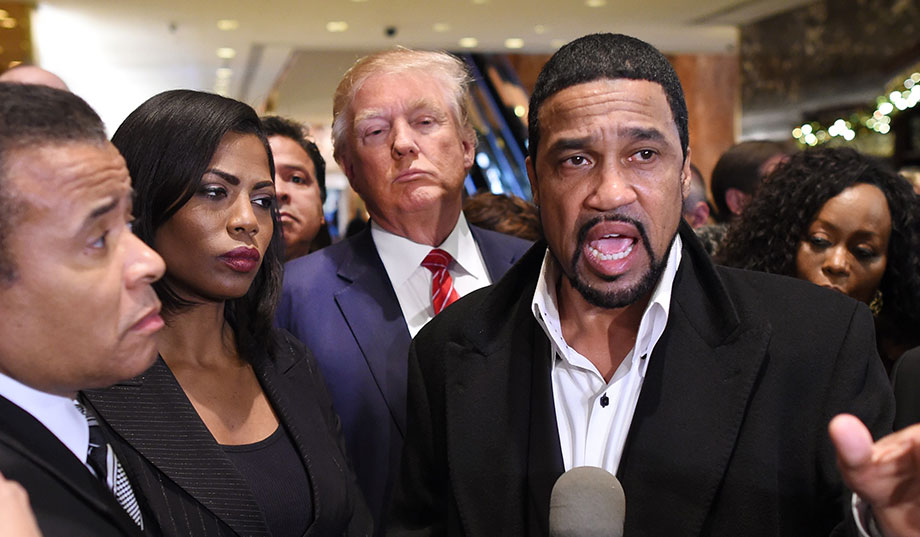 Pastor Darrell Scott's favorite thing about Donald Trump? "As they say in African American vernacular," Scott says, "I like his swag."
Scott, a 56-year-old evangelical minister from Cleveland, Ohio, whose New Spirit Revival Center boasts thousands of members, first met the Republican presidential front-runner five years ago. Trump had invited some 25 pastors — three of them, including Scott and his wife, Belinda, were black — to Trump Tower for an announcement: He was considering running for president, and he asked the assembled guests to pray that God would point him in the right direction.
Scott was skeptical. "I said, 'Mr. Trump, what makes you think that black people would vote for you? The word on the street in our community is that you're a racist,'" he recalls.
Scott says he was struck by the ease with which Trump handled the question. "I remember being impressed that he didn't go overboard trying to convince me he wasn't a racist. He simply said, 'I'm probably the least racist person you'll ever meet.' And, you know, I'm black. I had my racism radar out. And I didn't see any at all."
Trump ultimately declined to run in 2012. But Scott had seen "the most cordial, hospitable, engaging guy you ever want to meet," and from then on he knew: if Trump ever ran for president, "I had my guy."
Fast forward four years, and Trump is not only in the race, but dominating the polls and defying all predictions of an early flameout. As he continues to come under fire for what many deem insensitivity toward minorities — he recently declared that a Black Lives Matter protestor deserved to be "roughed up" at a rally — Scott remains firmly by his side. He's serving as Trump's liaison of sorts to the black evangelical community, attempting to help Trump win converts among voters many believe would be hard-pressed to support his candidacy.
RELATED: Donald Trump Can't Say 'No' — Is That What We Want in a President?
"I've never been afraid to tell him that there's a disconnect that exists between him and black America," Scott says. "The best way to cure that is through the black church, through black pastors. That's where I'm trying to work."
Michael Cohen, the attorney and adviser who's been called Trump's political "pit bull," played a pivotal role in deepening his boss's ties with Scott. Cohen and the pastor became friendly after that initial meeting five years ago, and Scott calls him a "brother," someone he can call to "shoot the breeze" with at any point in the day.
"We talk often," Cohen says. "The Knicks versus Cleveland, baseball, 'what's up,' anything. The conversation over the past few years between us is no different than any conversation you have with a friend who calls you to simply say hello."
Cohen in many ways appointed Scott Trump's black evangelical emissary. "He called me before Trump's announcement this spring," Scott says. "He said, 'The big man is thinking about running again.' I told him I was all in."
'I've never been afraid to tell him that there's a disconnect that exists between him and black America,' Scott says.
The ride hasn't always been smooth. Scott's first major move as a Trump surrogate came last week, when he arrived at Trump Tower to announce what the campaign had falsely hyped as an endorsement from 100 black evangelical pastors. In fact, the pastors who showed up had only agreed to meet with Trump, and some of the names cited in the campaign's pre-event promotional materials claim they didn't ultimately accept an invitation to attend. The meeting was packed, according to Scott and another pastor in the room, and Trump began by passing out copies of a childhood photograph, taken on the day of his Presbyterian confirmation. After two hours of policy discussion, prayer, and readings of Isaiah 45, which chronicles God's anointing Cyrus to rebuild Jerusalem, Trump handed out endorsement cards.
Scott says he "doesn't know" how many pastors ultimately filled out the cards — he puts the number somewhere "between 35 and 50" — but he is quick to note that they swarmed Trump to take pictures as soon as the meeting ended. When asked why so few attended the press conference afterward, Scott says that all of the endorsers were set to be there, but because they waited nearly half an hour before Trump showed up, "several decided just to head out."
The event made for a few days of less-than-favorable headlines, as people questioned its authenticity and attempted to piece together just how many endorsements actually came from it. Several pastors were angry that Trump's campaign had publicly claimed them as endorsers, when in fact they had only agreed to meet with him.
RELATED: Donald Trump — The Jacksonian Candidate
Bishop Corletta Vaughn, leader of Go Tell It Ministry in Detroit, and a supporter of Hillary Clinton, is one of them. She says the campaign falsely advertised that she would be endorsing Trump, and even that she had accepted an invitation to attend the meeting at all. "I never accepted Darrell's invitation to come, and suddenly I see my name on a flyer," Vaughn says. "There is no allegiance between the black church and the Trump campaign. . . . That is the manipulation of the black church. Don't use me to say the black female is behind you."
Vaughn, who admits that her publicist attended the meeting, says she has known Scott for "quite a bit," and "love[s] him and his family." "I don't think any less of him" for endorsing Trump, she adds. "I just caution him to be careful. . . . I'm very concerned that it backfires on him. I will not lose my brother over Donald Trump."
Vaughn is referring to potential backlash from Scott's congregation for his support of someone she says consistently denigrates "women and immigrants." But Scott says his congregation doesn't hold that against him. "My congregation has known of my relationship with Mr. Trump for years; and I've never tried to get any of them to support him," he says. "I believe that their familiarity with me and the kind of person I am resolves some of the tension they might have had concerning Mr. Trump."
#share#For many, what's more difficult to understand is why a devout evangelical Christian would support a candidate whose spirituality and faith are consistently called into question by Ben Carson and other presidential hopefuls who have made Christianity a large part of their campaigns, and who has at many points brushed off questions about his faith. Scott insists that Trump "has a consciousness of God and a respect for the Bible."
"In our dialogue with him, what attracted me to him was not simply that he was not a racist, but that he recognizes we're witnessing a decline of spirituality and morality in America," he says.
RELATED: An Awful Enthusiasm: Towards the Separation of Celebrity and State
Scott, who identifies as Pentecostal, says he has a way of recognizing an authenticity on the basis of his own conversion experience. As first reported in a Cleveland Plain Dealer profile from 1998, Scott grew up in the "Studio 54 era," when, he says, "cocaine flowed like water from a tap." One evening when he was 23 years old and steeped in drugs, he recalls that Belinda — at the time just his girlfriend — came home speaking in tongues, singing of her conversion experience after a conversation with a Christian neighbor. "I finally went to church with her a few weeks later and my life was changed," he says. Afterward, he flushed his cadre of substances down the toilet. By 1994, he and his wife had founded New Spirit Revival Center, a church of "Pentecostal/Charismatic persuasion," which today claims 3,000 members, an AM radio station, and weekly broadcasts on CBS in Cleveland.
Does it bother Scott that Trump's litany of eyebrow-raising statements — from comments about Carly Fiorina's looks to mocking a disabled reporter — are not at all Christ-like?
'I can't expect him to turn his hat back and drop his pants and go hang out with Snoop Dogg. I can't expect that from him. He is who he is.'
"I understand that our religious experience is of a different form of expression," Scott says. "A lot of what people paint as racism — it's not racism, it's cultural. He's a 69-year-old white man from upstate New York who happens to be a billionaire. And yet it's not like he's wearing a white sailor cap and a sweater tied around his neck, hanging out on his yacht. He's still working hard every day, putting in office hours. I can't expect him to turn his hat back and drop his pants and go hang out with Snoop Dogg. I can't expect that from him. He is who he is."
So says fellow Trump-endorser James Davis, a pastor at the Akron, Ohio location of Scott's church who recently had an on-air dust-up with a colleague who called black pastors supporting Trump "prostitutes."
"You get to know a person's heart by spending a little time with them," Davis says, "and I find his matter-of-fact tone refreshing."
Davis, who says he has known Scott for over 20 years, credits him with carrying the banner for Trump, opening the eyes of many in the black community to the "economic potential" of a Trump presidency. "Darrell has an impeccable character. . . . When people see him stepping into the fire in the political world, we listen."
Rumors abound that Trump somehow bought Scott's support, which the pastor finds insulting. "I'm supporting a man I know, someone who actually has the background and economic experience to lift black communities up," he says. He claims he's only asked one favor of Trump: that his grandson be given the opportunity to shake Tom Brady's hand. "Mr. Trump said, 'Oh, that's easy,'" Scott says. "So if I'm going to charge any fee for my services, that's what I'm charging." He adds that he was an ardent supporter of George W. Bush and voted for Barack Obama in 2008 and 2012, but has never publicly endorsed a candidate before Trump.
#related#Whether he will convince a significant portion of black evangelicals to join him is less certain. Pastor Brian Parson of Virginia, who attended last Monday's meeting, later hosted a rally in Manassas to tout his endorsement and those of eight other ministers, calling Trump "the only one who can beat Hillary Clinton." The December 2 rally was widely covered, but Vaughn says it's been overhyped. "There are thousands and thousands of black pastors in America," she says. "Why does it make news when a handful support Trump?"
Scott, of course, sees it differently, as a sign of their ballooning interest in Trump in the wake of last week's meeting. And he says "several" black pastors — he won't name names — have called him since, professing their own support for Trump, though they aren't yet willing to make it public. "I guess they just don't have the courage."
When asked whom he might throw his weight behind if Trump fails to win the Republican nomination, Scott pauses.
"I don't really have a second choice," he says. "It's never crossed my mind that Trump won't win."
— Elaina Plott is a William F. Buckley Fellow in Political Journalism at the National Review Institute.
Editor's Note: This piece has been updated since its initial publication.